1,000 people were killed in Pakistan's monsoon rains and floods
Severe rains and flooding have killed at least 1,033 people, including 348 children, and 1,527 more injured in Pakistan since mid-June, officials said on Sunday.
The country's National Disaster Management Authority (NDMA) added that 119 people had died and 71 injured in the last 24 hours alone.
At least 33 million people have been affected by the disaster, Pakistan's Minister for Climate Change, Sherry Rehman, said on Thursday. She called the floods "unprecedented" and "the worst humanitarian disaster of this decade."
"Pakistan is going through its eighth cycle of monsoon while normally the country has only three to four cycles of rain," Rehman said. "The percentages of super flood torrents are shocking."
She highlighted, in particular, the impact on the country's south, adding that "maximum" relief efforts are underway.
The deployment of the army was authorized to assist with relief and rescue operations in flood-stricken areas, the country's Ministry of Interior said in a statement on Friday.
The ministry said troops would assist Pakistan's four provincial governments, including the worst-hit southwestern province of Balochistan.
The exact number of troops and where and when they would be deployed would be worked out between the provinces and the government.
Meanwhile, flood relief centres are being established in various parts of the country to assist collection, transportation and distribution of flood relief goods to victims, the Pakistan Armed Forces said.
Army troops are also helping people evacuate to safer places, providing shelter, meals and medical care to those affected by the floods, the armed forces said.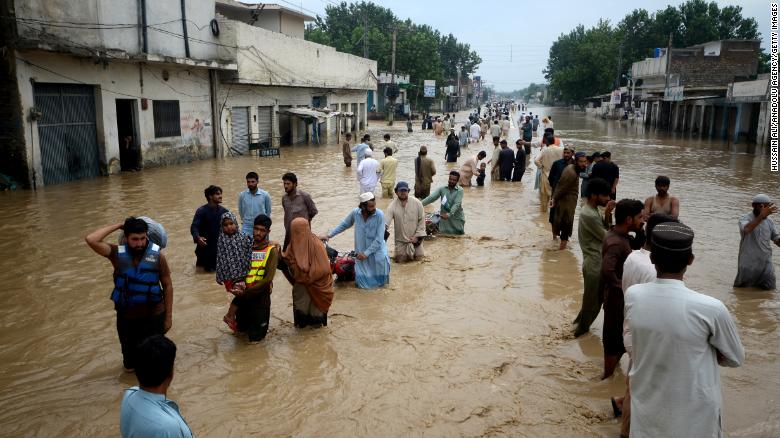 The southern province of Sindh, which the flooding has badly hit, has asked for 1 million tents, while nearby Balochistan province — largely cut off from electricity, gas and the internet — has requested 100,000 tents, Rehman said.
"Pakistan's priority, at the moment, is this climate-induced humanitarian disaster of epic proportions," Rehman said, urging the international community to provide aid given Pakistan's "limited" resources.
On Friday, Pakistan's Prime Minister Sharif briefed international diplomats on the crisis, stating that his country — on the front line of climate change despite a relatively small carbon footprint — must focus its rehabilitation toward greater climate change resilience.
Minister for Planning and Development Ahsan Iqbal separately told Reuters that 30 million people had been affected, a figure that would represent about 15% of the South Asian country's population.
UN agency Office for the Coordination of Humanitarian Affairs (OCHA) said in an update on Thursday that the monsoon rains had affected some 3 million people in Pakistan, of whom 184,000 have been displaced to relief camps across the country.
Funding and reconstruction efforts will be a challenge for cash-strapped Pakistan, which is having to cut spending to ensure that the International Monetary Fund approves the release of much-needed bailout money.
The NDMA said in a report that in the past 24 hours, 150 kilometres (about 93 miles) of roads had been damaged across the country and more than 82,000 homes were partially or fully damaged.
Since mid-June, when the monsoon began, more than 3,000 kilometres (1,864 miles) of road, 130 bridges and 495,000 homes have been damaged, according to NDMA's last situation report, figures also echoed in the OHCA report.
One of Pakistan's southern provinces, Sindh, is bracing itself for worse as the country deals with catastrophic floods.
Officials say that deluges from swollen rivers are heading for lower-lying areas, threatening more misery for millions.
The floods have killed nearly 1,000 people across Pakistan since June, while thousands have been displaced – and millions more affected.
In Sindh, the message in every village the BBC visited was: "Send help."
This province has a population of almost 50 million in which there has been little rain reprieve. But it will take more than a few days of sunshine to make life right again.
This year's floods have been devastating – their impact is far from fully realized.
The infrastructure was already basic in many rural communities. Many roads are not tarred, and some bridges are worn out after years of little maintenance.
But this can't just be blamed on poor infrastructure.
Pakistan's officials, who have often dealt with floods, say the hell unleashed by the heavens was nothing they could have prepared for.
"People around the world talk about climate change and something it's only a theory," said one official who has been running a relief operation in Larkana, a badly-hit city.
"We see for ourselves on the ground that climate change is happening. We've never seen such rains in one year…now we need to think about how we build for the future – how do we even start?"
The torrents from swollen rivers in the mountainous north will arrive in the coming days. But the devastation is not isolated to Sindh province.
One man told the BBC his daughter had been swept away by a flooded river in northern Khyber Pakhtunkhwa province.
"She told me: 'Daddy, I'm going to collect leaves for my goat,'" said Muhammad Fareed, who lives in the Kaghan Valley.
"She went to the bank of the river, and a gush of water followed and took her away."
Officials say that the US, UK, UAE, and others have contributed to a disaster appeal, but more funds are needed.
According to reports by the Dawn newspaper, Pakistan's Prime Minister Shehbaz Sharif has announced a grant of 10bn rupees ($45m) for those in the most affected Khyber Pakhtunkhwa province.
Every flood-affected family would be given 25,000 rupees ($112), Mr Sharif said, which would be disbursed within a week.
Mr Sharif said 33 million people had been hit by the floods – about 15% of the country's population.
He said the losses caused by floods this season were comparable to those during 2010-11, said to be the worst on record.
Pakistan's Foreign Minister, Bilawal Bhutto-Zardari, echoed Mr Sharif's calls for more aid.
"I haven't seen the destruction of this scale; I find it very difficult to put into words… it is overwhelming," he told Reuters.
Follow us or bookmark us for more Bollywood news Games latest pictures Entertainment box office collection report celebrities trailers and promos
Join us on Facebook
Join us on Twitter