16-year-old Aiden Fucci to life in prison for the first-degree murder of 13-year-old cheerleader Tristyn Bailey.
'Heinous, atrocious and cruel': Judge gives life in bloody massacre of 13-year-old cheerleader.
On Friday, in a St. Johns County courtroom in Florida, a judge sentenced 16-year-old Aiden Fucci to life in prison for the first-degree murder of his friend and classmate, 13-year-old cheerleader Tristyn Bailey. The case gained national attention due to the brutality of the killing and the ages of the victim and perpetrator.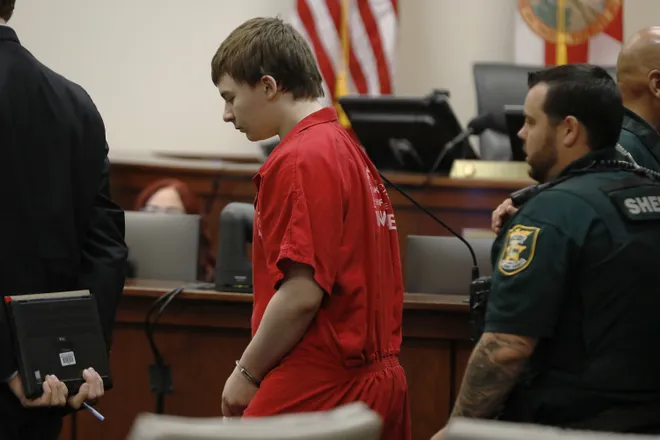 According to the judge, the crime was "heinous, atrocious, and cruel," and was committed solely for the purpose of experiencing the act of killing someone. As such, the only appropriate sentence for Fucci, as determined by Judge R. Lee Smith, was life in prison. The judge emphasized that the crime was not motivated by greed, retaliation, revenge, rejection, or any uncontrollable anger, but rather had no discernible motive.
"It was done for no other reason than to satisfy this defendant's internal desire to feel what it was like to kill someone," the judge said. "It was committed in a cold, calculated and premeditated manner without any pretense for moral or legal justification."
He said his court has seen its share of autopsy photos, but these were particularly difficult. He repeated what has become common knowledge in the case, that Tristyn endured 114 stab wounds, 49 of which were deemed defensive according to the medical examiner.
"She suffered a painful, horrifying death from someone that she trusted," the judge said.
Fucci had told friends he was going to kill someone and even talked about taking them into the woods, Smith said. He wanted to watch them bleed out.
"There was a heightened level of premeditation in this case," the judge said.
Last month, Fucci entered a guilty plea for first-degree murder in the stabbing death of Tristyn on Mother's Day in 2021. Following two days of testimony before Judge R. Lee Smith, including emotional victim impact statements from Tristyn's parents, grandmother, best friend, and siblings, the sentencing was handed down. During the statements, Tristyn's older sister, Alexis Bailey, dropped 114 aqua stone hearts into a jar, representing each of the stab wounds inflicted by Fucci, who was 14 years old at the time of the murder.
On Wednesday, Fucci's grandmother, Deborah Spiwak, spoke on his behalf, acknowledging that he needed to be held accountable for his actions but pleading with the judge not to remove him from their lives forever. She expressed her belief that there was still good in her grandson.
Since Fucci was a juvenile at the time of the murder, he was not automatically sentenced to life in prison. Instead, he faced a minimum of 40 years to life behind bars. Under Florida law, after serving 25 years of a life sentence, the judge can consider a lighter sentence. However, 40 years remains the minimum sentence that Fucci can receive.
"I would submit this case was the most difficult and shocking that this county has dealt with," Smith said.
To the Bailey family, he noted their obvious struggles coping with such devastation.
"The loss in which you have clearly suffered is unimaginable," he said.
"However, her spirit lives on through each and every one of you," he said, and advised them to fill her physical void by letting go of some of their anger. "She would want that happiness and laughter to return."
Fucci, much like he's done throughout the court proceedings, showed little reaction. The Baileys hugged and later addressed the media. They wore tops emblazoned with "That's My Squad" in Tristyn's favorite color aqua and "Tristyn Bailey Strong."
"We are very appreciative of this outcome and feel like it is the right verdict," Tristyn's father, Forrest Bailey, said.
What happened with Tristyn Bailey?
Tristyn was reported missing by her family at 10 a.m. on May 9, 2021. Evidence revealed that she and Aiden Fucci had been at a friend's home in their Durbin Crossing neighborhood in northwest St. Johns County and were last seen walking together after 1 a.m. that morning. Seventeen hours later, her body was discovered in the woods off a neighborhood cul-de-sac.
How did Tristyn Bailey die?
According to Chief Medical Examiner Predrag Bulic, the cause of Tristyn's death was "sharp force trauma by stabbing." An autopsy revealed Tristyn had 114 "stab or cutting wounds about her head, neck, shoulders, arms, hands and back," according to an unredacted warrant affidavit released by the state attorney. Forty-nine of those wounds were found to be defensive wounds.
Also check: Who is Erica Herman, ex Girlfriend Of Tiger Woods?
Follow us or bookmark us for more Latest Pictures Entertainment News Celeb Bio box office collection report celebrities trailers and promos
Join us on Facebook
Join us on Twitter