Barbie Ferreira describes her departure from 'Euphoria' as a decision made mutually
Brief
Barbie Ferreira describes her departure from 'Euphoria' as a decision made mutually
The actress said that because she and showrunner Sam Levinson struggled "to find a continuation" of her character Kat, she worried she had "overstayed my welcome."
Barbie Ferreira is addressing her exit following Euphoria's second season and the negative attention it garnered both in the press and among fans.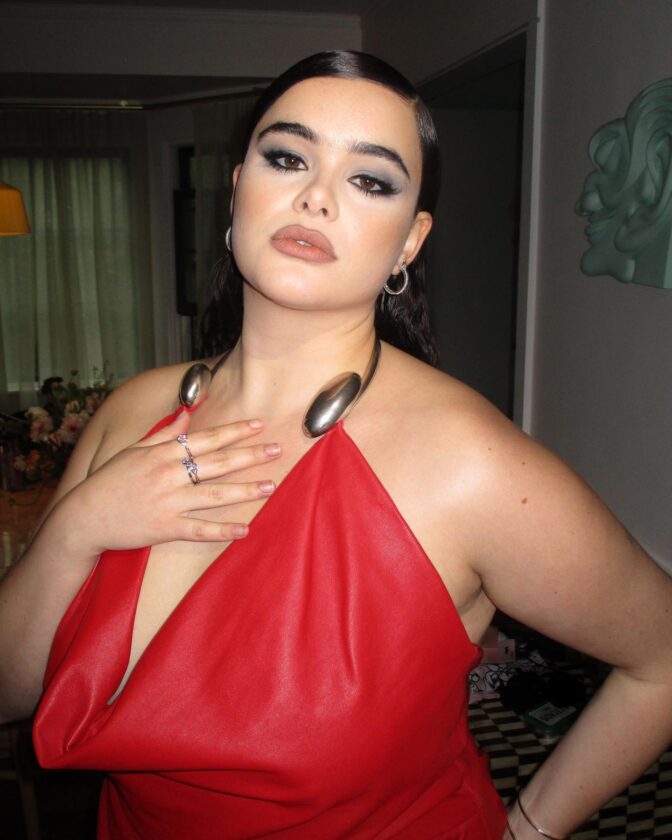 Barbie Ferreira describes her departure from 'Euphoria' as a decision made mutually
During her appearance on the Armchair Expert With Dax Shepard, Barbie Ferreira discussed her departure from 'Euphoria' after the second season, which had garnered negative attention in the media and among fans. The Nope actress addressed rumors of on-set conflicts with showrunner and writer Sam Levinson and explained that the extensive media coverage and scrutiny of her exit had been challenging for her. However, Ferreira clarified that the decision to leave the show was mutual and centered around her character, Kat, whom she holds dear.
During the podcast, Barbie Ferreira expressed that she believed her character, Kat, had reached the end of her arc on 'Euphoria.' Although there were potential directions for the character, Ferreira didn't think they would fit in with the show's overall narrative or do her character justice. She also mentioned that she didn't want to be typecast as the "fat best friend," a trope she felt the show didn't want to perpetuate either.
Ferreira explained that if there were opportunities to continue playing Kat, depending on the material, she would have done so for as long as she was asked. However, the size of the ensemble, Sam Levinson's writing interests, and her own vision for Ferreira complicated things too much. The actress noted that it was hurtful to see fans upset about her departure, but she felt that it was time to move on and that it was freeing for both her and Levinson.
According to Ferreira, the mutual decision to part ways allowed everyone to avoid the media's unnecessary drama and gave her the opportunity to pursue other endeavors. Although it was a difficult decision, she felt it was the right one and was excited to see what the future holds.
During the podcast, Ferreira revealed that playing Kat was a unique experience, as the character was unlike any other on TV. She stated that it was initially challenging to figure out what to do next after leaving the show but that she eventually focused on who she wanted to be as an actor and as a person. This helped her heal from the chaos surrounding her departure.
Ferreira also commented on the rumors that she had conflicts with the showrunner and writer, Sam Levinson, on set. She believes that certain criticism and sexism played a role in the rumors and that she was unfairly portrayed as difficult to work with. Ferreira clarified that one allegation of her walking off set was untrue and that it was actually due to her spraining her ankle.
Regarding production conditions, Ferreira mentioned that there was no rehearsal period or acting classes for the cast. While she found this approach fun and personally helpful, she acknowledged that it might not work for everyone.
She remarked that the first season of the show felt like "the best acting classes ever," despite production stretching from a planned five months to nine. "We thought it was going to be shorter, so it just kept extending," she explained. Season two had a more defined schedule, but the cast still had to experiment with new ideas, like they did in season one.
The actors also spoke about the challenges of filming the show. Angus Cloud, who plays Fez, revealed that the cast typically received two or three scripts at a time, but on the season two finale, changes kept happening and they didn't receive the final script until they were filming. Jacob Elordi, another Euphoria star, mentioned that some shots required over 30 takes to get right.
Earlier reports had suggested that the show's production was not taking proper care of its cast and crew. Allegedly, there were 18-hour days with no breaks for meals or bathroom trips, prompting complaints to SAG-AFTRA and a union representative visiting the set. HBO responded by stating that the production was fully compliant with safety guidelines and guild protocols and that the well-being of the cast and crew was a top priority. The network said that complex shoots are common in drama series, and COVID protocols added an extra layer of complexity. HBO maintained an open line of communication with all guilds, including SAG-AFTRA, and there were no formal inquiries raised.
The series has been renewed for a third season, with Emmy-winning star Zendaya telling THR of her hopes for the future of her character, Rue: "I think it'll be exciting to explore the characters out of high school. I want to see what Rue looks like in her sobriety journey, how chaotic that might look."
Also check: Carrie Underwood Age, Height, Weight, Body Measurements
Follow us or bookmark us for more Latest Pictures Entertainment News Celeb Bio box office collection report celebrities trailers and promos
Join us on Facebook
Join us on Twitter