Sharp-Eyed Oppenheimer Viewer Discovers Background Blunder in Latest Christopher Nolan Movie
A Keen-Eyed Film Enthusiast Spots Anomaly in Background of Christopher Nolan's New Film "Oppenheimer"
Christopher Nolan's highly anticipated film "Oppenheimer" has been captivating audiences since its release in theaters on Friday, July 21st. Starring the talented Cillian Murphy as J Robert Oppenheimer, often referred to as the "Father of the Atomic Bomb," the movie delves into the remarkable life and contributions of the renowned scientist.
"Oppenheimer" skillfully weaves its narrative using three timelines, seamlessly intermixing scenes from Oppenheimer's early life and his groundbreaking work on the A-bomb with critical moments during his 1954 security hearing and the US Senate confirmation hearing of Lewis Strauss, portrayed by Robert Downey Jr., in 1959.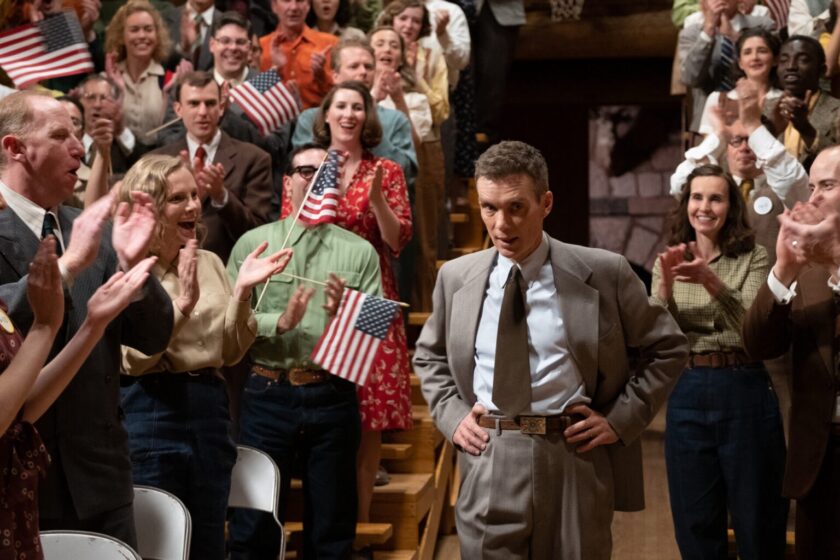 Despite the film's accolades for its authentic and meticulous portrayal of the mid-20th century setting, a sharp-eyed viewer appears to have discovered an apparent oversight. The supposed blunder arises during a pivotal scene set in 1945, following the devastating bombings of Hiroshima and Nagasaki. J Robert Oppenheimer is called upon to deliver an emotionally charged speech to a jubilant crowd, where many excited spectators can be seen waving American flags.
While the film has been praised for its attention to historical detail, this particular moment has come under scrutiny due to what appears to be a background error, catching the observant viewer's attention. Nonetheless, the movie's overall narrative, powerful performances, and captivating storytelling have left audiences enthralled and engaged with this thought-provoking portrayal of a complex historical figure.
"It was good and all, but I'll be that guy and complain they used 50-star flags in a scene set in 1945," wrote Twitter user @AndrewRCraig, alongside a still of the relevant scene.
Period-accurate flags were used elsewhere in the film, such as the moment Oppenheimer stands beneath the 48-star flag at Trinity base camp.
Some fans even argued that the mistake was in fact deliberate, and had been intended to subtly convey Oppenheimer's subjective recollections.
"Personally i think it was done intentionally," they wrote, "because coloured scenes were from Oppenheimer's perspective which is his present day's memory that was after the 50-star flag was established."
Oppenheimer and Barbie Take Box Office by Storm on Simultaneous Release Day
On the day of its release, Christopher Nolan's highly anticipated film "Oppenheimer" shared the spotlight with Greta Gerwig's groundbreaking toy adaptation, "Barbie." The two films combined to create an unprecedented box office weekend, becoming the talk of the town.
"Oppenheimer" has received critical acclaim, with reviewer Clarisse Loughrey from The Independent awarding it a glowing four-star review. She described the film as Nolan's best and most revealing work, lauding its craftsmanship and powerful cinematic imagination. The movie delves into the intriguing and controversial legacy of J Robert Oppenheimer, often referred to as the "father of the atomic bomb," presenting his story as a thought-provoking mathematical puzzle to solve.
Featuring an ensemble cast including Matt Damon, Florence Pugh, and Emily Blunt, "Oppenheimer" takes viewers on a profound and unnerving journey.
However, the film has stirred controversy among right-wing Hindu groups in India due to a specific scene featuring the Bhagavad Gita, one of Hinduism's sacred scriptures. This depiction has sparked a backlash, highlighting the complex interplay between art, culture, and religious sensitivities.
Despite the controversy, "Oppenheimer" continues to captivate audiences and earn critical acclaim for its masterful storytelling and impactful performances. Meanwhile, "Barbie" has also left its mark, establishing a significant milestone in toy-to-film adaptations. The simultaneous success of these two films marks a monumental moment in the year's box office history.
Also Read, Francia Raisa Shows Love to Selena Gomez on Her Birthday: Likes Post and Re-Follows on Instagram
Follow us or bookmark us for more Latest Pictures Entertainment News Celeb Bio box office collection report celebrities trailers and promos