United States: Boeing cautions of diminished production and delivery of 737 Max aircrafts owing to a parts-related concern.
Quick Read
Due to a parts-related concern originating from a supplier, Boeing issued a warning on Thursday regarding the decreased production and deliveries of 737 Max planes in the near future. The supplier, Spirit AeroSystems, produces some of the fuselages utilized in Boeing aircraft, and has informed Boeing of a "quality issue" pertaining to specific 737 models. This represents the latest challenge in production for Boeing, which is facing a shortage of new jets across the industry.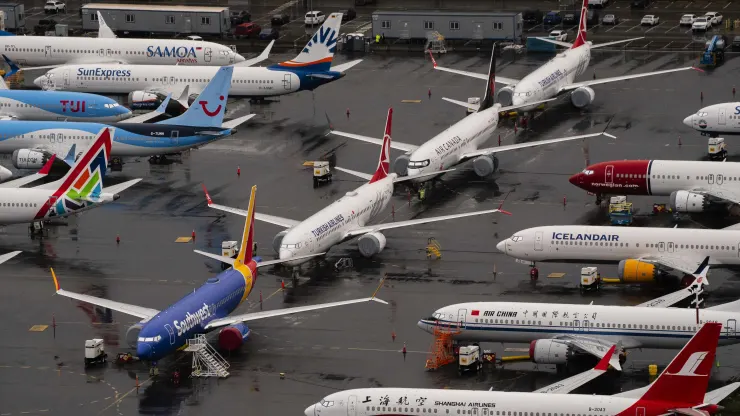 Boeing cautions of diminished production and delivery of 737 Max aircrafts
Boeing, one of the world's largest aerospace companies, has issued a warning that it may have to reduce the delivery of its 737 Max planes due to a problem with a part manufactured by supplier Spirit AeroSystems. The issue is related to a "non-standard" manufacturing process that affected two fittings in aft fuselages. Boeing has stated that the problem affects certain 737 Max 8 planes, the company's most popular model, as well as certain 737 Max 7, the 737 8200, and P-8 planes. Customers of Boeing, such as American Airlines and Southwest Airlines, are expected to be impacted by the delivery delays resulting from this issue.
While the problem does not pose an immediate safety concern, it is expected to impact a significant number of undelivered 737 Max planes, both in production and in storage. Southwest Airlines has reported that it expects the issue to impact its delivery schedule of new Max planes and that it is discussing the details of that timeline for this year "and beyond." However, United Airlines has stated that it does not expect any "significant impact" to its capacity planes for this summer or the rest of 2023.
Boeing has notified the Federal Aviation Administration (FAA) of the issue and is working to inspect and address the affected fuselages as needed. The FAA has confirmed that Boeing has notified it of the issue and has also stated that there is no immediate safety issue. Boeing has emphasized that the issue is not an "immediate safety of flight issue and the in-service fleet can continue operating safely."
This problem represents the latest production issue for Boeing, which has struggled with other production flaws on wide-body jets that halted deliveries for months in both 2021 and 2022. Earlier this year, the company paused deliveries of its 787 Dreamliners for several weeks to address a data analysis flaw. As the industry faces an industry-wide shortage of new jets, airline executives have cited aircraft supply constraints as among the chief challenges in ramping up flying ahead of the peak travel season.
Boeing's supplier, Spirit AeroSystems, has said in a statement that it is working to develop an inspection and repair for the affected fuselages and that it continues to coordinate closely with its customer, Boeing, to resolve this matter while maintaining safety. Shares of both Boeing and Spirit AeroSystems fell after the announcement of this issue. Boeing has stated that it will provide additional information in the days and weeks ahead as it better understands the delivery impacts.
Also Check: Smart Gun with fingerprint and facial recognition unlocking system
Follow us or bookmark us for Latest Pictures Entertainment News Celeb Bio box office collection report celebrities trailers and promos
Join us on Facebook
Join us on Twitter