Brooks Koepka leads the way at the Masters after shooting a 67 in the second round.
In April 2022, following his second consecutive missed cut at the Masters, Brooks Koepka expressed his frustration by attempting to break the back window of his courtesy car in the parking lot of Augusta National Golf Club.
Koepka admitted to trying to punch through the window not once, but twice, and acknowledged that his actions were fueled by the annoyance he felt at his performance. Despite his efforts, the window remained intact, a testament to the quality of Mercedes' products. The journey home was reportedly quiet and tense, reflecting Koepka's intense frustration.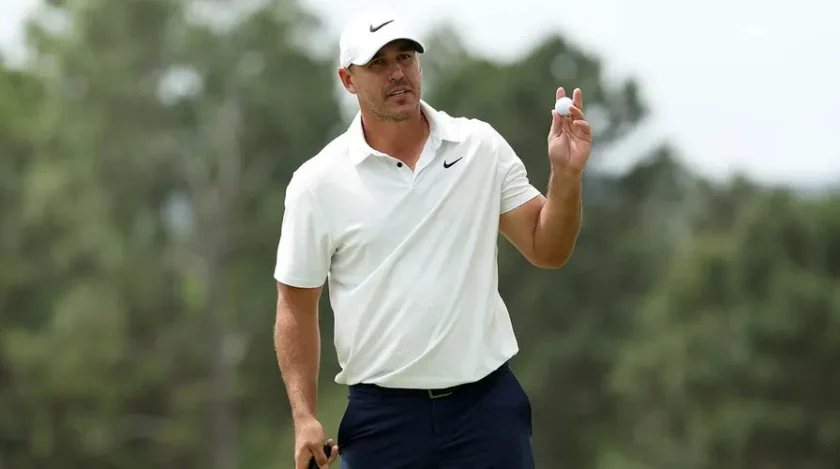 This year, local car dealerships selling luxury automobiles can breathe easy. Koepka, a four-time major champion, is leading at the 87th Masters after firing a 5-under 67 in the second round, putting him at 12 under after 36 holes.
He leads by three strokes over Jon Rahm, who is yet to complete the second round due to the suspension of play on Friday. Four strokes behind Koepka is amateur Sam Bennett of Texas A&M, who finished at 8 under.
With Rahm still on the course when the air horn sounded for the second time Friday to stop play after a 21-minute delay earlier in the afternoon due to falling trees, the second round was suspended until 8 a.m. on Saturday.
Several players, including Viktor Hovland, Cameron Young, and Tiger Woods, were unable to complete the second round, with the projected cut line at 2 over.
Koepka has a history of holding a lead in the majors and winning, and he will be tough to beat on the weekend.
His health issues since March 2021, when he dislocated and shattered his right kneecap, led to his decision to join the LIV Golf circuit in June. He even wondered if he would ever play again.
He reportedly received a guaranteed signing bonus of over $100 million. Although Koepka fell to 118th in the Official World Golf Ranking, his win last week in the LIV Golf League's tournament in Orlando, Florida, followed by his performance at the Masters, showed that he was getting back into his stride. With colder weather, rain, and wind forecasted for Saturday, Koepka still has a lot of work left to do to win the green jacket.
"Today was just about my — I guess my hand and my glove," Koepka said. "I don't know if you're supposed to take your glove off with your fist closed or what now." Woodland, the 2019 U.S. Open champion, denied getting help from Koepka.
"I hit my shot," Woodland said Friday. "When we were walking down, I asked Brooks what he hit, and he said 5. If I would have known that, I probably would have hit 6-iron, and I would have hit 6-iron in the middle of the water. Luckily for me, I didn't know what he hit. That's the end of it."
Also Check: Ciara says, He Loves My Curves
Follow us or bookmark us for Latest Pictures Entertainment News Celeb Bio box office collection report celebrities trailers and promos
Join us on Facebook
Join us on Twitter