California to vote on constitutional amendment protecting abortion rights.
California is poised to become one of the first states in the nation to explicitly enshrine the right to abortion and contraception in its constitution after lawmakers on Monday voted to advance a constitutional amendment, putting the issue on the November ballot.
The amendment is part of a flurry of legislative efforts in liberal states to solidify reproductive rights in the aftermath of last week's Supreme Court decision striking down Roe v. Wade. California, which has advertised itself as a sanctuary for people seeking abortions, is trying to lead the way.
The bill introducing the proposed amendment easily passed through the state's legislature, where Democrats hold a supermajority, and voters will now consider it during the general election.
Many Californians have said they oppose overturning Roe, and the amendment is expected to pass. It does not require the signature of Gov. Gavin Newsom (D), who supports the measure.
The amendment will affirm abortion rights already protected under existing law if enacted.
Like several other states, California's constitution includes a right to privacy that courts have interpreted as protecting abortion.
But last month's leaked draft opinion of the Roe decision prompted lawmakers to spell out a safeguard for reproductive rights.
"California remains steadfast in the right of individuals to access abortion care," Toni G. Atkins (D), president pro tempore of the state Senate, said in an interview. "That's what we want to ensure continues to be the case, no matter who's in office, no matter who the judge is. … I don't want people to think we are safe here just because we have a constitution that guarantees a right to privacy — it doesn't say abortion."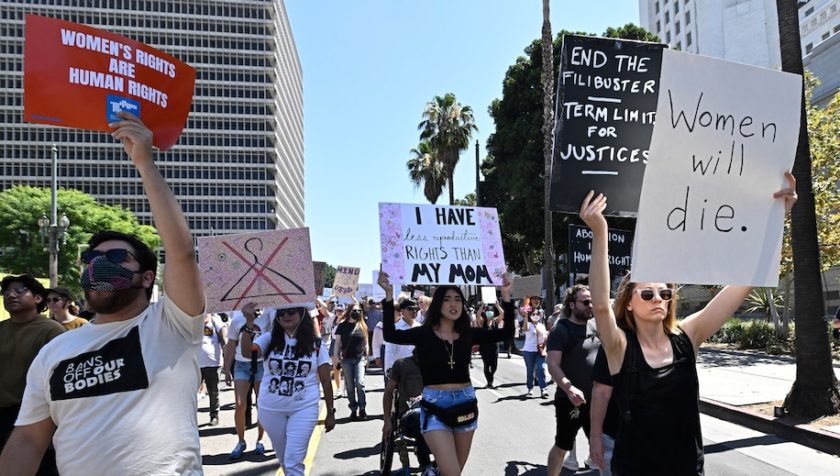 California to vote on constitutional amendment protecting abortion rights.
The California Future of Abortion Council, an alliance of abortion rights advocacy groups, cheered the Monday vote.
"California must continue to take every step possible to protect access to abortion," the alliance said in a statement, calling the effort "the response needed by our state right now to meet this moment of national crisis."
A similar constitutional amendment will also appear on ballots in Vermont, the first state to propose such a proposal.
Along with the amendment, California leaders have recently announced several initiatives focused on countervailing the Supreme Court's ruling and the increasingly aggressive effort in conservative states to restrict access to abortion.
California's proposed budget for next year includes more than $200 million for reproductive healthcare services.
And 0n Friday, Newsom signed legal protections for abortion providers who care for patients traveling from places where the procedure is now outlawed.
He also announced a partnership with Washington Gov Jay Inslee and Oregon Gov. Kate Brown to turn the West Coast into a haven for abortion care, promising to protect patients and providers from out-of-state civil and criminal action.
"This is not the America we know," Newsom said after the Roe decision was released. "And it's not the California way."
California currently has some of the most protective abortion policies, advocates say, and local leaders have for months been preparing for an influx of patients from other states in a post-Roe world, where antiabortion legislation will affect roughly half the country.
Between 8,000 and 16,000 more people will travel to California for abortion care each year as a result of the new restrictions, predicted one statistical model from UCLA's Center on Reproductive Health, Law and Policy.
Most will probably flock to Los Angeles County.
In Los Angeles over the weekend, hundreds of protesters marched through downtown, from city hall to a freeway off-ramp, bearing signs that read "Abort the court" and "Bodily autonomy is a human right."
The furious demonstrations, held across the state, underscored the broad support of abortion rights in California.
In a survey last year, the Public Policy Institute of California found that 77 percent of adults did not want Roe overturned, including nearly 60 percent of Republicans polled.
Still, several lawmakers, religious groups, and advocacy organizations were celebrating the court's decision — and denouncing the proposed constitutional amendment.
California Family Council, a Fresno-based antiabortion group, filed an opposition argument to the bill, writing: "Life is a human right for every Life, no matter how small or at what stage of development.
Equality begins in the womb, and this bill completely ignores that fact." After the legislature voted to add the question to the November ballot, the council's president, Jonathan Keller, said in a statement that it was "extreme, even for a state like California."
Republican Assembly Leader James Gallagher — a father of four, including twins who were born 10 weeks early — argued in a floor speech before the vote that the proposed amendment does not put restrictions on late-term abortions, an assertion the bill's supporters pushed back on, saying it doesn't change current state law on fetal viability.
"They were alive, and they were a person — they are people — and our law needs to begin to recognize that," Gallagher said of his twins.
"And that's why I can't support this constitutional amendment today, because of what's missing from it: It says nothing about their rights."
Atkins, the lawmaker who introduced the bill, directed a reproductive health center in San Diego before her public service career, and she said the amendment should telegraph to the state and the country that California is committed to ensuring access to reproductive care.
"As someone whose been in the trenches, who has watched it, it's an affirmation of our values and a peace of mind" for those seeking abortions, Atkins said, no matter where they live.
"We'll be here if others come," she added. "And others are already coming."
---
---
Also Read
OnePlus Nord N20 5G is now available in the United States
Oppo Reno8 & Reno 8 Pro+ arriving in India on July 18
Is an Apple Watch worth buying it?
Apple Music's student plan is getting more costly in the US, UK, and Canada
---
Follow us or bookmark us for more Technology Celeb Bio box office collection report celebrities trailers and promos
Join us on Facebook
Join us on Twitter