Following Meeting with US House Speaker, China Commences Military Exercises near Taiwan
Brief
Following Meeting with US House Speaker, China Commences Military Exercises near Taiwan
China launched military drills around Taiwan on Saturday, in what it called a "stern warning" to the self-ruled island's government following a meeting between its president and the US House speaker.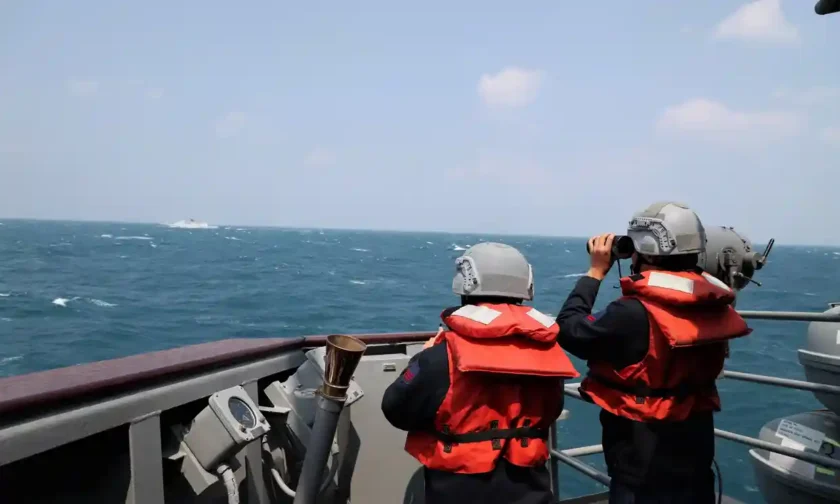 Following Meeting with US House Speaker, China Commences Military Exercises near Taiwan
"China Conducts Three-Day Military Exercise around Taiwan after President Tsai Ing-wen's Meeting with US House Speaker Kevin McCarthy in California"
Over the weekend, China initiated military maneuvers around Taiwan as a response to the meeting between Taiwan's President Tsai Ing-wen and US House Speaker Kevin McCarthy. The operation, dubbed United Sharp Sword, is set to last for three days and involves the PLA rehearsing an encirclement of Taiwan. The exercise includes sending planes, ships, and personnel into the maritime areas and airspace of the Taiwan Strait, as well as off the northern and southern coasts of the island and to the east of it. Despite condemnation from Taipei, Washington has urged for restraint and is closely monitoring Beijing's actions.
State media CCTV reported that China would conduct patrols and advances around Taiwan island, utilizing a variety of weapons including long-range rocket artillery, naval destroyers, missile boats, air force fighters, bombers, jammers, and refuellers, in order to create a comprehensive encirclement and deterrence posture.
Taiwan's President, Tsai Ing-wen, criticized the drills, which occurred after her meeting with the US House speaker Kevin McCarthy in California. She expressed her willingness to collaborate with "the US and other like-minded countries" to counter "continued authoritarian expansionism".
The US State Department spokesperson stated that the US has consistently urged restraint and advocated for maintaining the status quo, but that it had sufficient resources to fulfill its security commitments in Asia. The United States has not been clear on whether it would defend Taiwan militarily, but it has supplied weapons to Taipei for self-defense purposes for many years.
The Taiwanese defense ministry released a video showcasing soldiers loading anti-aircraft missile launchers, fighter jets taking off, and other military readiness exercises.
The footage released by Taiwan's defense ministry included surveillance of China's Shandong aircraft carrier as it sailed through waters south of Taiwan earlier this week. The 75-second clip ended with a caption emphasizing Taiwan's commitment to defending its sovereignty while seeking to avoid conflict.
On Monday, live-fire drills will be conducted off the coast of China's Fujian province, which faces Taiwan, according to the local maritime authority. The PLA spokesperson Shi stated that these exercises were necessary to safeguard China's national sovereignty and territorial integrity and were a warning against collusion between separatist forces and external forces seeking Taiwan independence.
China considers democratic, self-governed Taiwan as part of its territory and has vowed to seize it, even by force if necessary. As of 4 pm on Saturday, nine Chinese warships and 71 military aircraft had been detected around the island, according to Taiwan's defense ministry, and daily aircraft crossings into Taiwan's southwestern air defense identification zone had reached a new single-day high this year.
The defense ministry stated that China's deliberate creation of tension in the Taiwan Strait negatively impacted international security and economic development. The drills followed the departure from Beijing of French President Emmanuel Macron and EU Chief Ursula von der Leyen, who were in China to urge President Xi Jinping to help end the war in Ukraine.
China's largest show of force in years around Taiwan occurred last August after a visit to the island by Kevin McCarthy's predecessor, Nancy Pelosi. McCarthy, who is second in line to the US presidency, had originally planned to visit Taiwan himself, but the decision to meet in California was seen as a compromise to support Taiwan while avoiding further inflaming tensions with Beijing.
As of Saturday, there were no signs of increased military activity on China's southeastern island of Pingtan, the closest point to Taiwan.
Near the coastline, a few cargo ships were seen cruising through the waters as tourists took selfies on viewing platforms. After visiting Taiwan's few official diplomatic allies in Latin America and making two stopovers in the US to meet with lawmakers, including McCarthy, Tsai returned to Taiwan on Friday.
China had sent its Shandong carrier through Taiwan's southeastern waters on its way to the western Pacific just hours before Tsai's meeting with McCarthy on Wednesday. Mao Ning from China's foreign ministry stated on Friday that "the future of Taiwan lies in reunification with the motherland."
According to Chinese military commentator Song Zhongping, the exercises were meant to show that the Chinese army is ready to "solve the Taiwan issue once and for all" if "provocation intensifies." James Char, a research fellow at the Institute of Defence and Strategic Studies' China programme in Singapore, told AFP that the drills underscored Beijing's "nationalist credentials to its domestic audience and score political points at home."
Also Read, Brooks Koepka leads the way at the Masters after shooting a 67 in the second round
Follow us or bookmark us for Latest Pictures Entertainment News Celeb Bio box office collection report celebrities trailers and promos
Join us on Facebook
Join us on Twitter