Ed Sheeran Says Taylor Swift's Friendship Is Like "Therapy"
Ed Sheeran has described his friendship with Taylor Swift as therapeutic, saying that being friends with her feels like being in the same sphere.
Even after over a decade of being friends, Ed Sheeran and Taylor Swift's friendship remains as strong as ever. In a recent interview with Zane Lowe on Apple Music 1, Sheeran revealed that he frequently turns to Swift to discuss both personal and professional matters.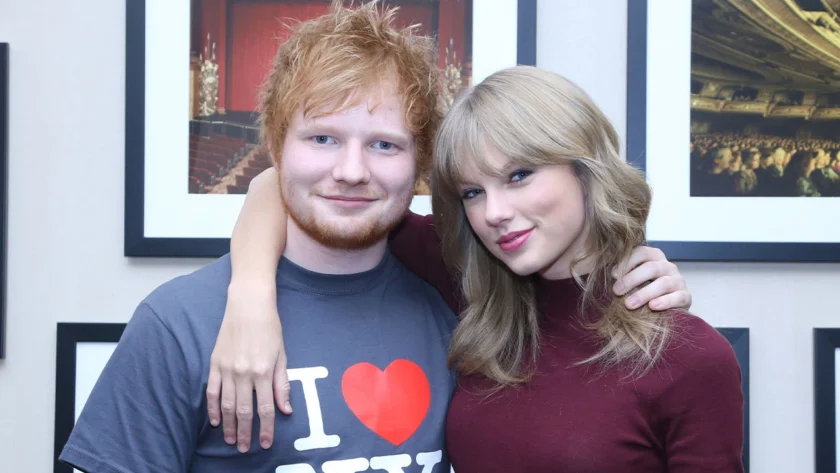 "I have long, long, long conversations with Taylor about stuff just because I feel like she's one of the only people that actually truly understands where I'm at," he explained, "because she's solo artist, she's stadiums."
The "Shape of You" singer said he and the "Anti-Hero" artist spent an hour and 20 minutes catching up prior to the interview.
"We were just … Everything that was on our minds we talked about," he said. "I mean that in itself is kind of therapy as well because you're actually talking to someone that genuinely gets it, that has all the things that you feel and have insecurities about and how other people treat you or how your family treats you, how your friends treat you, she's just basically in the same sphere."
According to Ed Sheeran, Taylor Swift played a crucial role in his upcoming album, pronounced "subtract." During a recent interview with Zane Lowe on Apple Music 1, Sheeran revealed that Swift introduced him to Aaron Dessner of The National while they were working on "Red (Taylor's Version)" together. Sheeran has two collaborations with Swift on the album, "Run" and "Everything Has Changed."
"I kind of would keep my distance if there would be a collaborator that she'd be working with closely just because that's her thing," the "Thinking of You" singer said. "And I don't want to be like, 'Well I'm gonna do that too,' but she was like … she said, 'I think it'd be really important for you as an artist to do what I did and work with Aaron because this is what it did for me. And I think you and Aaron should work together.'"
And she was right. Dessner and Sheeran went on to co-create every song on –, which releases May 5.
"That sort of opened the door to it," Sheeran said. "And I am incredibly grateful. I'm making some of the most meaningful music to me that I've made in a very long time. And I was just very wary about treading on to [her work] … and we can be open with each other about that sort of stuff as well."
The "Perfect" singer was recently found not liable in a copyright infringement case in New York City after the heirs of songwriter Ed Townsend, who co-created Marvin Gaye's 1970s hit "Let's Get It On," claimed that Sheeran stole key components of the song when he created his hit "Thinking Out Loud."
In his conversation with Apple Music, Sheeran addressed the case, saying he would "never" consider litigation against another artist. He explained that he even once reached out to Coldplay's Chris Martin about a song he was writing for Keith Urban that sort of sounded like the band's "Ever Glow" and asked the frontman to clear the song, and he said he didn't need to because he trusted him.
"The thing with these cases, it's not usually songwriters that are suing songwriters," Sheeran explained. "I mean sometimes it is, but it's not. … I feel like in the songwriting community, everyone sort of knows that there's four chords primarily that are used, and there's eight notes. And we work with what we've got."
Also Check: The Evolution of Han Solo
Follow us or bookmark us for more Latest Pictures Entertainment News Celeb Bio box office collection report celebrities trailers and promos
Join us on Facebook
Join us on Twitter