Intense competition for electric cars highlighted at China auto show
Quick Read
China auto show highlights intense electric car competition
Global and Chinese automakers plan to unveil more than a dozen new electric SUVs, sedans and muscle cars this week at the Shanghai auto show
As the race to develop faster, more luxurious, and more feature-packed electric cars heats up, automakers are vying for a competitive edge in this massive and crowded market.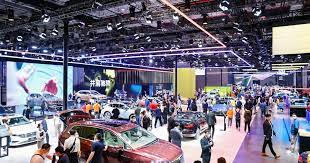 Intense competition for electric cars highlighted at China auto show
At the Shanghai auto show this week, both Chinese and global automakers are gearing up to showcase over a dozen new electric SUVs, sedans, and muscle cars. This marks the first full-scale sales event in four years, in a market that has become a hotbed for developing electric vehicles, self-driving cars, and other cutting-edge technologies.
As the race to develop faster, more luxurious, and more feature-packed electric cars heats up, automakers are vying for a competitive edge in this massive and crowded market. The Chinese government has invested billions of dollars in subsidies to establish an early lead in this emerging industry, creating intense competition for established global brands from their Chinese counterparts.
After being subject to anti-virus curbs that prevented most travel into China, executives from the United States, Europe, and Japan are finally able to attend the world's biggest auto show in person for the first time since 2019. Despite the pandemic, auto shows have been held in China's massive market, albeit on a smaller scale, with global brands being represented solely by their China-based employees.
In 2022, drivers in the world's largest auto market purchased a total of 5.4 million pure-electric vehicles, which represents approximately two-thirds of the global total of 8 million EVs sold, in addition to 1.5 million gasoline-electric hybrids. This impressive number of electric vehicle purchases accounts for over a quarter of the total auto sales of 23.6 million. According to predictions, EV sales are expected to increase by an additional 30% this year.
"Consumers lost interest in gasoline cars. That is the biggest challenge for foreign brands to compete in China," said industry analyst John Zeng of LMC Automotive. "They are going to have to show their best EV products."
In Beijing, government support for electric vehicles (EVs) is being phased out, with automakers now required to earn credits for their EV sales. As a result, manufacturers are investing heavily in developing models that can compete on price and features without subsidies, with many forming partnerships to share the high costs.
The Auto Shanghai 2023 event takes place in the massive Shanghai exhibition center, a building that spans an impressive 1.5 million square meters (16 million square feet) and is among the world's largest.
Volkswagen AG, China's top-selling brand, plans to showcase 28 models at the event, with half of them being electrified. Among them is the highly anticipated ID.7 limousine, which boasts an impressive 700-kilometer (435-mile) range on a single charge.
BYD Auto, one of the world's largest electric automakers that competes with Tesla Inc., will be showcasing its U9 supercar from its luxury Yangwang brand for the first time. Priced at 1 million yuan ($145,000), the U9 boasts an impressive acceleration time of just two seconds from zero to 100 kph (60 mph).
Although China's auto sales peaked in 2017 at 24.7 million, the COVID-19 pandemic resulted in a significant decline in 2020 to 20.2 million as dealerships were forced to close. While sales are starting to recover, they have not yet reached pre-pandemic levels.
The Chinese Communist Party's support for EV development is part of its wider plan to transform China into a producer of profitable technologies, which would ultimately lead to increased wealth and global influence.
China's campaign to transform into a leading producer of profitable technologies has led to strained relations with trading partners such as Washington, who are now cutting off access to advanced processor chips used in high-tech products like smartphones and electric cars. While China has its own foundries that can supply low-end chips used in many cars, they are not able to produce processors for artificial intelligence and other advanced functions.
The China Association of Auto Manufacturers reports that sales of gasoline-electric hybrids and pure-electric vehicles have increased 26.2% over the same period last year, reaching 1.6 million in the first three months of 2023. Pure electrics saw a 14.4% increase to 1.2 million, while hybrids increased by 75.1% to 433,000.
To boost sales growth, Tesla and some other brands cut their prices by 5% to 15% starting in January. While sales growth remained robust compared to the slack U.S. and European markets, industry experts warn that the squeeze on an industry with dozens of fledgling brands could force smaller automakers into mergers or out of business.
China is also a leader in the development of self-driving taxis and trucks, alongside the United States.
Even brands known for their gasoline-powered engines are turning to electric vehicles to cater to China's massive market. BMW AG plans to unveil two new models, the i7 M70L and XM Red Label, and showcase its M760Le in China for the first time. Maserati, which uses high-performance Ferrari engines, will debut its first electric SUV and showcase its electric sports car. NIO Inc., a Chinese luxury EV brand, will display its latest SUV, the ES6, which boasts a range of 610 kilometers (380 miles) on a single charge. Mercedes Benz will unveil an electric SUV under its Maybach brand and two other SUVs. Meanwhile, Toyota and Nissan will reveal two new models each in their zero-emissions vehicle lineups, and Honda will debut a prototype for its China-focused e:N electric brand.
However, according to LMC's Zeng, Western and Japanese brands must become more aggressive in developing EVs to keep up with China's rapid progress. Zeng noted that many take too long to create models abroad without Chinese input, resulting in models that lag behind Chinese vehicles in driving range and equipment by three or four years. To remain competitive, these brands must learn to design and test cars in China for China.
Also Check: US Boeing cautions of diminished production and delivery of 737 Max aircrafts owing to a parts-related concern
Follow us or bookmark us for Latest Pictures Entertainment News Celeb Bio box office collection report celebrities trailers and promos
Join us on Facebook
Join us on Twitter