Famous 20 Indian Rappers 2022
Rap songs have undeniably emerged as famous in Indian Music.
The various genres like mumble rap, rap metal, lyrical rap, desi hip-hop are gaining popularity.
Rap music has helped to bridge the distance between poetry, emotion, and instrumentation.
One-of-a-type song, includes the rapper bringing out his struggles, feelings, contemporary events, the past-the whole thing relatable.
Some of the exceptional rappers in India have delivered those feelings collectively beautifully.
They not only rap, but they also write poetry, create music videos, and produce the whole video for the audience.
While some labels are working in India, there are a number of top independent rappers who do it all on their own.
While it is true that people listen to it for how fast they sing, it also takes a skill of a different order to be able to express thoughts in a musical flow while also calling out societal problems. And it is because of this quality that sets the best rappers apart from the rest.
In today's world, when the number of rappers who are killing it in the scene has soared, it's more important than ever to talk about and appreciate their talent.
Let's take a look at some of India's famous rappers who are making waves with their lyrical excellence!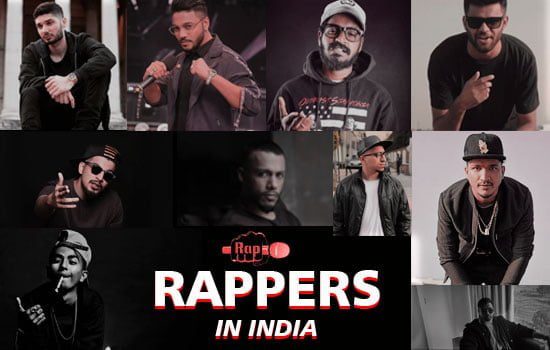 1. Honey Singh
Hirdesh Singh (born 15 March 1983), known professionally as Yo Yo Honey Singh or simply Honey Singh, is an Indian music producer, composer, rapper, pop singer, lyricist, and film actor.
He started out in 2003 as a session and recording artist and became bhangra and hip-hop, music producer.
Later, he got success with his music and started making songs for Bollywood films and also his independent music videos.
Singh and Diljit Dosanjh's song "Lak 28 Kudi Da" reached No. 1 in the BBC Asian Download Charts in May 2011.
The song was released as a promotional track for Diljit Dosanjh's film Lion of Punjab.
It has been reported that he was paid the highest fee ever for a Bollywood song (as of 2012) of ₹7 million (US$93,000) for a song in the films Cocktail and Mastan.
Singh topped the chart of trending videos of 2012.
He earned two places on YouTube's list of top 10 trending videos of 2012.
His song "Brown Rang" made it to the top spot. "High Heels", in collaboration with Jaz Dhami, took the fourth spot.
2. Emiway Bantai
Bilal Sheikh popularly known as Emiway Bantai, is one of the biggest independent rap artists of India.
The Machayenge guy, started his rap hustle back in 2013, when he left school after completing 12th.
His debut track was "Glint Lock" in 2013. It was in 2014, his track "Aur Bantai" which gave him fame.
Emiway was inspired by the music of American rapper Eminem and released his first track "Glint Lock" in 2013.
Emiway used to rap in English in his early days, but later switched completely to Hindi. His second track called "Aur Bantai" further cemented his foothold in the music business.
3. Badshah
Aditya Prateek Singh Sisodia, known by his stage name Badshah, is an Indian rapper, singer, film producer and businessman known for his Hindi, Haryanvi, and Punjabi songs.
He started his career in 2006 alongside Yo Yo Honey Singh in his Hip Hop group Mafia Mundeer.
He split from Honey in 2012 and released his independent Haryanvi song Kar Gayi Chull, which was later adopted into the 2016 Bollywood movie, Kapoor & Sons.
His music has been featured in Bollywood soundtracks for films such as 2014 films Humpty Sharma Ki Dulhania and Khoobsurat.
He is also considered one of the highest-paid artists and also a controversial rapper of India, for his songs like Genda Phool and Pagal.
His debut single, "DJ Waley Babu" featuring Aastha Gill, was ranked number one on the Indian iTunes charts within 24 hours of the release.
The song crossed a million views on YouTube within 30 hours.
In 2016, he collaborated with Navv Inder on "Wakhra Swag" which won the 2016 Punjabi Music Awards for best duo/group and most popular song of the year award.
He has appeared in Forbes India's Celebrity 100 in 2017, 2018 and 2019 as one of the highest-paid celebrities in India and as the only rapper in the list.
4. Raftaar
Dilin Nair (born 16 November 1988), better known by his stage name Raftaar, is an Indian rapper, lyricist, dancer, TV personality and music composer.
He started his career as a dancer, He began his career in rap in 2008 with Lil Golu and Young Amli (now known as Ikka), recording songs and uploading them on social sites.
He then started working with Yo Yo Honey Singh as a part of the Mafia Mundeer group.
Raftaar later split from the group due to credit-related problems.
He was supported by Ankit Khanna, who introduced him to the Punjabi music band RDB, who then signed him onto their label, Three Records.
Soon after the split between the RDB members, Raftaar joined Manjeet Ral (now known as Manj Musik).
He started his solo career in 2016 after getting signed to Zee Music Company.
He won the Best Urban Single award for "Swag Mera Desi" with Manj Musik at the Brit Asia TV Music Awards.
In 2019, he started judging the reality shows MTV Hustle, Dance India Dance and Roadies. He is the co-founder of Desi Hip Hop label named Kalamkaar.
Famous 20 Indian Rappers 2022
5. Krsna
Krishna Kaul, known mononymously as Krishna and formerly as YoungProzpekt, is a rapper from New Delhi, India.
He is one of the earliest rappers to emerge in the Indian hip hop scene in the mid-2000s under the stage name Prozpekt.
Krsna also briefly featured in the 2019 Bollywood film Gully Boy as himself.
He is known for his writing and technical skills as a rapper, along with his infamous beefs in the Desi Hip-Hop scene.
6. Divine
Vivian Fernandes, better known by his stage name Divine, is an Indian rapper from Mumbai, Maharashtra.
He started to gain popularity after the release of his song "Yeh Mera Bombay" (2013).
He broke through with the release of his song "Mere Gully Mein" featuring fellow Mumbai rapper Naezy.
On 12 December 2020, Divine became the first Indian rapper to be featured on Spotify Times Square billboard in New York City for his album Punya Paap, which had claimed the top spot on Apple Music India.
7. K.A.R.M.A
Vivek Arora Aka Karma is a renowned Hip-Hop Rapper in India.
Along with Rapping, he is also a well-known singer, Songwriter and Music Composer.
A few of his popular hits include Rap Karte Hain (2018), We Wake Up (2018), Warm Up (2019), Karmasutra (2019), Main Wahi Hoon (2019) and Take Diss (2019).
Before starting his career in Rapping, he used to work at a bank for Rs.4000 per month.
He realised his passion for Rapping when he was pursuing his BSc degree and, he dropped out of college to pursue his dreams.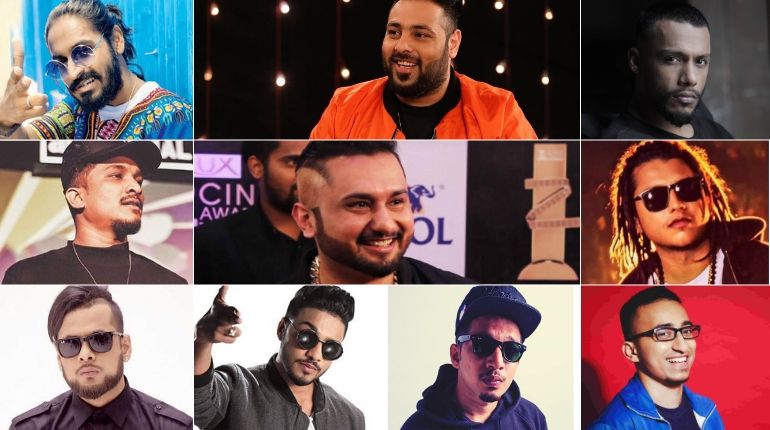 8. Naezy
Naved Shaikh (born 10 August 1993), better known by his stage name Naezy, is an Indian rapper from Mumbai, Maharashtra, who first broke into mainstream rap with the song "Mere Gully Mein" featuring fellow rapper DIVINE.
A fictional version of his character has been portrayed by Ranveer Singh in the Zoya Akhtar-directed 2019 musical film Gully Boy.
He made his film debut with the hit song "Birju" from the 2015 film Hey Bro, the music video for which featured celebrated Bollywood actors Amitabh Bachchan, Akshay Kumar, Hrithik Roshan, Ajay Devgn, as well as choreographer Prabhu Deva, with the film's lead actor Ganesh Acharya.
9. MC Stan
MC Stan is one of the youngest Indian Singer, Rapper, music composer, and songwriter.
He is a Hip-Hop Rapper and a well-known personality in India.
His actual name is Altaf Shaikh, and MC Stan is his stage name.
MC Stan is a viral rapper for his songs Wata (2018), Khuja Mat (2018), Lowkey (2019), Khajwe Vichaar (2019), and recently published Yede Ki Chadaar on 26 November 2019.
10. Dino James
Dino like sto listen songs since childhood, he was born in a middle class family in Ghoradongri village located in Bhopal, Madhya Pradesh in a middle class family, his father was an electrician and his mother was a housewife.
He was born in a Christian family, and his father wants to make him a Doctor or an Engineer so that he gets settled and live his life well and financially free, but he wanted to become an Actor and for that after his secondary higher in 2002, Stubbornly he came to Mumbai, and he thinks that he can do something good in Acting.
Famous 20 Indian Rappers 2022
11. Brodha V
Brodha V, his real name being Vighnesh Shivanand is the only Indian rapper who has been rapping in English for a long time, and he has struggled with the language barrier.
He has a strong grasp of the English rap flow and vocabulary.
However, despite his capabilities, Brodha V was overlooked by a large number of rap listeners in India due to the high number of English rap listeners following Western rappers like Eminem, Jay-Z, Snoop Dogg, just to name a few.
After that, he collaborated with Raftaar on the song "Naachne Ka Shaunq," in which he raps in both English and Hindi.
12. Ikka
Ankit Singh Patial, also known as Ikka, is a well-known rapper from New Delhi, India.
His rap has also appeared in a number of Bollywood films.
Ikka was also part of the Mafia Mundeer squad, which was formed by Yo Yo Honey Singh.
In the year 2014, he made his Bollywood debut with the song "In Da Club" (Tamanchey).
In the year 2019, he made his most recent appearance in Bollywood with the rap song "Manmohini" in the film Hume Tumse Pyar Kitna.
12. Khasi Bloodz
Khasi Bloodz was founded in 2009 and rose to fame in mid-2010s.
These Shillong-based Rappers are known for lyricism revolving around brotherhood, social and political issues, social justice, and creating discussions about the relations of North-East with the rest of the country.
They won the MTV EMA award for the Best India Act in 2018 with vocalist and rapper Meba Ofilia on their collaborative track "Done Talking."
The group consists of rappers Donbok Kharkongor aka D-Bok, Ritik Roy Malngiang aka Big Ri and Lamonte Pakyntein aka D-Mon, Khasi Bloodz.
13. Pardhaan
Pardhaan, a 25-year-old rapper from Karnal, is recognized as the desi Haryanvi rapper, and his raps in Hindi and Haryanvi have quickly climbed the popularity charts.
He has worked with artists such as Neha Kakkar, Benny Dayal, and others, and his YouTube channel currently has 4.31 lakh subscribers.
14. Swadeshi
Swadeshi is a multilingual Mumbai-based crew known for their stories that explore the country's socio-political environment. They chose to rap in a variety of languages, including Marathi, Gujarati, Bengali, and Hindi. The unique thing about this group is the use of dialects, which transports listeners to various parts of the world in one go. Famous 20 Indian Rappers 2022
15. MC Manmeet Kaur
Starting her career as a rapper in her teens, MC Manmeet Kaur is known for her bold voice and taking on topics as inequality.
Her debut album in 2015 named as 'Hip Hop Bahu' gave the glimpses of her life as a married woman in the desi hip-hop scene.
Taking on topics like no one ever did before, she became one of the favourite rappers for her courage and calling out on topics such as misogyny.
Famous 20 Indian Rappers 2022
16. Deane Sequeira
Deane Sequeira was born into a Goan-Catholic family and stepped into the studios to record her first original Hip Hop RnB rap song 'Random'.
Her original 'Random' made it huge along with other tracks such as 'ONLY MINE', 'Timeflies', 'Nobody Cares, etc. making her the most sorted and youngest rapper in the country.
She has worked in Bollywood with some of the popular music directors such as Pritam, Ram Sampat, Sachin-Jigar to name a few.
17. Seedhe Maut
Seedhe Maut is one of the best in business and rose to fame with their debut album in 2019 named 'Bayaan' made in collaboration with Sez on the Beat.
They gained critical acclaim and their singles such as 'Shaktiman' and 'Kyu' gave an insight into the frustrations of the Indian Youth.
They are known for delivering sharp, combative, and witty rhymes. 
Famous 20 Indian Rappers 2022
18. MC Prabh Deep
MC Prabh Deep, a 24-year-old Punjabi rapper from Delhi, rose to fame after rapping about the disadvantages of a highly competitive and slightly unfair educational system.
He worked as a salesman and a call centre rep before returning to his first love: music.
He is now one of the top 20 rappers in India now only because of his hard work and determination.
Prabh dropped out of high school (by choice, not by circumstance).
He released his first album in 2017, and his YouTube channel now has 87.7k subscribers who enjoy his music.
His voice is one-of-a-kind, resembling that of traditional Punjabi folk singers. He is a recording artist as well as a producer and organiser of MC battles in the capital city.
19. Shashwat Mishra a.k.a The Quixotic
The Quixotic, regarded as one of the most versatile and top rappers in India, began his career with rap battles on Orkut.
He's also competed in a number of real-life rap battles and also served as a judge for Rap Wars 2016.
The Quixotic is known for its hard-hitting lyrics and has a large number of loyal audiences. He describes his musical style as experimental-soul music. 
20. Sumukh Mysore a.k.a Smokey The Ghost
This 28-year-old Bangalore rapper chose to pursue his passion for music over the safety of a government job as a Research Scientist at the National Centre of Biological Sciences.
He began his career as a member of the Machas With Attitude trio, but the group later split.
Sumukh Mysore is well-known and one of the best rappers in India known for his unique style of multiple rhyming, as well as his expertise in on-line rhymes. His mixtape, titled "The Cellotape," became India's most downloaded mixtape.
DesiHipHop.com has called him one of India's best lyricists.
---
Follow us or bookmark us for more Celeb Bio box office collection report celebrities trailers and promos
Join us on Facebook
Join us on Twitter