Georgian Food Cuisine Some Must Try Dishes
Georgian food is arguably one of the world's most underrated cuisines, featuring flavours from Greece and the Mediterranean and influences from Turkey and Persia.
This Georgian food guide is drawn from experiences travelling across the country — visits to local markets, meals in family homes and restaurants, and even an impromptu cooking course.
It offers an extensive list of traditional Georgian dishes and tips on what to eat and drink when you visit.
Georgian food is quite appropriately an expression of the culture. Warm, gooey comfort food like khachapuri (cheese-stuffed bread) finds balance with matsoni (yoghurt).
Herbs like tarragon, flat parsley, dill and coriander combine with walnuts and garlic for rich fillings and sauces.
Eating, hospitality, toasts, and the supra bind family and friends and snare visitors into long, table-bound interludes.
Georgian food and hospitality surround you…and can sometimes suffocate you under its weight.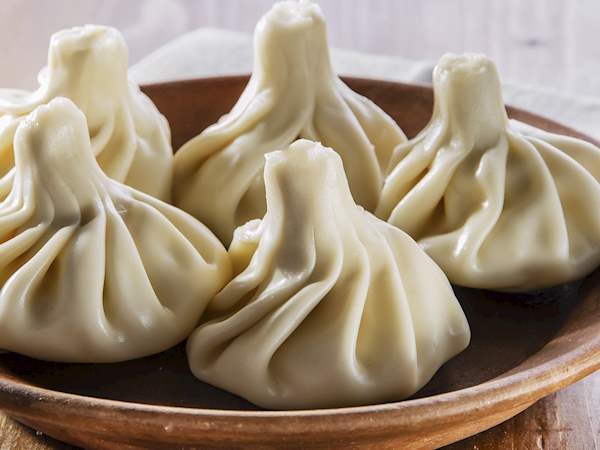 Georgian Food Cuisine Some Must Try Dishes
1. Khinkali
If you could only taste one Georgian dish, it should be khinkali – the national dish. 
You know Chinese dumplings, right? Those small savoury balls of dough with or without meat. Well, khinkali is dumplings on steroids.
You've got this chunky dumpling with meat (lamb, beef or pork) or vegetarian mushroom, spinach and cheese fillings.
It has THE most delicious broth inside.
And there's a real art to eating it right (find instructions below).
I had khinkali every day in Georgia and Armenia.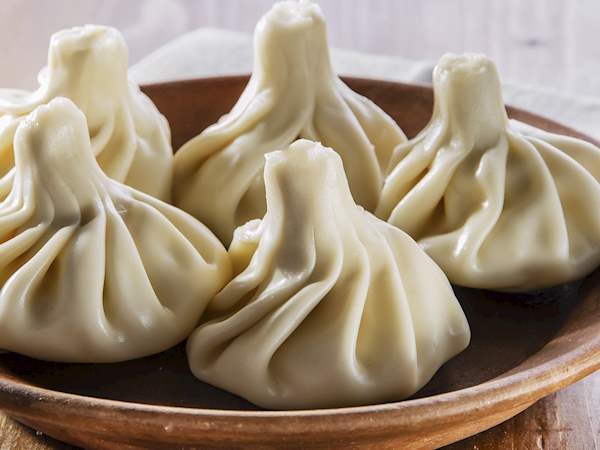 While the original khinkali is boiled, my favourite was the deep-fried edition. Deliciousness!
2. Khachapuri Adjaruli
A molten canoe of carbohydrates and dairy, the quantity of sulguni cheese alone in khachapuri Adjaruli is enough to land a lactose-intolerant friend in the ER. But the decadence doesn't end there.
Seconds after the bread is pulled from the toné, a baker parts the cheese to make way for a final flourish: hunks of butter and a cracked raw egg.
When the bubbling mass is placed before you, you must wield your spoon fearlessly and, working from the yolk out, vigorously swirl the ingredients together until hypnotizing spirals of orange and white begin to appear.
At this point—and God forbid the mixture get cold—tear off a corner of bread and dunk with conviction.
This is how Adjarians eat khachapuri, an umbrella genre of cheese-filled bread sold hot at hole-in-the-wall bakeries around the country.
While each region has its favorite iteration of khachapuri—vegetables, meats, or legumes may be added—khachapuri Adjaruli has eclipsed the competition to become Georgia's national dish.
3. Lobio (Bean Soup)
A cross between bean soup and refried beans. The consistency and taste of lobio varies widely.
That it often bears a resemblance to Mexican bean dishes is almost always satisfying.
For full effect, the traditional way to eat lobio is with a round of mchadi, Georgian corn bread.
We often searched for lobio after we'd been exhausted by meat and bread, and found it quite often, including in some unusual locations.
4. Ostri
Another prime example of Georgian food is ostri. Ostri is a hot, spicy beef stew with garlic, parsley and coriander.
Like most other dishes in Georgia, it's served sans side dish, although some rice could have been lovely!
5. Kharcho
Kharcho is a traditional Georgian soup with beef, rice, cherry plum purée and chopped walnuts. It's usually topped with coriander like most other local dishes.
Georgian Food Cuisine Some Must Try Dishes
6. Tolma
Tolma is the Georgian equivalent of dolma, a family of stuffed vegetable dishes that's widely consumed throughout the South Caucasus, the Balkans, Central Asia, and the Levant.
They consist of different vegetables or leaves stuffed with a mixture of rice, ground meat, herbs, and spices.
Georgian tolma can be made with different types of vegetables like tomato, eggplant, and zucchini, but in Georgian cuisine, the most common types are made with bell peppers and vine or cabbage leaves.
When made with peppers, the insides of the pepper are hollowed out before being stuffed with the filling.
The stuffed peppers are then cooked in a mixture made with tomatoes, sour cream, garlic, and spices.
7. Ajika
Ajika (or adjika) refers to a spicy Georgian-Abkhazian condiment made from red peppers, garlic, salt, and spices.
It can be eaten fresh as a dip or used as a flavoring agent to enhance many Georgian dishes like grilled meat, fish, soup, vegetables, and salad.
Ajika is typically made with sun-dried red peppers though it can be made with unripe peppers as well.
In that case, the ajika is green instead of the more common red. Georgian ajika is made only with peppers but a less spicy adaptation containing tomatoes is popular in Russia and Ukraine as well.
8. Lobio
Oooh, the lobio. When I first heard about lobio, I honestly thought it sounded a bit meeh.
But guys, there's nothing meeh about this dish. 
Lobio is a slow-cooked bean stew with onion and herbs.
A very flavoursome dish served in a little clay pot.
There's the thin soupy kind and then there's the thick and creamy, which is the best.
This is a great dish for a starter or if you're not that hungry. 
9. Mtsvadi
Mtsvadi is skewered meat (pork, beef, lamb or chicken), cooked over an open fire.
It's traditional Georgian barbecue tossed with raw onions and finished with freshly squeezed pomegranate juice.
Sometimes it's also served with sour plum sauce or wrapped in thin bread.
10. Satsivi
Satsivi refers to a thick walnut paste or sauce made from walnuts, garlic, vinegar, dried herbs, red pepper, and salt .
It's always served cold (tsivi means "cold" in Georgian) and used in a variety of poultry, fish, and vegetable dishes.
---
Follow us or bookmark us for more Celeb Bio box office collection report celebrities trailers and promos
Join us on Facebook
Join us on Twitter