How to know if your Gmail, Facebook, or iCloud ID has been hacked?
With cybercrime on the rise, it's essential to know if your information has been breached – here's how.
Today, cybercriminals target our data in various ways: fake texts, malware-laden links, and even fraudulent mail that impersonates government officials.
Sometimes, cyberattacks can be so discreet that you have no idea your device is even affected.
Hackers can target information portals like your Gmail, Facebook, and iCloud accounts.
Through these accounts, they can then access sensitive information like bank details.
However, there are sure signs you can keep your eyes open for – and the sooner you learn these red flags, the quicker you can tackle them.
Signs that your accounts/device has been hacked
If your phone, laptop, or desktop starts acting glitchy or sluggish, that could mean you have been hacked.
Similarly, if your device is getting inundated with fake warnings or suspicious-looking browser pop-ups, you may be a victim of a malware attack.
Another tell-tale sign is if your browser is constantly redirected to websites without you initiating it.
If your browser also begins displaying X-rated pop-ups, your device may be the victim of malicious software.
Are your friends receiving random messages from your Facebook account? That's a good indication that your social media account has been breached.
Certain viruses need to be taken to a professional cybersecurity expert to resolve the issue.
Furthermore, if your browser or device notifies you that something has been compromised, it likely has been.
What to do if your device has been hacked
One of the easiest ways to relieve your device of a virus or malware is to undergo a factory reset.
This is a simple procedure that thoroughly cleans your device's internal storage.
You can also run an anti-virus program to clear out the malware, though most of these services will cost you money.
If the virus attacking your device is incredibly sophisticated, you may need to take it to a professional cybersecurity expert.
How to know if your Gmail, Facebook, or iCloud ID has been hacked?
Reporting Hacked Accounts to Google
Lots of people have their accounts hacked every year. Fortunately, Google makes it possible to report your account if it has been hacked.
It is essential to inform your hacked account as the hacker could have access to your private information.
They may try to steal your identity or access your financial details and steal from you.
Contact Google as soon as possible and fill out a form that you can find on your website. Follow these steps to report a hacked account;
Go to Google's 'Contact Us Page
Go to the 'Safety and abuse' option and choose the option that describes your problem
Click on the option 'Report a security problem.'
Go to the option 'A Gmail user who is sending messages that violates Terms of Use.'
You will be required to enter your email address and provide a description of your solution
Recovering Your Gmail Account
Google provides you with plenty of ways to recover your account after reporting that it has been hacked.
It is easy to get your password back if you give sufficient recovery information during registration.
Google's Account Recovery page is the simplest option to get your account back.
Choose the option 'I don't know my password' and then continue.
If you provide a phone number link to your Gmail account, Google can provide you with a verification code through text message.
You will be required to answer a few security questions to verify your identity.
If you can no longer access your email address, Google may still help you recover your account.
You might recover your account even if you did not set up any recovery information.
The process will, however, be a little more complicated. You will need to recover your account manually.
Google will require you to verify your identity manually.
Go to the Google Account Recovery Page and enter your email address. Click on the option 'Continue' and then 'I don't know.' Go to the option 'Verify your identity.'
You will be required to answer a few questions. Answer them as accurately as you can.
If you provide accurate information, you may be able to get your account back.
Whether your account has been hacked or you do not remember your password, Google gives you the option to recover it.
How to Report Your Hacked Facebook Account
Visit Report Compromised Account page >> Select "My Account Is Compromised" option >> Enter your email ID or phone number linked to your account.
The page displays a list of options. Select your reasons and follow the instructions.
Alert Your friends
Cybercriminals often use compromised accounts to spread fraudulent links or post distasteful or offensive comments.
Inform your Facebook friends that your account has been compromised and ask them not to respond to any messages or links that they receive from your account.
Delete Suspicious Apps
Earlier, Facebook admitted that hundreds of users inadvertently gave access of their personal data to third-party apps
The affected users were also using their social media accounts to log in to certain applications.
Scrap all unknown and suspicious apps from your account. Hackers often use malicious applications to pilfer sensitive data, images, and other personal details from social media accounts.
Go to settings >> Click on Apps and Websites option >> Select the apps you want to remove
You can also delete all the data, photos, posts, and links shared through these apps. In addition, click the View and Edit option to change app permissions. You can limit the app's access to your personal data.
Finally, Reset Security
Your account could be hacked again if no proper security measures are taken.
Adhere to Facebook's new security and privacy features. Enable two-factor authentication, which ensures that your account cannot be hacked with just one password.
Use an authentication app like Google Authenticator for this.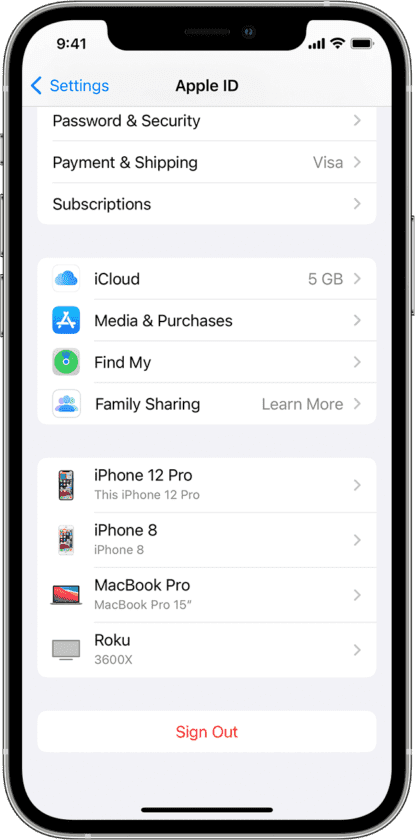 How to know if your Gmail, Facebook, or iCloud ID has been hacked?
Signs your Apple ID has been compromised
Your Apple ID might be compromised if you receive an account notification from Apple for a change you didn't make, or if you notice account details or changes you don't recognize. For example:
You receive an email or notification that your Apple ID was used to sign in to a device you don't recognize or did not sign in to recently (for example, "Your Apple ID was used to sign in to iCloud on a Windows PC").
You receive a confirmation email from Apple that your Apple ID password was changed or your account information was updated, but you don't remember making any changes.
Your device was locked or placed in Lost Mode by someone other than you.
You see messages you didn't send, or items you didn't delete.
You see charges or notices for purchases that you didn't make. Learn what to do if you see an unfamiliar iTunes Store or App Store charge on your credit or debit card statement.
Your password no longer works, or it might have been changed or locked.
You don't recognize some or all of your account details.
If you received an email, text message, or phone call that you're not sure is valid or you think might be phishing, here are some tips to help determine its legitimacy.
Gain control of your Apple ID
If you think your Apple ID is compromised, use these steps to gain control of it and review your account information:
Sign in to your Apple ID account page. If you can't sign in or you receive a message that the account is locked when you try to sign in, try to reset or unlock your account.
Review all the personal and security information in your account. Update any information that isn't correct or that you don't recognize, including:

Your name.
Your primary Apple ID email address.* If you need to change your email address, update the features and services that you use with Apple ID, so that each one is using your updated Apple ID.
All alternate email addresses, rescue email addresses, and phone numbers.
The devices that are associated with your Apple ID, if you've already set up two-factor authentication.
Security questions and answers. If you think they might be easy to guess, you should change your security questions.

Check with your email address* provider to make sure that you control every email address associated with your Apple ID. If you don't control the email addresses associated with the Apple ID, you should change the password for the email address or use a different email address.
Set up two-factor authentication for your Apple ID. This additional security feature is designed to prevent anyone from accessing your account, even if they know your password.
* In China mainland and India, you can use your phone number as your Apple ID.
Know which Apple ID is signed in to your device
If you're signed in on your device with an Apple ID that you don't recognize, use these steps to sign out, then back in with a different Apple ID. To make sure that you're signed in to Apple IDs that only you control or trust, you can check the following settings on each of your devices:
iPhone, iPad, or iPod touch:
Settings > [your name]
Settings > [your name] > iTunes & App Store
Settings > Messages > Send & Receive
Settings > FaceTime
Mac:
System Preferences > Apple ID
System Preferences > Internet Accounts
Messages > Preferences > Accounts
Facetime > Preferences > Settings
Mail > Preferences > Accounts
Calendar > Preferences > Accounts
You should also check iCloud for Windows, your AirPort Time Capsule or other AirPort Base Station, and your Apple TV (for iCloud Photos or Home Sharing).
Make sure your Apple ID is secure
Because you use your Apple ID for so many Apple products and services, you should make sure that your Apple ID is as secure as possible. You should be the only person who knows your password and can sign in with your Apple ID. If someone you don't know or don't trust can sign in with your Apple ID, your account is not secure.
Your Apple ID might not be secure for the following reasons:
Someone else created an Apple ID on your behalf, or you're using an Apple ID that was already signed in when you received your device.
You're sharing an Apple ID with family or friends. Your Apple ID is your personal account. If you want to share purchases with a family member, use Family Sharing. With Family Sharing, you can share a calendar, photos, reminders, and more without sharing your Apple ID.
You don't recognize the Apple ID that is signed in on your device.
You shared your password with someone else intentionally or unintentionally. For example, someone else selected your password for you, you told someone your password, or you entered your password on a phishing site.
You don't have control of the email address or phone number associated with your Apple ID.
Your password is weak or is compromised.
You share your devices with someone else, your devices are not protected by a passcode, or your passcode is easy to guess.
If any of the above are true, you should reset your password as soon as possible and review your account information.
---
Read More
Ertha's Inter-Metaverse Portal NFTs Bought for $60K news
Judge Dismisses Lawsuit Against Binance for Allegedly Selling Unregistered Crypto Securities p100
Elon Musk Buys 9.2 Percent Stake in Twitter, Sending Stock Soaring
Japan's crypto exchange bitFlyer will be sold to an Asian investment company
Here is the Bitcoin Prediction For April 2022
---
Follow us or bookmark us for more Celeb Bio box office collection report celebrities trailers and promos
Join us on Facebook
Join us on Twitter