Is Carole Baskin's Husband Don Lewis Alive?
Carole Baskin's Husband Don Lewis Alive?
The "Tiger King" star's missing ex-husband, Don Lewis, was reportedly found alive in Costa Rica, but the discovery is just now going viral — over a year later.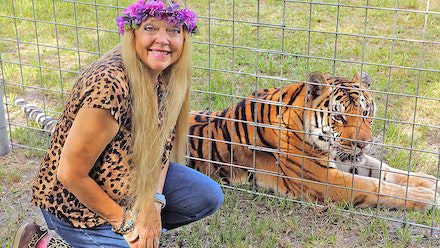 According to a 2021 interview, Don Lewis, the "dead" spouse of "Tiger King's" Carole Baskin, was purportedly discovered alive in Costa Rica years ago.
Somehow, in a 2021 interview with ITV's "This Morning" program, Baskin made the crazy claim that her ex-husband, long believed to have been slain, is "alive and well" in Costa Rica.
"One of the really exciting things that came out of Tiger King 2 is that they produced a letter from Homeland Security and it says that a special agent in charge with the FBI at Homeland Security reached out to the sheriff's detective George Fernandez, which means this had to have happened after 2002, because Homeland Security wasn't even around until 2002," Baskin told the outlet. "And they said that my husband, Don Lewis, is alive and well in Costa Rica."
"And yet all of this drama has been made about me having something to do with his disappearance, when Homeland Security has known where he is."
Lewis disappeared in August 1997 and was declared legally dead in 2002.
A dispute ensued between Baskin and the children of Lewis over his estate, with Baskin prevailing as the primary beneficiary.
The case of Lewis' disappearance is still active as of 2021.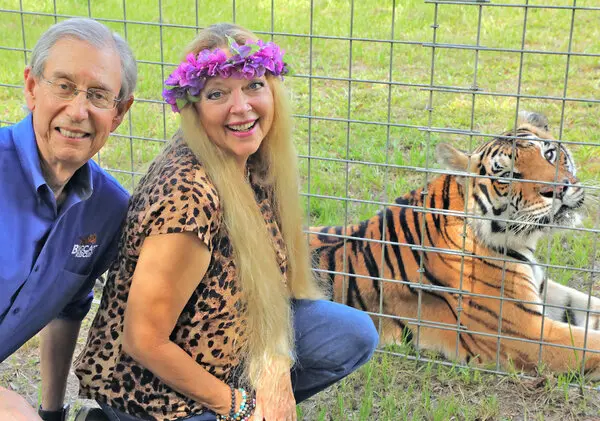 In September 2020, during the broadcast of Baskin's appearances in Dancing with the Stars in select Florida television markets, including Tampa, Lewis's family and their attorney ran a commercial spot asking for anyone with information on his disappearance to come forward and offered a US$100,000 reward.
According to the NY Post Lewis has not made any public statements debunking rumors that he had died.
"I don't know how it is that Homeland Security says he's alive and well in Costa Rica but I'm glad to hear it," Baskin told ITV. 'I didn't think he was capable of supporting himself. He took about a million dollars down to Costa Rica, I had agreed to let him do that so he could prove to himself that he could make a living."
In November 2021, Baskin and her current husband Howard penned a blog on her Big Cats Rescue website, questioning why DHS released his alleged whereabouts to Netflix for season 2, which she did not participate in.
"Also noteworthy is the document they display from Homeland Security, which was not formed as an agency until 2002, five years after Don Lewis' disappearance, saying they had information that Don Lewis was alive in Costa Rica," they wrote at the time. "Why is this just appearing?"
The Post has reached out to Netflix for comment.
Baskin's Big Cat Rescue blog post contained screenshots of the alleged DHS documents from the second season of the series and addressed unverified fan theories and claims that she had killed him.
"And for everyone who still wants to believe that Carole killed Don, then please explain to us why you think armchair detectives, or you are better informed than the Special Agent in Charge at the FBI in this Homeland Security Document which says 'Don Lewis is currently alive and well in Costa Rica,'" they wrote. "This was reported to Jorge Fernandez of the Hillsborough County Sheriff's Office by the SAC at the FBI according to this letter. While they have purposely redacted the SAC's name and date, we do know that there wasn't a Homeland Security until November 2002 which was 5 years after Don Lewis left home in Tampa, FL."
And, even though the news is over a year old, people are only just starting to pay attention to it thanks to now-viral social media posts.
"Was I the only one that didn't know they found Carole Baskin's husband living his best life in Costa Rica?!" someone wrote on Twitter.
Also Read, In Auburn attempt of Kidnapping at a Coffee Shop Drive-Thru Window
Follow us or bookmark us for more Latest Pictures Entertainment News Celeb Bio box office collection report celebrities trailers and promos