KRK Declared Dobaara All Time Biggest Disaster
Kamak Rashid Khan now changed it to Kamal Rashid Kumar declared Taapsee Pannu starrer Dobaara all time biggest disaster.
He is tweeting a lot Negative about Taapsee,s Dobaara and today he declared it disaster.
KRK tweeted:
Super actress @taapsee Ne Box Office Ke Saare records destroy Kar Diye Hain. Her film #Dobaara was running Houseful and collected Rs.26 lakhs during the weekend. All time biggest disaster.

KRK
Dobaara is running in Approx. 300 screens in India and it is the latest target of Boycott Bollywood Gang.
KRK constantly Tweeting about the movie, here are some Tweetes.
Taapsee Pannu की film दोबारा का पहला show इतना Houseful था, कि दोनों को एक ही कुर्सी पर बैठकर film देखनी पड़ी!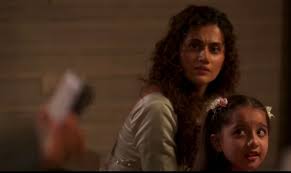 Taapsee Pannu starrer Dobaara not performing well at the moment and it has became a troll material for many.
The movie is not that bad but Boycott Bollywood hits hard this time.
Also Read,
Alison Brie on Happy Married Life and Alison Brie, Aubrey Plaza on Reuniting
Miss USA 2022 Contestants List
Christine Quinn Leaving Netflix's Selling Sunset After 5 Seasons
Orlando Brown Continues To Disturb With Wild Behavior
KRK Declared Dobaara All Time Biggest Disaster
Follow us or bookmark us for more Bollywood news latest pictures Entertainment box office collection report celebrities trailers and promos
Join us on Facebook :
Join us on Twitter :
KRK Declared Dobaara All Time Biggest Disaster