Lucifer (Netflix) All Seasons Cast Crew Release Date Platform Upcoming Season Awards Number Viewers All Episodes
Lucifer is an American urban fantasy television series developed by Tom Kapinos that premiered on Fox on January 25, 2016.
It is based on the DC Comics character created by Neil Gaiman, Sam Kieth, and Mike Dringenberg.
Taken from the comic book series The Sandman, who later became the protagonist of a spin-off comic book series, both published by DC Comics' Vertigo imprint.
The series is produced by Jerry Bruckheimer Television, DC Entertainment and Warner Bros. Television.
Although the fifth season was initially reported to be the last, in June 2020 the series was renewed for a sixth and final season of ten episodes, which is set to premiere on September 10, 2021.
Cast & Crew Of Lucifer
Tom Ellis as Lucifer Morningstar
Lauren German as Detective Chloe Decker
Kevin Alejandro as Detective Daniel "Dan" Espinoza
D. B. Woodside as Amenadiel
Lesley-Ann Brandt as Mazikeen
Scarlett Estevez as Beatrice "Trixie" Espinoza
Rachael Harris as Dr. Linda Martin
Kevin Rankin as Detective Malcolm Graham
Aimee Garcia as Ella Lopez
Tricia Helfer as "Mum" / Goddess
Tom Welling as Lieutenant Marcus Pierce
Inbar Lavi as Eve 
| | |
| --- | --- |
| Theme music composer | Heavy Young Heathens |
| Opening theme | "Being Evil Has a Price" |
| Composers | Ben Decter, Jeff RussoMarco Beltrami & Dennis Smith |
| Country of origin | United States |
| Original language | English |
Executive producers
Tom Kapinos
Ildy Modrovich
Len Wiseman
Jonathan Littman
Jerry Bruckheimer
Joe Henderson
Tom Ellis
Producers
Alex Katsnelson
Michael Azzolino
Erik Holmberg
Karen Gaviola
Production locations
Vancouver, British Columbia (seasons 1–2)
Los Angeles, California (season 3–present)
Cinematography
Glen Keenan
Ryan McMaster
Tico Poulakakis
Stefan von Bjorn
Barry Donlevy
Christian Sebaldt
Editors
Marc Pattavina
Ray Daniels III
Fred Peterson
Hector Carrillo
Matt Coleshill
Jill D'Agnenica
Camera setup
Single-camera
Running time
42–62 minutes
Production companies
Jerry Bruckheimer Television
DC Entertainment
Warner Bros. Television
Distributor
Warner Bros. Television Distribution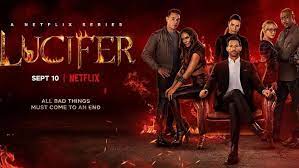 Lucifer (Netflix) All Seasons Cast Crew Release Date
Season 6
| | | | | | |
| --- | --- | --- | --- | --- | --- |
| Episode | Title | Directed by | Written by | Original release date | Viewers Count |
| 1 | "Nothing Ever Changes Around Here" | Kevin Alejandro | Mike Costa | September 10, 2021 | |
| 2 | "Buckets of Baggage" | Richard Speight Jr. | Jen Graham Imada | September 10, 2021 | |
| 3 | "Yabba Dabba Do Me" | Nathan Hope | Joe Henderson | September 10, 2021 | |
| 4 | "Pin the Tail on the Baddie" | Viet Nguyen | Carly Woodworth | September 10, 2021 | |
| 5 | "The Murder of Lucifer Morningstar" | Lisa Demaine | Lloyd Gilyard Jr. | September 10, 2021 | |
| 6 | "A Lot Dirtier Than That" | Claudia Yarmy | Ildy Modrovich | September 10, 2021 | |
| 7 | "My Best Fiend" | Nathan Hope | Julia Fontana | September 10, 2021 | |
| 8 | "Save the Devil, Save the World" | DB Woodside | Aiyana White | September 10, 2021 | |
| 9 | "Goodbye, Lucifer" | Kevin Alejandro | Chris Rafferty | September 10, 2021 | |
| 10 | "Partners 'Til the End" | Sherwin Shilati | Joe Henderson & Ildy Modrovich | September 10, 2021 | |
Season 5
| | | | | | |
| --- | --- | --- | --- | --- | --- |
| Episode | Title | Directed by | Written by | Release date | Viewers Count |
| 1 | Really Sad Devil Guy | Eagle Egilsson | Jason Ning | August 21, 2020 | |
| 2 | Lucifer! Lucifer! Lucifer | Sherwin Shilati | Ildy Modrovich | August 21, 2020 | |
| 3 | Diablo | Claudia Yarmy | Mike Costa | August 21, 2020 | |
| 4 | It Never Ends Well for the Chicken | Viet Nguyen | Aiyana White | August 21, 2020 | |
| 5 | Detective Amenadiel | Sam Hill | Joe Henderson | August 21, 2020 | |
| 6 | BlueBallz | Richard Speight Jr. | Jen Graham Imada | August 21, 2020 | |
| 7 | Our Mojo | Nathan Hope | Julia Fontana | August 21, 2020 | |
| 8 | Spoiler Alert | Kevin Alejandro | Chris Rafferty | August 21, 2020 | |
| 9 | Family Dinner | Nathan Hope | Joe Henderson | May 28, 2021 | |
| 10 | Bloody Celestial Karaoke Jam | Sherwin Shilati | Ildy Modrovich | May 28, 2021 | |
| 11 | Resting Devil Face | Bola Ogun | Mira Z. Barnum, Joshua Duckworth & Ricardo Lopez Jr. | May 28, 2021 | |
| 12 | Daniel Espinoza: Naked and Afraid | Greg Beeman | Mike Costa | May 28, 2021 | |
| 13 | A Little Harmless Stalking | Richard Speight Jr. | Julia Fontana & Jen Graham Imada | May 28, 2021 | |
| 14 | Nothing Lasts Forever | Lisa Demaine | Chris Rafferty | May 28, 2021 | |
| 15 | Is This Really How It's Going To End?! | Ildy Modrovich | Jason Ning | May 28, 2021 | |
| 16 | A Chance at a Happy Ending | Karen Gaviola | Joe Henderson & Ildy Modrovich | May 28, 2021 | |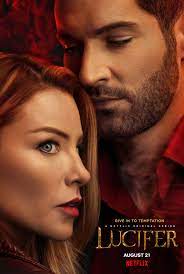 Lucifer Season 4
| | | | | | |
| --- | --- | --- | --- | --- | --- |
| Episode | Title | Directed by | Written by | Release Date | Viewers Count |
| 1 | Everything's Okay | Sherwin Shilati | Joe Henderson | May 8, 2019 | |
| 2 | Somebody's Been Reading Dante's Inferno | Sam Hill | Ildy Modrovich | May 8, 2019 | |
| 3 | O, Ye of Little Faith, Father | Jessika Borsiczky | Jason Ning | May 8, 2019 | |
| 4 | All About Eve | Sherwin Shilati | Chris Rafferty | May 8, 2019 | |
| 5 | Expire Erect | Viet Nguyen | Mike Costa | May 8, 2019 | |
| 6 | Orgy Pants to Work | Louis Milito | Aiyana White | May 8, 2019 | |
| 7 | Devil Is as Devil Does | Richard Speight Jr. | Jen Graham Imada | May 8, 2019 | |
| 8 | Super Bad Boyfriend | Claudia Yarmy | Jason Ning | May 8, 2019 | |
| 9 | Save Lucifer | Lisa Demaine | Joe Henderson | May 8, 2019 | |
| 10 | Who's da New King of Hel | Eagle Egilsson | Ildy Modrovich | May 8, 2019 | |
Season 3
Episode
Title
Directed by
Written by
Release Date
Viewers Count
1
"They're Back, Aren't They?"
Karen Gaviola
Ildy Modrovich
October 2, 2017
3.92 M
2
"The One with the Baby Carrot"
Louis Milito
Joe Henderson
October 9, 2017
3.33 M
3
"Mr. & Mrs. Mazikeen Smith"
Tara Nicole Weyr
Joe Henderson & Alex Katsnelson
October 16, 2017
3.19 M
4
"What Would Lucifer Do?"
Eagle Egilsson
Jason Ning
October 23, 2017
3.26 M
5
"Welcome Back, Charlotte Richards"
Nathan Hope
Chris Rafferty
October 30, 2017
3.37 M
6
"Vegas with Some Radish"
Karen Gaviola
Ildy Modrovich & Sheri Elwood
November 6, 2017
3.48 M
7
"Off the Record"
Eduardo Sánchez
Story by : Jen Graham Imada
Teleplay by : Chris Rafferty & Mike Costa
November 13, 2017
3.58 M
8
"Chloe Does Lucifer"
Louis Milito
Julia Fontana
November 20, 2017
3.26 M
9
"The Sinnerman"
Marisol Adler
Jenn Kao
December 4, 2017
3.39 M
10
"The Sin Bin"
Greg Beeman
Sheri Elwood
December 11, 2017
3.36 M
11
"City of Angels?"
Mark Tonderai
Jason Ning & Jenn Kao
January 1, 2018
3.11 M
12
"All About Her"
Tara Nicole Weyr
Alex Katsnelson
January 22, 2018
3.77 M
13
"Til Death Do Us Part"
Sherwin Shilati
Mike Costa
January 29, 2018
3.67 M
14
"My Brother's Keeper"
Claudia Yarmy
Joe Henderson & Jason Ning
February 5, 2018
3.71 M
15
"High School Poppycock"
Louis Milito
Chris Rafferty & Jen Graham Imada
February 26, 2018
3.18 M
16
"Infernal Guinea Pig"
Eagle Egilsson
Jenn Kao & Julia Fontana
March 5, 2018
3.13 M
17
"Let Pinhead Sing!"
Alrick Riley
Ildy Modrovich & Sheri Elwood
March 12, 2018
2.97 M
18
"The Last Heartbreak"
Hanelle Culpepper
Alex Katsnelson & Mike Costa
March 19, 2018
3.23 M
19
"Orange Is the New Maze"
Nathan Hope
Jenn Kao
March 26, 2018
3.19 M
20
"The Angel of San Bernardino"
Tara Nicole Weyr
Jason Ning
April 16, 2018
3.18 M
21
"Anything Pierce Can Do I Can Do Better"
Jim Vickers
Alex Katsnelson
April 23, 2018
2.82 M
22
"All Hands on Decker"
Eduardo Sánchez
Sheri Elwood
April 30, 2018
2.84 M
23
"Quintessential Deckerstar"
Claudia Yarmy
Ildy Modrovich
May 7, 2018
2.90 M
24
"A Devil of My Word"
Eagle Egilsson
Joe Henderson
May 14, 2018
3.20 M
25
"Boo Normal"
Lisa Demaine
Jen Graham Imada
May 28, 2018
2.42 M
26
"Once Upon a Time"
Kevin Alejandro
Story by : Ricardo Lopez Jr.
Teleplay by : Ildy Modrovich & Joe Henderson
May 28, 2018
2.42 M
Lucifer Season 2
| | | | | | |
| --- | --- | --- | --- | --- | --- |
| Episode | Title | Directed by | Written by | Release Date | Viewers Count |
| 1 | "Everything's Coming Up Lucifer" | Nathan Hope | Joe Henderson | September 19, 2016 | 4.36 M |
| 2 | "Liar, Liar, Slutty Dress on Fire" | Louis Milito | Ildy Modrovich | October 3, 2016 | 3.67 M |
| 3 | "Sin-Eater" | Mairzee Almas | Alex Katsnelson | October 10, 2016 | 3.67 M |
| 4 | "Lady Parts" | Ben Bray | Sheri Elwood | October 17, 2016 | 3.63 M |
| 5 | "Weaponizer" | Karen Gaviola | Jason Ning | October 24, 2016 | 3.55 M |
| 6 | "Monster" | Eagle Egilsson | Chris Rafferty | October 31, 2016 | 3.42 M |
| 7 | "My Little Monkey" | Tara Nicole Weyr | Jenn Kao | November 7, 2016 | 3.52 M |
| 8 | "Trip to Stabby Town" | Nathan Hope | Jeff Lieber | November 14, 2016 | 3.87 M |
| 9 | "Homewrecker" | Greg Beeman | Mike Costa | November 21, 2016 | 3.63 M |
| 10 | "Quid Pro Ho" | Nathan Hope | Ildy Modrovich & Julia Fontana | November 28, 2016 | 4.09 M |
| 11 | "Stewardess Interruptus" | Greg Beeman | Sheri Elwood | January 16, 2017 | 3.97 M |
| 12 | Love Handles | Karen Gaviola | Alex Katsnelson | January 23, 2017 | 4.17 M |
| 13 | "A Good Day to Die" | Alrick Riley | Joe Henderson & Chris Rafferty | January 30, 2017 | 4.19 M |
| 14 | "Candy Morningstar" | Claudia Yarmy | Jenn Kao | May 1, 2017 | 3.41 M |
| 15 | "Deceptive Little Parasite" | Brad Tanenbaum | Mike Costa & Julia Fontana | May 8, 2017 | 3.25 M |
| 16 | "God Johnson" | Sherwin Shilati | Jason Ning | May 15, 2017 | 3.05 M |
| 17 | "Sympathy for the Goddess" | Louis Milito | Joe Henderson | May 22, 2017 | 3.03 M |
| 18 | "The Good, the Bad, and the Crispy" | Karen Gaviola | Ildy Modrovich | May 29, 2017 | 3.31 M |
Season 1
| | | | | | |
| --- | --- | --- | --- | --- | --- |
| Episode | Title | Directed by | Written by | Release Date | US Viewers Count |
| 1 | "Pilot" | Len Wiseman | Tom Kapinos | January 25, 2016 | 7.16 M |
| 2 | "Lucifer, Stay. Good Devil." | Nathan Hope | Joe Henderson | February 1, 2016 | 6 M |
| 3 | "The Would-Be Prince of Darkness" | Louis Milito | Jason Ning & Jenn Kao | February 8, 2016 | 5.47 M |
| 4 | "Manly Whatnots" | Matt Earl Beesley | Ildy Modrovich | February 15, 2016 | 5.13 M |
| 5 | "Sweet Kicks" | Tim Matheson | Sheri Elwood | February 22, 2016 | 4.86 M |
| 6 | "Favorite Son" | David Paymer | Jason Ning | February 29, 2016 | 3.91 M |
| 7 | "Wingman" | Eriq La Salle | Alex Katsnelson | March 7, 2016 | 4.24 M |
| 8 | "Et Tu, Doctor?" | Eagle Egilsson | Jenn Kao | March 14, 2016 | 3.86 M |
| 9 | "A Priest Walks into a Bar" | David Frazee | Chris Rafferty | March 21, 2016 | 3.82 M |
| 10 | "Pops" | Tara Nicole Weyr | Alex Katsnelson & Mike Costa | March 28, 2016 | 3.76 M |
| 11 | "St. Lucifer" | Mairzee Almas | Sheri Elwood & David McMillan | April 11, 2016 | 3.44 M |
| 12 | "#TeamLucifer" | Greg Beeman | Ildy Modrovich | April 18, 2016 | 3.81 M |
| 13 | "Take Me Back to Hell" | Nathan Hope | Joe Henderson | April 25, 2016 | 3.89 M |
Awards Won by Lucifer
| | | | | |
| --- | --- | --- | --- | --- |
| Year | Award | Category | Nominee(s) | Result |
| 2017 | Bisexual Representation Awards | Best Bisexual Representation by a Lead Character – Male | Tom Ellis (for Lucifer Morningstar) | Won |
| 2018 | Bisexual Representation Awards | Best Bisexual Representation by a Lead Character – Male | Tom Ellis (for Lucifer Morningstar) | Won |
| 2018 | Bisexual Representation Awards | Best Bisexual Representation by a TV Show | Lucifer | Won |
| 2021 | Hollywood Critics Association Awards | Pop Icon | Tom Ellis (for Lucifer Morningstar) | Won |
---
Follow us or bookmark us for more Bollywood news box office collection report celebrities trailers and promos
Join us on Facebook
Join us on Twitter