Melbourne woman shocked by high restaurant cancellation fee.
Brief
Melbourne woman shocked by high restaurant cancellation fee.
A woman has been left flabbergasted by a huge restaurant cancellation fee she's had to pay… even though she let them know 48 hours in advance.
Lorida Quiambao had booked a table of six to celebrate her birthday lavishly at Navi, an upscale restaurant in Melbourne's Yarraville.
She was then shocked to receive an email letting her know she'd been charged over more than $1000 for cancelling.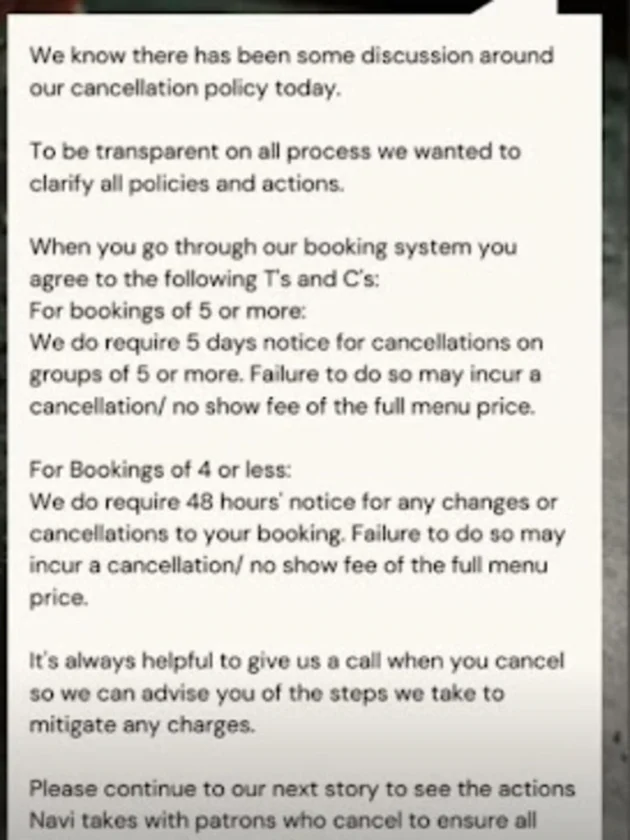 Melbourne woman shocked by high restaurant cancellation fee
Australia: After cancelling her reservation at Melbourne's upscale restaurant Navi due to illness, Lorida Quiambao was charged a staggering $1020 despite cancelling more than 48 hours before the booking. Quiambao took to social media to express her dissatisfaction with the exorbitant cancellation fee, stating that such charges should not be imposed so casually by businesses. She described the incident as "ridiculous".
The restaurant charged the large amount to Lorida Quiambao's credit card without contacting her beforehand, as she noted in a Facebook post. Navi's set menu cost $170 per person and was multiplied by six for the party of six Quiambao had reserved. The restaurant prides itself on sourcing ingredients from local farmers and small producers. Quiambao expressed surprise at the fee as the website indicated 48 hours' notice was required to cancel, but an email from the manager revealed five days' notice was necessary for parties of five or more. This policy change upset many readers, with one commenter labeling it as "robbery".
Chef and owner Julian Hills took to social media to explain that the fee was so high because he had a small business to run.
"We only have one table of six, which is one quarter of our restaurant. If we fill the table, which we make all efforts to do (including contacting those on our waiting list and sharing on socials), we refund.
"I'm a small business and can't afford to take the hit of a quarter of my restaurant missing without ample time to fill."
The restaurant has taken to social media to try to get the booking filled.
Also check: ASX to rise, S&P 500 gets further tech sector boost
Follow us or bookmark us for more Business News Latest Pictures Entertainment News Celeb Bio box office collection report celebrities trailers and promos
Join us on Facebook
Join us on Twitter