Pink's Appearance with Kids Willow and Jameson on the Red Carpet of the 2023 iHeartRadio Music Awards
Brief
During the ceremony, Pink will perform and receive the 2023 iHeartRadio Icon Award
Ahead of the annual awards show ceremony at the Dolby Theatre in Los Angeles on Monday, the "Trustfall" singer-songwriter walked the carpet with her two kids, daughter Willow Sage, 11, and Jameson Moon, 6, whom she shares with husband Carey Hart.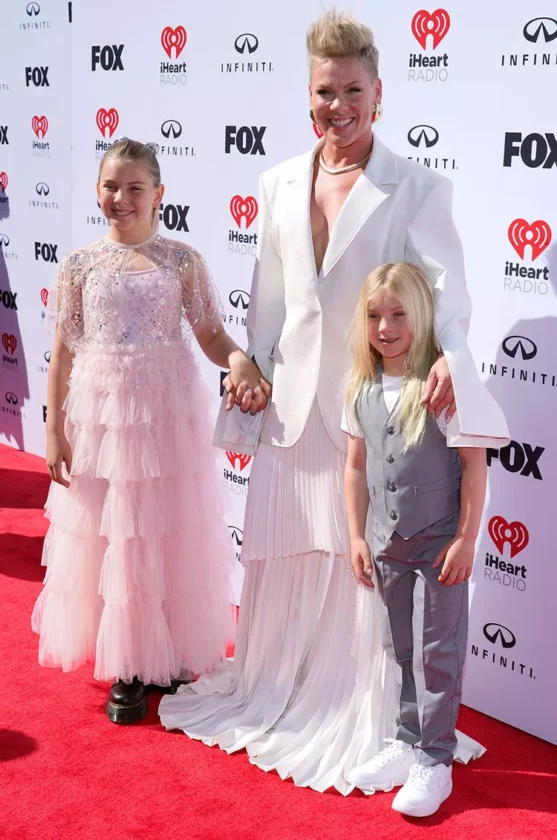 Pink's Appearance with Kids Willow and Jameson
At the 2023 iHeartRadio Music Awards, Pink made a striking appearance on the red carpet with some very special guests. The renowned "Trustfall" singer-songwriter walked the carpet with her two children, daughter Willow Sage, aged 11, and son Jameson Moon, aged 6, whom she shares with her husband Carey Hart.
As they arrived at the Dolby Theatre in Los Angeles for the annual awards ceremony, Pink made quite the fashion statement, sporting an oversized white suit jacket that she paired with flowing, oversized white pants. Her daughter, Willow, looked lovely in a light pink dress with a sparkly top and black Dr. Martens boots. Meanwhile, Jameson dressed to impress in a grey suit vest with matching pants, a white t-shirt, and white sneakers.
Pink's choice to bring her children to the event was not only adorable but also a testament to her dedication to family values. This special appearance certainly created a buzz amongst fans and the media alike, and it was clear that the family was having a great time.
As per a recent press release, Pink, the Grammy-winning artist, is set to perform and receive the prestigious 2023 iHeartRadio Icon Award during the awards show. This award recognizes her impressive impact on pop culture, sustained relevance as a touring and radio phenomenon, and longevity in the music industry, as well as her loyal global fan base.
Pink's performance and recognition with this distinguished award are a testament to her exceptional musical talent and her contributions to the music industry. Her music has touched millions of people worldwide and has earned her a well-deserved place in the hearts of her fans. The 2023 iHeartRadio Icon Award is an esteemed honor, and it is a reflection of Pink's immense influence and impact on the industry.
Fans and music enthusiasts alike can look forward to Pink's performance during the awards show, where she is sure to deliver an outstanding and unforgettable performance, showcasing her incredible talents as a singer and performer.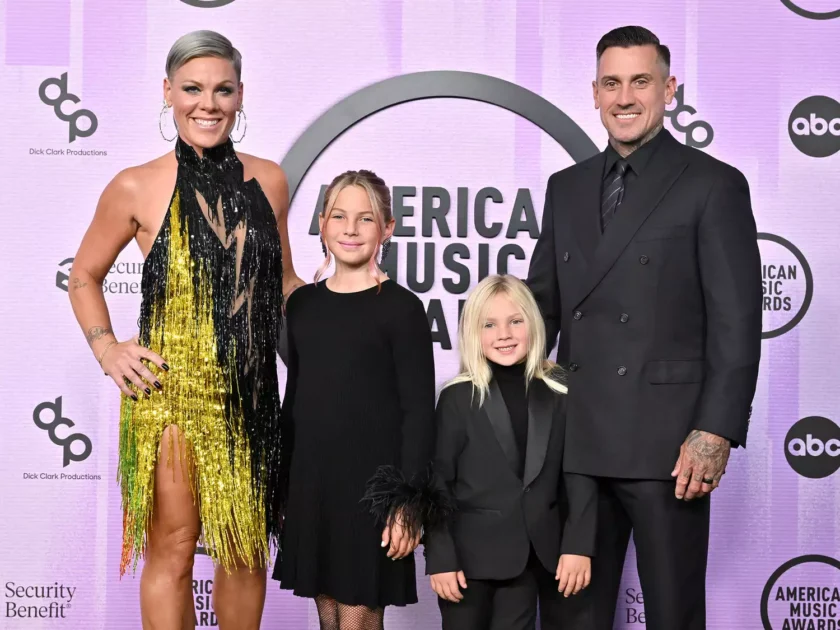 During an interview with iHeartRadio on the red carpet, Pink gave fans a sneak peek into what to expect during her performance, revealing that she will be joined on stage by some special guests. The singer also disclosed that these guests will be joining her on tour later this year, further building anticipation for her upcoming concerts.
The tour itself promises to be a spectacular event, featuring an array of talented performers, including Pat Benatar & Neil Geraldo, who have already been confirmed to perform at the ceremony, as well as Brandi Carlile, Gwen Stefani, Grouplove, Viki Gabor, Gayle, KidCutUp and The Script. With such a stellar lineup, Pink's tour is sure to be an unforgettable experience for all who attend.
Fans can look forward to an electrifying performance by Pink, who is renowned for her dynamic stage presence and captivating vocals. And with the added excitement of her special guests, her upcoming concerts promise to be an extraordinary celebration of music and talent.
Pink recently spoke to PEOPLE about the forthcoming Summer Carnival stadium tour, noting that she'll be implementing her signature aerial stunts in the spectacle.
"I'm very unique in the fact that I get to think about, 'Is there something I should be hanging from when I'm singing this? Maybe this requires something being built.' I don't necessarily craft a song thinking about that, but once it's there and it's down, I'm like, 'Oh, that's going to be so much fun,'" she said.
The 2023 iHeartRadio Music Awards aired live at 8 p.m. ET on FOX.
Also check: Zach Shallcross Is Engaged to Kaity Biggar
Follow us or bookmark us for more Business News Latest Pictures Entertainment News Celeb Bio box office collection report celebrities trailers and promos
Join us on Facebook
Join us on Twitter