Red Nose Day makes a return to BBC
Red Nose Day
Friday, March 17th marked a significant night for comedy and philanthropy as Comic Relief, more commonly known as Red Nose Day, returned to BBC One for a full evening of entertainment, featuring both heart-rending stories and inspirational challenges geared towards raising funds for charitable causes.
The lineup of presenters for the event was a star-studded one, including the likes of David Tennant, best known for his role in the sci-fi series Doctor Who. Joining him live from the studio were Paddy McGuinness, Zoe Ball, Joel Dommett, and AJ Odudu, who all played a vital role in ensuring that the event ran smoothly and kept viewers engaged throughout.
In addition to the noble goal of raising funds for charitable causes, the night was also packed with a variety of specially-made sketches, each one designed to leave viewers in stitches. From hilarious parodies to clever spoofs, the sketches featured some of the biggest names in comedy and proved to be a highlight of the night for many viewers.
Overall, the return of Comic Relief to BBC One was a massive success, and the event served as a testament to the power of comedy and philanthropy to bring people together for a common cause.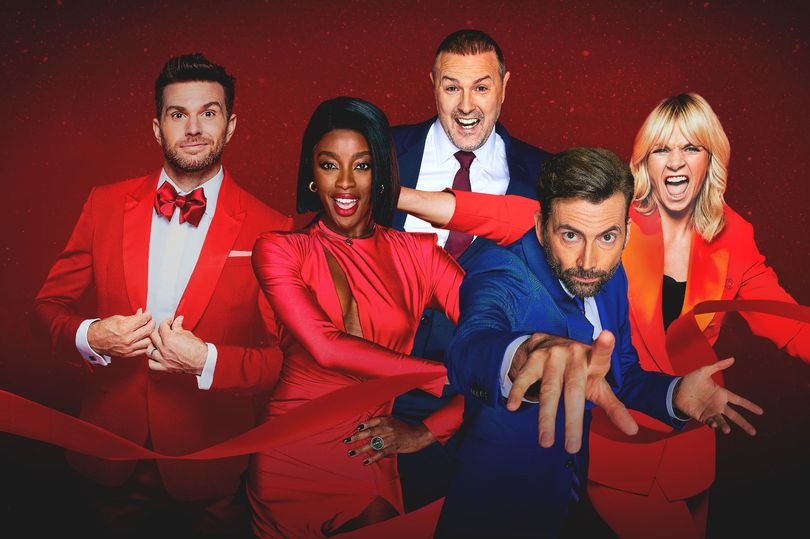 What Time is Comic Relief on TV?
The Red Nose Day show will be broadcast live on BBC One on Friday, March 17 from 7pm until 10pm.
What sketches can you see during the show?
Ghosts
The popular BBC sitcom "Ghosts" returned with a special episode in honor of Red Nose Day, and it was nothing short of spook-tacular! To add to the excitement, the episode featured a surprise appearance by none other than the global superstar Kylie Minogue!
In the episode, Kylie and her manager (played by Tanya Moodie) visited Button House to assess its suitability as a concert venue. However, their arrival came as a complete shock to the resident ghosts, who were left reeling from the unexpected encounter with the pop icon.
The special episode was a huge hit with fans of the show, who were thrilled to see Kylie Minogue make an appearance and add a touch of star power to the already hilarious and entertaining series. Overall, the episode was a perfect celebration of Red Nose Day, showcasing the power of comedy and entertainment to bring people together for a good cause.
Traitors
A star-studded roundtable came together for a special parody of the popular psychological gameshow, The Traitors. Hosted by Claudia Winkleman (played by Dawn French), the episode featured a gathering of celebrity "Faithful" and "Traitors" who engaged in a discussion full of unexpected twists and turns.
As the episode progressed, viewers were left to guess which famous faces were hiding beneath the cloaks and which ones would ultimately be revealed as the ultimate Traitor. With an all-star cast and plenty of laughs along the way, the parody proved to be a highlight of the show and a fan favorite.
Love Island
Comic Relief turns up the heat and the laughs by sending an unexpected BOMBSHELL into the villa. Expect Maya Jama slow-mos, sarcastic quips from Iain Stirling and a romantic trip to the hideaway.
Baldrick's Bedtime Story for Comic Relief
One of the nation's most beloved comedy characters, Baldrick, makes an exclusive return for a special segment on the show. Fans of the popular comedy series 'Blackadder' will be thrilled to see Baldrick reading his very own 'Blackadder' Bedtime Story, adding a touch of nostalgia and humor to the proceedings.
In addition to this, viewers can also look forward to a retrospective look back at a classic Comic Relief moment. "When Comic Relief Did Big Brother" was a hugely popular charity event that aired back in 2001, featuring six celebrities who entered the Big Brother house to raise funds for the cause. The event proved to be a massive success, captivating the nation and raising millions of pounds for charity.
Now, 22 years later, winner Jack Dee and fellow housemates Vanessa Feltz, Claire Sweeney, Keith Duffy, and Anthea Turner reunite to reminisce on this extraordinary moment in television history. From the hilarious antics of the celebrities, including dancing in underpants and writing on furniture, to Jack Dee's great escape, the retrospective promises to be a trip down memory lane and a reminder of where celebrity reality TV all began.
Overall, the special segment and retrospective are perfect examples of the power of comedy and entertainment to bring people together and raise funds for important causes. Fans of classic British comedy and reality TV are sure to be delighted by these exclusive offerings, making for a memorable and enjoyable viewing experience.
Also check: Sam Neill discloses that he is battling aggressive stage 3 cancer
Follow us or bookmark us for more Latest Pictures Entertainment News Celeb Bio box office collection report celebrities trailers and promos
Join us on Facebook
Join us on Twitter