Who is Viktor Bout, The Merchant Of Death
Who is Viktor Bout?
Viktor Anatolyevich Bout is a Russian arms dealer. An entrepreneur and former Soviet military translator, he used his multiple air transport companies to smuggle weapons since the collapse of the Soviet Union from Eastern Europe to Africa and the Middle East during the 1990s and early 2000s.
Bout gained the nicknames the Merchant of Death and Sanctions Buster after Peter Hain of the British Foreign Office read a report to the United Nations in 2003 on Bout's wide-reaching operations, extensive clientele, and willingness to bypass embargoes.
On 6 March 2008, Bout was arrested in Thailand on terrorism charges by the Royal Thai Police in cooperation with American authorities and Interpol.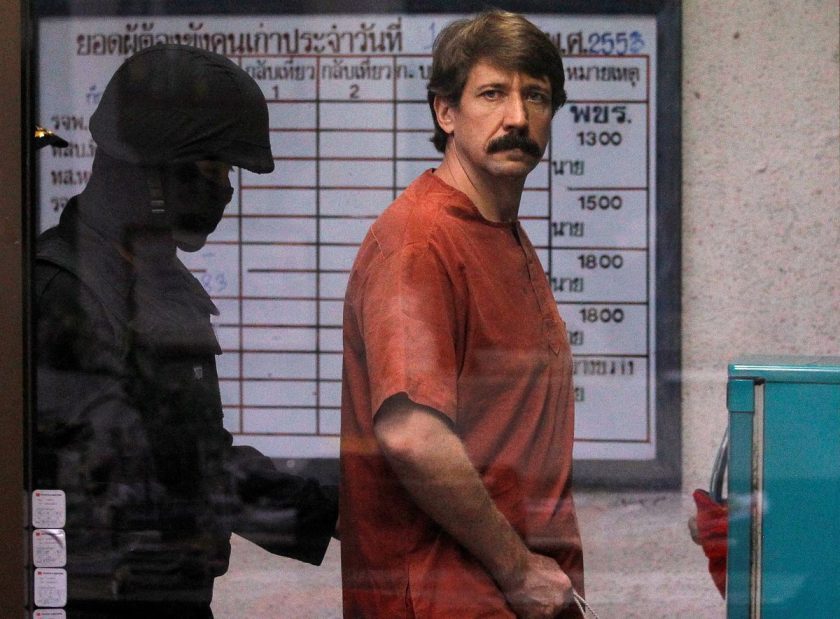 The U.S. Ambassador to Thailand Eric G. John requested his extradition under the Extradition Act with Thailand, which was eventually mandated by the Thai High Court in August 2010.
Bout was accused of intending to smuggle arms to the Revolutionary Armed Forces of Colombia (FARC) for use against U.S. forces in Colombia, but denied his charges and predicted an acquittal.
On 2 November 2011, Bout was convicted by a jury in a Manhattan federal court of conspiracy to kill U.S. citizens and officials, delivery of anti-aircraft missiles, and providing aid to a terrorist organization, and was sentenced to 25 years' imprisonment.
Since June 2012, Bout has been held at the United States Penitentiary, Marion.
For almost two decades, Bout became the world's most notorious arms dealer, selling weaponry to rogue states, rebel groups and murderous warlords in Africa, Asia and South America.
His notoriety was such that his life helped inspire a Hollywood film, 2005's Lord of War, starring Nicolas Cage as Yuri Orlov, an arms dealer loosely based on Bout.
Even so, Bout's origins remained shrouded in mystery. Biographies generally agree that he was born in 1967 in Dushanbe, then the capital of Soviet Tajikistan, close to the border with Afghanistan.
A gifted linguist, who later used his reported command of English, French, Portuguese, Arabic and Persian to build his international arms empire, Bout reportedly attended the Dushanbe Esperanto club as a young boy, becoming fluent in the artificial language.
A stint in the Soviet army followed, where Bout has said he achieved the rank of lieutenant, serving as a military translator including in Angola, a country that would later become central to his business.
Bout's big breakthrough came in the days after the 1989-91 collapse of the Communist bloc, cashing in on a sudden glut of discarded Soviet era weaponry to fuel a series of fratricidal civil wars in Africa, Asia and beyond.
With the Soviet Union's vast air fleet disintegrating, Bout was able to acquire a squadron of around 60 old Soviet military aircraft based out of the United Arab Emirates, by which he could supply his products around the world.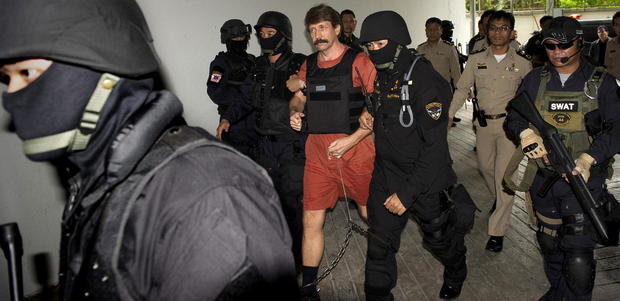 The Story Of Diamonds, guns and militants
The sturdy Antonovs and Ilyushins were up for sale along with their crews, and were perfect for delivering goods to bumpy wartime airstrips around the world.
Bout – who was 45 when he was sentenced – is said to have begun channelling weapons through a series of front companies to war-torn parts of Africa.
The UN named him as an associate of former Liberian President Charles Taylor – who was convicted in 2012 on charges of aiding and abetting war crimes during the Sierra Leone civil war.
"[Bout is a] businessman, dealer and transporter of weapons and minerals [who] supported former President Taylor's regime in [an] effort to destabilise Sierra Leone and gain illicit access to diamonds," UN documents state.
Media reports in the Middle East claimed he was a gun-runner for al-Qaeda and the Taliban.
He is also alleged to have armed both sides in Angola's civil war and supplied weapons to warlords and governments from the Central African Republic and the Democratic Republic of Congo to Sudan and Libya.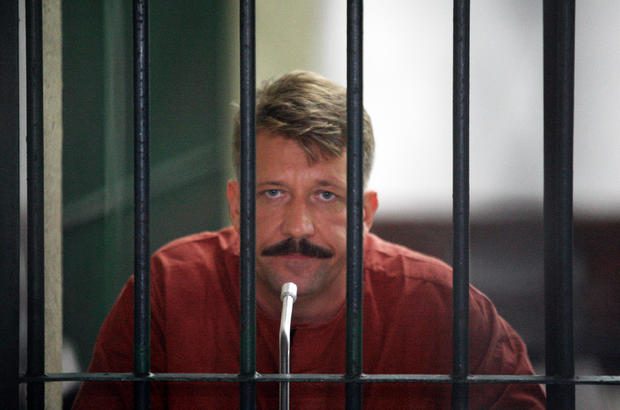 The Run Of Viktor Bout
In an interview with the UK's Channel 4 News in 2009, he flatly denied ever dealing with al-Qaeda or the Taliban.
But he did admit to flying arms to Afghanistan in the mid-1990s, saying they were used by commanders fighting against the Taliban.
He also claimed to have helped the French government transport goods to Rwanda after the genocide, and to have transported UN peacekeepers.
But law enforcement agencies pursued him throughout the 2000s. He left his home in Belgium in 2002 when the authorities there issued an arrest warrant.
It is thought Bout travelled under several aliases, moving through countries such as the United Arab Emirates and South Africa before resurfacing in Russia in 2003.
In the same year, British Foreign Office minister Peter Hain coined the nickname "merchant of death".
After reading a 2003 report about him, Mr Hain said: "Bout is the leading merchant of death who is the principal conduit for planes and supply routes that take arms… from East Europe, principally Bulgaria, Moldova and Ukraine to Liberia and Angola.
"The UN has exposed Bout as the center of a spider's web of shady arms dealers, diamond brokers and other operatives, sustaining the wars."
The US made moves against Bout throughout the 2000s, freezing his assets in 2006, but there was no law he could be prosecuted under in the US.
Instead, US agents bided their time until 2008 when they posed as buyers for Colombia's Farc rebels and gained an introduction to Bout through one of his former associates.
Shortly after the undercover officers discussed arms shipments to Farc with Bout, Thai authorities arrested him and lengthy legal proceedings began to bring him to the US.
Bout said the US case against him was politically motivated; his wife has been quoted as saying his only connection with Colombia was "tango lessons".
The Russian authorities supported him throughout his legal proceedings, with Foreign Minister Sergei Lavrov vowing to fight to secure his return to Russia and labelling the Thai court's decision "unjust and political".
The 2005 film Lord of War, loosely based on the arms dealer's life, has the anti-hero escaping justice at the end.
But such an ending has eluded Bout, who has remained in prison in the US since his conviction in 2012.
Follow us or bookmark us for more News Bollywood news Games latest pictures Entertainment box office collection report celebrities trailers and promos
Join us on Facebook  
Join us on Twitter