The first 10 minutes and 33 seconds of the movie "Shin Ultraman" will be premiered on YouTube from 8 pm on the 24th.
Toho announced on June 24 that the opening 10 minutes and 33 seconds of the main part of the movie "Shin Ultraman" will be released on YouTube's "Toho MOVIE Channel." It is said to be for a limited time of 48 hours.
It will be held to commemorate the number of spectators of Shin Ultraman exceeding 2.5 million. It will be premiered from 8 pm on the 24th and archived until 7:59 pm on the 26th.
The opening video of the main story was released on May 26 to commemorate the mobilization of 1.5 million spectators.
The video at this time was as short as 1 minute and 17 seconds, but according to Toho, the number of views was about 1.3 million in 48 hours.

In these 10 minutes and 33 seconds, "starting from prehistory, Ultraman first accretes on the earth, and the Special ray is emitted" (Toho).
The movie title logo at the beginning, which is a homage to the origin of the Ultraman series, is also noteworthy.
Shin Ultraman is a new fantasy special effects movie drawn by Hideaki Anno (planned and screenplay) of the "Evangelion" series and "Shin Godzilla Combi" directed by Shinji Higuchi.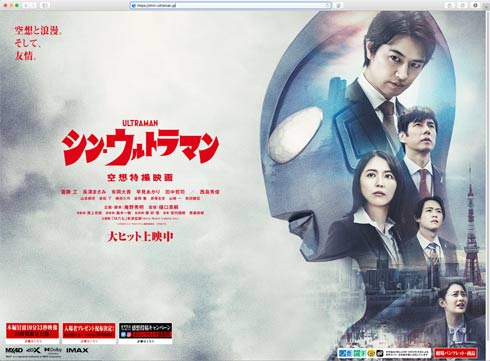 Shin Ultraman
In the 42 days after the release on May 13, the number of spectators was 2.62 million, and the box office revenue exceeded 3.9 billion yen (as of June 23).
Shin Ultraman is a 2022 Japanese superhero kaiju film directed by Shinji Higuchi. A reimagining of Ultraman, the film is a co-production between Toho Pictures and Cine Bazar, and presented by Tsuburaya Productions, Toho Co., Ltd, and Khara, Inc.
It is the 37th film in the Ultraman franchise, and the second reboot of a tokusatsu series to be adapted by Hideaki Anno and Higuchi, after Shin Godzilla and Shin Kamen Rider to follow in 2023.
The film stars Takumi Saitoh, Masami Nagasawa, Hidetoshi Nishijima, Daiki Arioka, and Akari Hayami, with Bin Furuya and Hideaki Anno as Ultraman.
In the film, an extraterrestrial accidentally kills a man while battling a giant monster and takes on his appearance and place.
Anno completed the first draft of the film's screenplay on February 5, 2019.
However, the project was not announced until August 1, 2019, when Tsuburaya Productions declared a film adaptation of the 1966 TV series Ultraman had begun production. 
---
Follow us or bookmark us for more Bollywood news box office collection report celebrities trailers and promos
Join us on Facebook
Join us on Twitter