What Are Pepper Bras? and What Makes Pepper Bras Different? 
Nothing gets under our skin quite like body shaming.
Why do some people pleasure putting down other people for their size and shape?
It's pointless, it's hurtful, and it makes no sense! When we think about body shaming, it's easy to assume that it's usually "skinny" girls shaming curvy girls that wear bigger sizes.
But the fact is that body shaming works both ways. Plenty of petite women are on the receiving end of this nasty behavior, and flat-chested women know this all too well.
If you've ever been told you had the body of a little boy or needed a push-up bra for your itty bitty titties, keep reading.
Today we're talking about Pepper bras, a bra made specifically for women with small breast.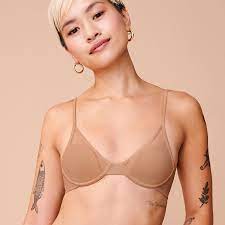 What Are Pepper Bras?
Pepper is a body positivity bra company founded in 2017 by Jaclyn Fu and Lia Winograd.
These two friends created a Kickstarter campaign with a goal of $10,000 and impressed the lingerie market when they reached that goal in ten hours.
Why so much interest in Pepper bras? 
Because women with smaller chests know that when you have small breasts, it's nearly impossible to find a bra that fits the way it should.
Just like some lingerie brands cater to curvy women or plus-size bodies (cringe … we hate that phrase!), Pepper bras are designed specifically to fit women who wear A.A. cups, A cups, and B cup bras.
This focus on the smaller bust has made Pepper bras a favorite amongst small-chested women.
That's because many women have a hard time finding small-sized bras.
And even when they do, they usually suffer from cup gaps and sagging straps on their small upper body.
Most Pepper bras retail for $50 and $55, which is in line with what you might expect to pay for a decent bra from Victoria's Secret and similar brands.
But unlike some bigger and more popular bra brands, Pepper manufactures all its products with sustainable, ethical practices.
Not only do they not use harsh chemicals, but they also use less water in the production process, both of which help the brand keep its carbon footprint to a minimum.
Plus, 85% of their employees are women at their factory in Colombia.
We love that! 
What Makes Pepper Bras Different?
Pepper isn't like other bra brands.
The fact that they cater to women with small breast helps them to stand out from other intimate manufacturers and lingerie brands. 
Pepper bras are different because their bras fit differently than other brands. Their bras come in band sizes ranging from 30 to 40 and cup sizes from A.A. to B.
They also make styles in hard-to-find sizes, such as 40A and 38AA. The average bra size in the U.S. is 34DD. Yes, you read that right.
With so many large-breasted women shopping for bras, it's no surprise that most bras are designed to provide lift and support for larger breast. 
On top of that, many bras with a small band and small cup sizes are push-up bras that include pads, assuming that every small-chested woman wishes she had bigger breast. 
And that's not the case. There are plenty of small-chested women in the world, plenty of proud members of the itty bitty titty committee who aren't looking to change their silhouette or fool anyone by wearing a giant padded bra or stuffing cutlets into their cups.
Some women have learned to embrace their tiny ta-tas, and that's who Pepper bras are made for.
Do Small-Chested Women Need to Wear a Bra?
Some women with small breast think that since they don't have much to lift or support, they don't need a bra. 
Ladies, that is not true. There's a little something called gravity that, over time, can wreak havoc on your breasts, no matter how small they may be.
 Bigger breast weigh more, so they pull more on the chest's connective tissue and tend to sag faster. 
But small boobies are not gravity-defying. No matter what your chest size is, women of all body types can benefit from wearing a bra.
And that's not the only reason to wear a bra … The right bra, in the perfect size and fit, can make you feel super sexy! When a bra fits as it should, it can provide just enough lift and support to enhance your natural bosom without altering its size and shape.
The Best Pepper Bras Ladies, if you're a C cup or bigger, you will NOT find a Pepper bra to fit your ta-tas.
These are made strictly with small-chested women in mind. If you're looking for super sexy lace designs, pretty patterns, and a wide array of colors, you won't find those at Pepper either– at least not yet.
We want to rally around this brand, but their selection is a bit lacking, with just five different styles available for purchase on their website right now.
Here are the highlights of each of those five styles to help you decide which Pepper Bra is right for you. 
Are Pepper bras worth it?
Spoiler alert: Yes, if you've got small busts, Pepper bras are pretty damn good.
What makes the brand so special, you ask?
I love their goals and messaging (yes, those are things you should consider before spending your hard-earned money).
"We believe that everyone deserves to feel good in their skin," Pepper's website states.
"Traditional bra brands have created crazy aspirational body standards impossible for most of us to achieve without a very expensive, unnecessary boob job."
The brand continues: "It's no wonder women today have trouble feeling confident with their body when we grew up watching models in a fashion show with unimaginable cleavage."
Honestly, facts! I also love that Pepper offers a size quiz and fit guide for people with itty bitty titties who have never really found their | perfect bra | and could use some expert advice.
Pepper underwire and strapless bras are available in cup sizes A.A., A, and B, but the brand offers band sizes 30, 32, 34, 36, 38, and 40. For wire-free bras and bralettes, sizes range from XXS-XL.
Pepper has an easy and free returns and exchanges policy if you're unsure. 
Follow us or bookmark us for more Technology News Celeb Bio box office collection report celebrities trailers and promos
Join us on Facebook 
Join us on Twitter