Why is Candace Cameron Bure Trending In News Today?
With Candace Cameron Bure's first GAC Family Christmas movie set to premiere later this month, Hallmark Channel's former holiday queen is speaking out about her decision to switch networks.
"My heart wants to tell stories that have more meaning and purpose and depth behind them," Bure tells the Wall Street Journal. "I knew that the people behind the Great American Family were Christians that love the Lord and wanted to promote faith programming and good family entertainment."
In other words, as the WSJ notes in its headline, Bure wants to put Christianity back in Christmas movies.
Also Read, Who all Played The Character Michael Myers?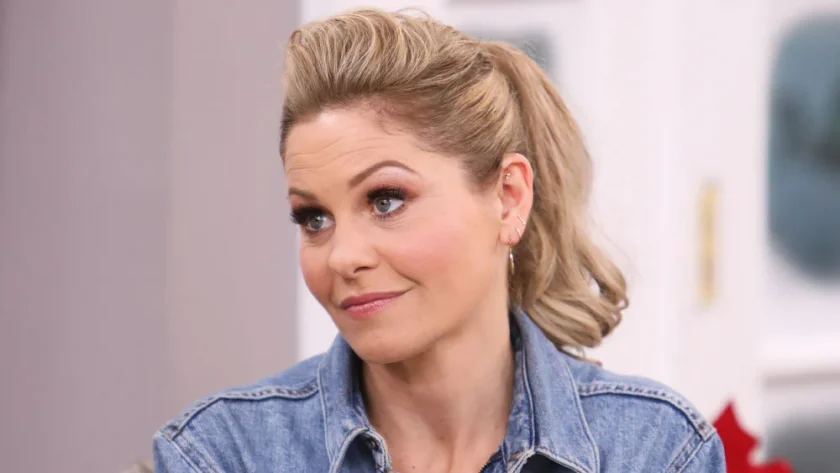 Speaking about Hallmark — where Bure starred in more than 20 Christmas movies, and played the titular detective in nearly as many Aurora Teagarden mysteries — the actress says, "It basically is a completely different network than when I started because of the change of leadership."
That "change of leadership" came in January 2020 with the departure of former Crown Media Family Networks Chief Executive Officer Bill Abbott.
His exit came in the wake of Hallmark's handling of a commercial featuring a same-sex wedding, which was pulled from the channel and then reinstated.
Abbott has rebounded as the new CEO of GAC Family parent company Great American Media, where he has lured big names from Hallmark — including Bure and Danica McKellar — over to his new home.
According to Abbott, "spiritual or faith-based content is grossly underserved," and he sees Bure, who is now GAC Family's chief creative officer, as "the key piece of what we're doing."
As for what GAC Family is not doing, Bure tells the WSJ not to expect any same-sex couples to be featured in its programming. "I think that the Great American Family will keep traditional marriage at the core," she says.
Also Read, Nushrratt Bharuccha Looks Lavishing Hot in Lehanga
Trending News
JoJo Siwa criticizes Candace Cameron Bure
American artist JoJo Siwa has openly criticized actor Candace Cameron Bure for her "traditional marriage" comment.
The 19-year-old wrote an Instagram post voicing her disappointment over an interview Candace gave to Wall Street Journal.
In her interview with WSJ, the former "Full House" was asked whether the Great American Family, the channel she is associated with, would include LGBTQ+ storylines.
Replying to the question, Candace said that the channel would keep "traditional marriage" at the core.
JoJo shared a headline snap that indicated the cable channel wanted "no gays". The young singer/dancer was outraged and wrote that Candace's comments were rude and hurtful to an entire community.
JoJo said she couldn't believe that Candace not only made a movie excluding the LGBTQIA+ but also spoke about it to the press.
Also Read, Kylie Jenner Sexy In Black
JoJo had shared a TikTok video in July, alleging that Candace was the "rudest celebrity" she knew, claiming that The Wager star ignored her when she tried to meet her as a child. Candace responded on Instagram and said she was shocked by the designation JoJo gave her and said she connected with JoJo and clarified the matter.
However, this time around, JoJo is not the only one criticizing Candace's comments. Solstice actress Hillarie Burton lashed out at Candace and The Great American Family producer Bill Abbott, tweeting that there was nothing "untraditional" about gay couples.
Maren Morris Jokes About Candace Cameron Bure's 'Traditional Marriage' Remarks
She's got jokes! Maren Morris spoke out after Candace Cameron Bure revealed she wanted to tell more stories about "traditional marriage" — and suggested a tweak to the actress' iconic Full House character. 
"Make DJ [Tanner] gay again," Morris, 32, wrote via an Instagram comment on Wednesday, November 16, under a post shared by pal Sophia Bush that slammed Cameron Bure, 46, for her recent controversial takes. 
The post, initially uploaded by Matt Bernstein, read: "You went decades without ever having to see an LGBTQ character on screen. Now, we're in 1 out of 5 movies. Sorry if this disturbs you. Sending thoughts and prayers."  
He continued, "Full House's Candace Cameron Bure has starred in Hallmark holiday films since 2008, but no more.
This year — while Hallmark is releasing its first ever film featuring a gay couple — Bure has left the network, motiving to the Great American Family network (GAF) instead. … What exactly does 'traditional marriage' mean? Is it a marriage with a 50% chance o fending in divorce? A marriage between a man, a woman, and a mistress? A marriage that doesn't end in divorce but really should? … If you mean heterosexual, just say that."
Also Read, Ciara and Future Breakup, She found the greatest love is self-love
End Of Article: Why is Candace Cameron Bure Trending
Follow us or bookmark us for more Business news Games latest pictures Entertainment box office collection report celebrities trailers and promos
Join us on Facebook 
Join us on Twitter