Miss USA 2022 Contestants List Miss United States Of America
Miss USA 2022 will be the 71st Miss USA pageant.
The competition will be held on October 3, 2022 at the Grand Sierra Resort in Reno, Nevada. Elle Smith of Kentucky will crown her successor at the end of the event.
The winner will go on to represent the United States at the Miss Universe 2022.
Miss USA 2022 Contestants List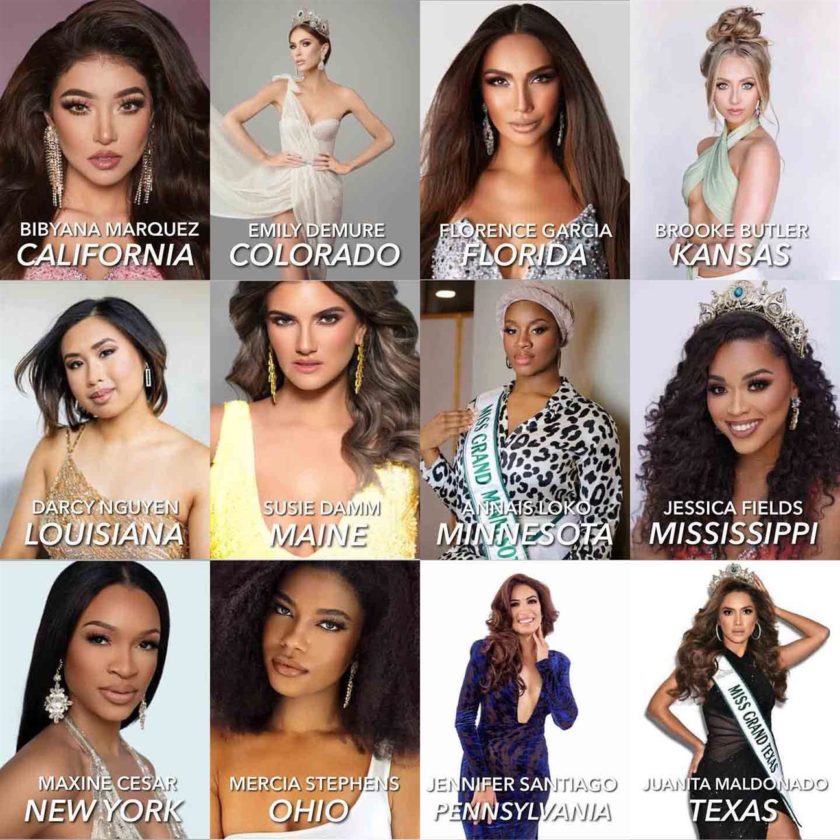 Miss USA 2022 Contestants List
| | | | |
| --- | --- | --- | --- |
| Contestant | State | Age | Hometown |
| Katelyn Vinson | Alabama | 22 | Dothan |
| Courtney Schuman | Alaska | 28 | Anchorage |
| Isabel Ticlo | Arizona | 28 | Phoenix |
| Rylie Wagner | Arkansas | 22 | Ozark |
| Tiffany Johnson | California | 26 | Lancaster |
| Alexis Glover | Colorado | 23 | Colorado Springs |
| Cynthia Dias | Connecticut | 22 | Wolcott |
| Grace Lange | Delaware | 22 | Newark |
| Faith Porter | District of Columbia | 23 | Washington, D.C. |
| Taylor Fulford | Florida | 27 | Okeechobee |
| Holly Haynes | Georgia | 26 | Sugar Hill |
| Kiana Yamat | Hawaii | 27 | Honolulu |
| Jordana Dahmen | Idaho | 27 | Boise |
| Angel Reyes | Illinois | 24 | Chicago |
| Samantha Toney | Indiana | 27 | Clarksville |
| Randi Estabrook | Iowa | 25 | Des Moines |
| Elyse Noe | Kansas | 23 | Lawrence (KS) |
| Lizzy Neutz | Kentucky | 23 | Louisville |
| KT Scannell | Louisiana | 22 | Denham Springs |
| Elizabeth Kervin | Maine | 20 | Winterport |
| Caleigh Shade | Maryland | 22 | Ocean City |
| Skarlet Ramirez | Massachusetts | 27 | Lawrence (MA) |
| Aria Hutchinson | Michigan | 23 | Plymouth |
| Madeline Helget | Minnesota | 24 | Clearwater |
| Hailey White | Mississippi | 23 | Picayune |
| Mikala McGhee | Missouri | 28 | St. Louis |
| Heather Lee O'Keefe | Montana | 25 | Bozeman |
| Natalie Pieper | Nebraska | 27 | Omaha |
| Summer Keffeler | Nevada | 21 | Paradise |
| Camila Sacco | New Hampshire | 27 | Portsmouth |
| Alexandra Lakhman | New Jersey | 26 | Hoboken |
| Suzanne Perez | New Mexico | 25 | Portales |
| Heather Nunez | New York | 26 | Queens |
| Morgan Romano | North Carolina | 24 | Concord |
| SaNoah LaRocque | North Dakota | 25 | Belcourt |
| Sir'Quora Carroll | Ohio | 23 | Canal Winchester |
| Ashley Ehrhart | Oklahoma | 25 | Oklahoma City |
| Arielle Freytag | Oregon | 28 | Harrisburg |
| Billie LaRaé Owens | Pennsylvania | 25 | Phoenixville |
| Elaine Collado | Rhode Island | 27 | Providence |
| Meera Bhonslé | South Carolina | 25 | Lexington |
| Shania Knutson | South Dakota | 21 | Viborg |
| Emily Suttle | Tennessee | 26 | Franklin |
| R'Bonney Gabriel | Texas | 28 | Houston |
| Elisabeth Bradley | Utah | 27 | Salt Lake City |
| Kelsey Golonka | Vermont | 23 | Montpelier |
| Kailee Horvath | Virginia | 23 | Ashburn |
| Mazzy Eckel | Washington | 22 | Seattle |
| Krystian Leonard | West Virginia | 25 | Morgantown |
| Hollis Brown | Wisconsin | 26 | Milwaukee |
| Morgan McNally | Wyoming | 27 | Casper |
Follow us or bookmark us for more Celeb Bio box office collection report celebrities trailers and promos
Join us on Facebook
Join us on Twitter