Deadly Blast in Dominican Republic Market Claims 3 Lives and Leaves Dozens Injured
A bustling market area near the Dominican Republic's capital was violently shaken on Monday by a powerful explosion. The blast resulted in the tragic deaths of at least three individuals and left over 30 others injured. Amidst the chaos, people attempted to flee as authorities reported.
The bakery, located in the city of San Cristobal just west of Santo Domingo, was the epicenter of the explosion, according to a statement from the country's 911 system.
The streets were lined with charred cars and debris from collapsed buildings. Thick, black smoke billowed from the city's core, shrouding several blocks. Businesses evacuated, and onlookers gathered to capture the aftermath on film. Some mistook the event for a bomb or an earthquake. Amidst the ruins were scattered shoes, overturned chairs, and even a motorcycle helmet.
The precise cause of the afternoon explosion remained unclear. Officials stated that the blast triggered a fire that spread from the bakery to a neighboring hardware store and a furniture store.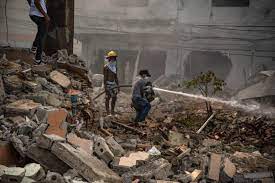 The location, known as the "Old Marketplace," is frequented by crowds in search of goods ranging from fruits to clothing. The victims included a 4-month-old infant who succumbed to a head injury and two adults with bodies that were 90% burned, as reported by Dr. Mario Lama, director of the National Health Service. A female employee of a local bank was also confirmed to have perished in the explosion.
By late Monday night, the number of injured individuals had reached 39.
Firefighters continued to battle the flames into the late hours of the night. Due to the ongoing fire and unstable buildings, the death toll was expected to rise. Civil defense authorities were seen recovering bodies from the streets.
"Our primary objective here has been to protect as many lives as possible," stated Joel Santos, minister of the presidency, during a press conference.
Dominican President Luis Abinader sent a government team to San Cristobal and assured that officials had been attending to victims and their families from the outset.
Pura Casilla, the governor of San Cristobal province, informed Noticias SIN that the blast had a significant impact on businesses in the vicinity of the town center.
As the blaze raged on, government officials arrived on the scene. Legislator Franklin Rodríguez expressed concern for public health and safety due to the thick smoke still emanating from various buildings.
"These structures are extremely fragile," he remarked.
He further noted that toll roads leading to San Cristobal were closed to facilitate the entry of more ambulances into the area. Many individuals hurried to hospitals and clinics nearby, searching for their loved ones. Scenes of comfort played out, with some people shedding tears while others offered embraces.
Eddy Montás, a local representative, recounted witnessing a couple of bodies in the vicinity, in addition to the three fatalities reported by authorities.
"Today's events have left us deeply saddened," he expressed.
Source: APNews
Also Check: Know About Christopher Briney
Binance US Unsuccessful in Providing Accounting Statements Even After Extension
Follow us or bookmark us for more Latest Pictures Entertainment News Celeb Bio box office collection report celebrities trailers and promos