Oscar Winner Ryuichi Sakamoto dies aged 71
Brief
Oscar Winner Ryuichi Sakamoto dies aged 71.
Japanese composer Ryuichi Sakamoto — who wrote the haunting score to "Merry Christmas, Mr. Lawrence" and won an Oscar for 1987's "The Last Emperor" — has died aged 71.
Born 1952 in Tokyo, Japan, the composer enjoyed the music of The Beatles in his early years as well as classical greats like Bach.
He wrote the score and starred alongside David Bowie in the 1983 film "Merry Christmas, Mr. Lawrence." Four years later, he took home a Golden Globe and Oscar for best music for his score for the "The Last Emperor."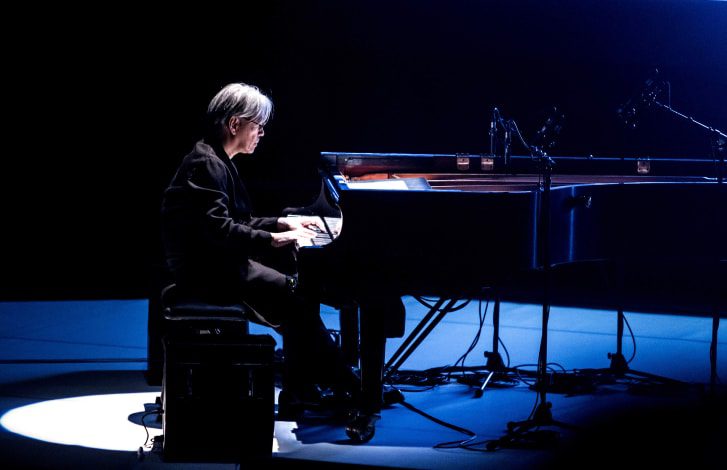 Oscar Winner Ryuichi Sakamoto dies aged 71
The Japanese composer Ryuichi Sakamoto — who wrote the haunting score to "Merry Christmas, Mr. Lawrence" and won an Oscar for 1987's "The Last Emperor" — has died aged 71.
His management team announced that he died on March 28. He had been treated for cancer in recent years.
"We would like to share one of Sakamoto's favorite quotes: 'Ars longa, vita brevis.' Art is long, life is short," a statement read.
The composer was born in Tokyo, Japan in 1952 and developed a love for The Beatles and classical legends such as Bach at an early age. He co-founded the influential electronic group Yellow Magic Orchestra in 1978, where he played the keyboard. Their experimental use of synthesizers is widely credited with shaping the emergence of genres like house and techno, leading to international success for the band.
Although he was recognized for his soundtrack work, which earned him numerous awards, Sakamoto was best known for his movie scores. He wrote the score and starred alongside David Bowie in the 1983 film "Merry Christmas, Mr. Lawrence." His score for "The Last Emperor" earned him a Golden Globe and an Oscar for Best Music four years later.
Throughout his later years, Sakamoto continued to work on music, including the score for the 2015 film "The Revenant." An album featuring his music, curated by "The Revenant" director Alejandro González Iñárritu, is scheduled for release on May 5.
Aside from music, Sakamoto was also an activist. He was vocal about his anti-nuclear views, demonstrating against nuclear power plants and co-organizing a "No Nukes" concert in 2012. He also actively campaigned against a now-repealed Japanese law that prohibited dancing in bars, clubs, and other public venues after midnight or 1 a.m.
Tributes
After news of his passing, social media was inundated with tributes to Sakamoto from various artists and individuals outside the arts industry. Haruka Abe, a Japanese actor, tweeted that Sakamoto's music "will remain eternal," while US author Frederick Joseph described it as the soundtrack to many of his life moments.
Meanwhile, Tokimonsta, a DJ and producer who had previously collaborated with Sakamoto, posted a letter on social media praising him as "one of the most progressive, nurturing, and supportive artists of his generation."
Sakamoto's management team stated that a funeral service was held in accordance with his wishes and was attended by his immediate family members.
Early Life and Career
Sakamoto, son of Kazuki Sakamoto, a prominent editor at Kawade Shobo Shinsha publishing house, started his music writing journey at 10 and was inspired by the Beatles and Debussy. He was also a participant in student protests during high school in the late 1960s, which he regarded as integral to his identity.
In 1978, Sakamoto, Haruomi Hosono, and Yukihiro Takahashi formed YMO, whose electronic music using synthesizers aligned with the futuristic spirit of the late 1970s, propelled by "Close Encounters of the Third Kind" and "Space Invaders" frenzy. Their live performances and hits such as "Technopolis" and "Rydeen" gained popularity in Japan after they became successful in the US and Europe.
Aside from his music career, Sakamoto was known as "Professor" for his deep understanding of classical and folk music and theoretical views, having received a master's degree from the Graduate School of the Tokyo University of the Arts. He also scored over 30 films, including "The Last Emperor" and "The Sheltering Sky."
Sakamoto was also active in environmental conservation, leading a Tokyo-based forest conservation group called More Trees. He was one of the few Japanese entertainers who expressed political opinions and acted as music director of the Tohoku Youth Orchestra, a group formed by children impacted by the 2011 earthquake and tsunami.
He authored a series of articles titled "How Many More Times Will I See the Full Moon?" published in the literary magazine "Shincho," in which he discussed his cancer diagnosis, musical pursuits, and outlook on life and death.
Sakamoto passed away in 2023 after battling stage IV cancer, with tributes from colleagues and fans. His compositions, political views, and social activism will forever be remembered.
Also Check: Gisele Shaw alleges that Rick Steiner went on a transphobic rant
Follow us or bookmark us for Latest Pictures Entertainment News Celeb Bio box office collection report celebrities trailers and promos
Join us on Facebook
Join us on Twitter