Boris Johnson resigned as British prime minister.
Boris Johnson said on Thursday that he was resigning as Britain's prime minister, bowing to calls from ministerial colleagues and lawmakers in his Conservative Party.
"The process of choosing that new leader should begin now," Johnson said at the door of Number 10 Downing Street.
"And today, I have appointed a cabinet to serve, as I will until a new leader is in place."
Mr. Johnson has expressed his disappointment at "failing" to hold onto his position in high office.
He described the job of the Prime Minister as "the best job in the world."
He stressed that he is "immensely proud" of his achievements in office, highlighting Brexit, support for Ukraine, and leading the country through the pandemic as three highlights.
Mr. Johnson will remain in his position "until a new leader is in place," he confirmed. Just moments before addressing the nation, a new cabinet was announced, including Kit Malthouse to Chancellor of the Duchy of Lancaster, Greg Clark to Levelling up Secretary, James Cleverly to Education Secretary, Shailesh Vara to Secretary for Northern Ireland, and Andrew Stephenson to Minister without portfolio.
'I am immensely proud of my achievements,' says Boris Johnson.
During his resignation speech, Boris Johnson said he is "immensely proud" of his achievements.
Speaking outside Number 10, he said: "The reason I have fought so hard over the last few days to continue to deliver that mandate in person was not just because I wanted to do so, but because I felt it was my job, my duty, my obligation to you."
He continues: "I'm immensely proud of the achievements of this government in getting Brexit done, settling our relations with the Continent… reclaiming the power for this country to make its laws in Parliament.
"Getting this country through the pandemic, getting the fastest vaccine roll-out in Europe, the fastest exit from lockdown, and in the last few months leading the West in standing up to Putin's aggression in Ukraine."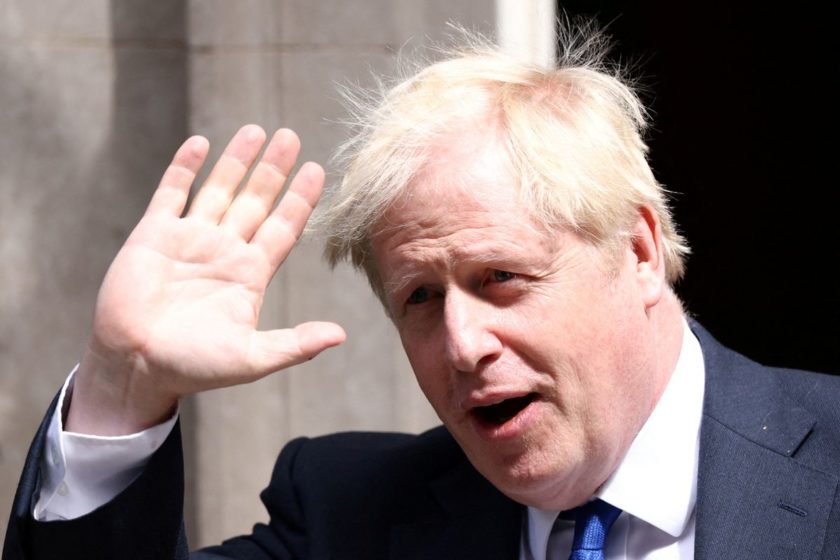 Boris Johnson resigned as British prime minister
Johnson 'regrets not being successful' in holding onto power
Boris Johnson has expressed his "regret" that he could not convince his peers to keep him as Prime Minister.
Speaking outside Number 10, he said: "In the last few days, I have tried to convince my colleagues it would be eccentric to change leader when we are delivering so much, when we have such a vast mandate and when we're only a couple of points behind in the polls.
"I regret not to have been successful in those arguments.
"It's painful not to be able to see through so many projects me.
"But as we've seen at Westminster, the herd instinct is powerful.
"When the herd moves, it moves."
A new favorite to replace Boris Johnson identified in a new poll
Brandon Lewis became the fourth Cabinet member to resign in 48 hours, citing that he no longer believes "honesty" and "integrity" are being upheld as his reason for leaving his post as Northern Ireland Secretary.
Michelle Donelan then resigned as Education Secretary after only 36 hours in the role, and recently appointed Chancellor Nadhim Zahawi publically called for Mr. Johnson to "go now."
The latest hammer blow to the Prime Minister comes after an avalanche of resignations on Wednesday, sparked by the resignation of former Chancellor Rishi Sunak and former Health Secretary Sajid Javid on Tuesday.
Meanwhile, Attorney General Suella Braverman has announced she will run for Tory party leader when Mr. Johnson steps down as she echoes calls for his resignation.
Mr. Johnson is reported to have spoken to the Queen this morning to discuss his leadership before he resigns from office in a public address later today.
New Tory members polling from YouGov puts Defence Secretary Ben Wallace in a poll position to replace Mr. Johnson; he beats all the leading contenders, including Liz Truss, Rishi Sunak, and Penny Mordaunt.
Read More,
Takahashi Kazuki, 'Yu-Gi-Oh!' Creator, Passed Away at 60
Flood disaster recovery payments in New South Wales, How To Claim
#AmericaIsBroken Trending On Twitter USA
More than 30,000 residents of Sydney and its surroundings have been told to evacuate or prepare to abandon their homes
Follow us or bookmark us for more News Celeb Bio box office collection report celebrities trailers and promos
Join us on Facebook
Join us on Twitter