Why is #GuinnessApologizeToJungkook and KOOKARMA STRIKES AGAIN Trending on Twitter?
On Wednesday, August 2, the hashtag "Guinness apologize to Jungkook" became a global Twitter trend as ARMYs directed their frustration towards Guinness World Records' official Twitter account, @GWR. The uproar was sparked by a tweet posted by @GWR at 3 pm, featuring an article titled "BTS members Jimin and Jungkook set even more records with solo careers."
GuinnessApologizeToJungkook
The article highlighted the numerous YouTube and Spotify records achieved by Jimin and Jungkook through their respective solo debuts, FACE, released on March 24, and SEVEN, which premiered on July 14.
However, the situation escalated when @GWR followed up with another tweet that seemed to be the source of the ongoing controversy. The tweet stated, "luckily we found a source" just below the article, prompting criticism and frustration from ARMYs.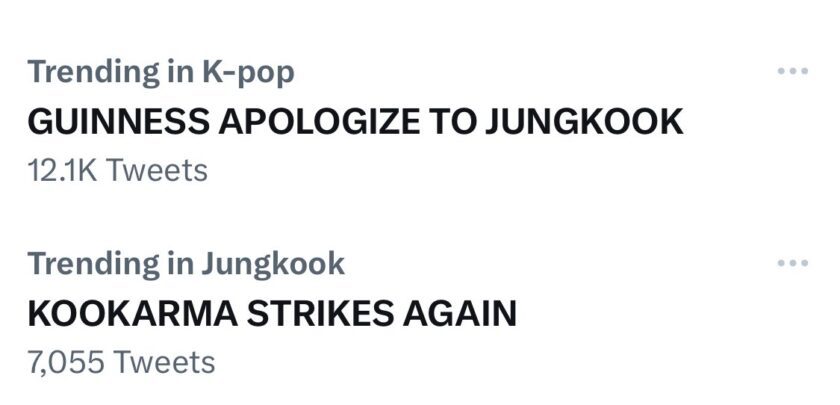 However, it seems like the tweet has angered ARMYs as they believe that Guinness World Records is trying to downplay Jungkook and Jimin's solo achievements. According to BTS fans, "luckily we found a source" has sarcastic, disrespectful, and unprofessional undertones.
Fans of BTS' Jungkook are expressing their concerns over a recent Guinness World Records article that highlighted the achievements of Jungkook and Jimin as solo artists. The article, followed by a tweet mentioning "finding a source," is being interpreted by some as micro-aggressive and potentially carrying xenophobic undertones.
The issue began when a fan with the username @_RapperJK tweeted that Jungkook's song "SEVEN" was the "number one most streamed song in a single week on Spotify Global." In response, @GWR replied sarcastically with "source plz," leading to non-fans mocking Jungkook, who is known for his song "Euphoria." Although the original interaction was deleted, @_RapperJK shared the tweet again as a point of reference for the ongoing discussion.
Also Read, Tragic Loss: Angus Cloud, Acclaimed 'Euphoria' Star, Passes Away at 25, RIP FEZ
Francia Raisa clarifies again that nobody forced her to donate kidney to Selena Gomez
Follow us or bookmark us for more Latest Pictures Entertainment News Celeb Bio box office collection report celebrities trailers and promos