Kelly Kay welcomed a son eight months after the death of Spencer Webb
 Brief
Kelly Kay welcomed a son eight months after the death of Spencer Webb
Kelly Kay, whose late boyfriend, Spencer Webb, died in a rock slide accident, is now a mother.
Webb was a junior tight end for the Oregon Ducks at the time of his death, which occurred after he hit his head on a rock while on a steep trail 35 miles close to his college campus. A month after his death, Kay announced that she was pregnant with Webb's child.
Kelly revealed she'd called him Spider Webb – a touching tribute to his father who was nicknamed "Spider" on the field.
Kelly Kay welcomed a son eight months after the death of Spencer Webb
Kelly Kay, the girlfriend of Spencer Webb, a junior tight end for the Oregon Ducks who passed away in a rock slide accident, has recently announced the birth of their child. The tragic accident occurred after Webb hit his head on a rock while on a steep trail 35 miles away from his college campus. After his untimely passing, Kelly Kay revealed that she was pregnant with Webb's child, bringing some light to the dark situation.
On March 31, Kay took to Instagram to share the news of their son's birth. The post included several heartwarming pictures of the newborn, as well as an image of Spencer Webb's football jersey. The name that they chose for their son, Spider Webb, was a touching tribute to his father, who was famously known as "Spider" on the football field.
Although the post was met with a lot of love and support from their friends and family, some fans of the Oregon Ducks football player were divided over the choice of name. While many commended the unique and sentimental name choice, others raised concerns about the child's future with such an unusual name.
Despite this, the birth of Spider Webb brings some joy and comfort to Kelly Kay and the loved ones of Spencer Webb, who will always be remembered for his incredible talent and kind spirit on and off the football field.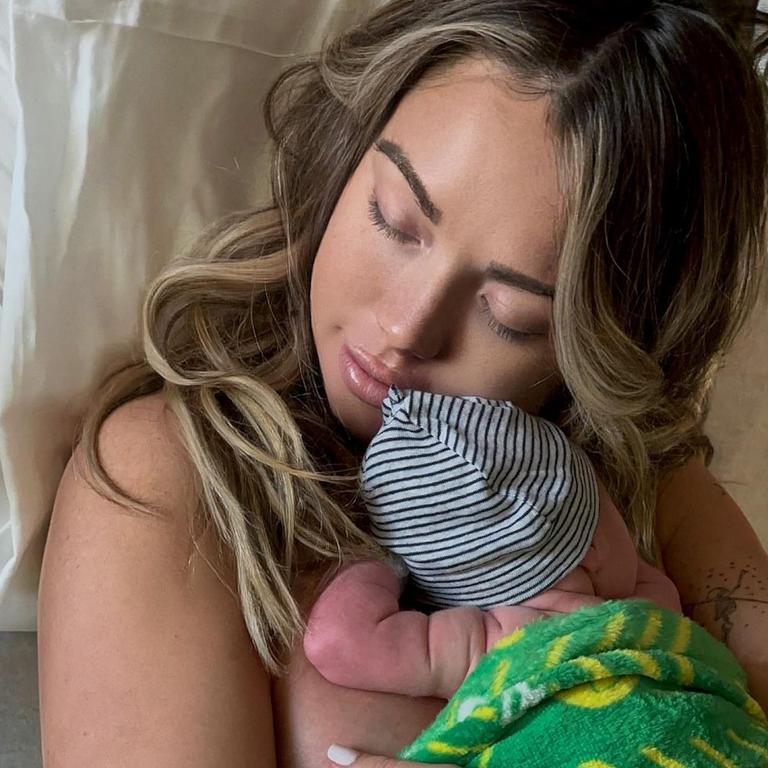 People Reactions
Many commended the "gorgeous" choice of name, but others suggested the unusual name could lead to issues in life.
"The kid's name is Spider Webb? Won't be teased at all?" one asked.
"I mean it's great that you wanted to name him after his dad, but why not name him Spencer JR and nickname him Spider?" another said.
As one lamented: "OMG I am sorry for your loss but Spider!!! That poor child will be ridiculed his whole life!! Name him after his father that is more of a tribute than Spider!!"
Others went as far as to label the choice "terrible", writing: "She could have just named him Spencer like his dad and used the nickname. Poor kid."
However, many defended Kelly, stating the little boy will grow up "honouring" his father's legacy with the name.
"Thank you for carrying his legacy, and keeping his name alive," one said.
"Sweet sweet sweet perfect name for a perfect baby," another wrote.
As one added: "Now you'll have a piece of him with you for the rest of your life."
Announcement
Kelly announced she was expecting baby Webb in August, a month after Spencer's sudden death. The football player died after he fell and hit his head while rock climbing.
"We created an angel before heaven gained one," she wrote at the time.
"All you ever wanted was to be a father… I know you'll be the best one from up above.
"Can't believe I have to do it without you but knowing I'll have a piece of you keeps me going.
"I can't wait to meet the person that's half you, half me. I love you forever, both of you."
Kelly and Spencer only went public with their romance one day before his tragic death.
The Instagram and OnlyFans influencer captioned a series of snaps of them together: "Tell your friends about it."
In 2020, Kelly was arrested for streaking at the Super Bowl. She spent the night in jail but later described the stunt as the "smartest move of my career".
There's been a rise in "unique" baby names in recent years as parents increasingly try to find a moniker that no one else has.
"Unusual" baby names that have hit the headlines recently, mostly given by influencer parents, include "Bambi", given to the daughter of Love Island UK couple Molly Mae Hague and Tommy Fury, and Malibu Barbie, the first child of reality star Trisha Paytas.
Also check: Italy Bans Open AI's ChatGPT
Lim Ji-yeon and Lee Do-hyun are dating?
Follow us or bookmark us for more Latest Pictures Entertainment News Celeb Bio box office collection report celebrities trailers and promos
Join us on Facebook
Join us on Twitter