Emotional Tribute: Lady Gaga Pays Heartfelt Homage to Tony Bennett
In a poignant Instagram post on Monday morning, renowned singer Lady Gaga paid a touching tribute to her long-time collaborator, the late Tony Bennett, who passed away earlier this month at the age of 96. Reflecting on their cherished bond, Gaga expressed how she would forever miss her friend and the unforgettable experiences they shared, from singing and recording together to engaging in heartfelt conversations and performing on stage side by side.
"With Tony, I got to live my life in a time warp," Gaga wrote. "Tony & I had this magical power. We transported ourselves to another era, modernized the music together, & gave it all new life as a singing duo. But it wasn't an act. Our relationship was very real. Sure he taught me about music, about showbiz life, but he also showed me how to keep my spirits high and my head screwed on straight. 'Straight ahead,' he'd say."
She continued: "He was an optimist, he believed in quality work AND quality life. Plus, there was the gratitude…Tony was always grateful. He served in WWII, marched with Martin Luther King Jr., and sang jazz with the greatest singers and players in the world. I've been grieving the loss of Tony for a long time. We had a very long and powerful goodbye."
On July 21, the passing of the legendary singer Tony Bennett was announced by his publicist. Although the specific cause of death was not disclosed, it was known that Bennett had been diagnosed with Alzheimer's disease in 2016. Despite the challenges of the condition, Bennett exhibited incredible resilience, continuing to share his musical brilliance through recording sessions and live performances on tour.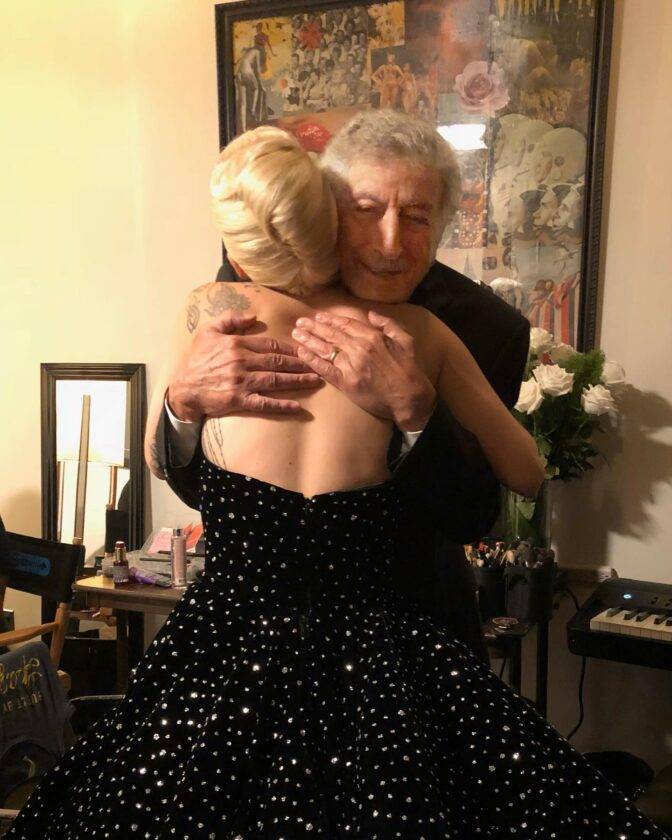 Even in his later years, Tony Bennett's talent shone brightly. In August 2021, he headlined two unforgettable shows alongside Lady Gaga at the iconic Radio City Music Hall in New York, leaving a lasting mark on the hearts of his adoring fans.
Throughout his illustrious career, the late singer Tony Bennett was adorned with an impressive array of accolades, including 20 Grammy Awards and a lifetime achievement honor in 2001. His final Grammy came in April 2022, a testament to his unwavering talent, as he collaborated with Lady Gaga on the album "Love for Sale." This marked their second acclaimed joint project, solidifying their remarkable artistic chemistry.
In a heartwarming moment at the 2022 Grammy ceremony, Lady Gaga paid tribute to Bennett, performing the album's title track "Love for Sale" solo after Bennett introduced her through a video appearance. Their enduring friendship was evident, as they had shared many extraordinary moments on stage and in the recording studio.
Their unforgettable performance of the duet "Cheek to Cheek" at the 2015 Grammys left an indelible mark, concluding with Gaga tenderly kissing Bennett on the cheek. The collaboration earned them the prestigious award for the best traditional pop vocal album that year.
Their artistic journey began with the charming rendition of "The Lady Is a Tramp" from Bennett's 2011 album "Duets II," further cementing their musical partnership.
Gaga, in a heartfelt tribute, expressed how their five-decade age gap did not hinder their profound friendship. The bond they shared transcended time, inspiring and motivating them both. Witnessing Tony Bennett's vulnerability during his battle with Alzheimer's was a poignant and sacred experience for Gaga, who cherished every moment of their collaboration. As his memory slowly faded, Gaga felt privileged to be a part of his life during such a tender phase, cherishing the opportunity to sing with him when he needed it the most.
The loss of Tony Bennett was deeply painful for Gaga, yet she found beauty in the journey they shared, grateful for the memories they created together. His willingness to sing with her, despite the changes in his life, remains a cherished and profound memory for Gaga. As she reflects on their time together, she fondly remembers Tony Bennett as her true friend, forever grateful for the profound impact he had on her life.
Also Read, Australia's Dominant Victory Over Canada Saves Them from Group-Stage Exit at Home Women's World Cup, While Olympic Champions Face Historic Elimination
Follow us or bookmark us for more Latest Pictures Entertainment News Celeb Bio box office collection report celebrities trailers and promos