Mandy Moore Captures Theft of Her Baby Stroller on Security Camera: People Are the WORST
Mandy Moore recently experienced the unfortunate incident of having a package containing a stroller for her baby son stolen from her porch. The 39-year-old actress, known for her role in "This Is Us," and her husband, musician Taylor Goldsmith, managed to capture the incident on their security camera.
Taking to Instagram on Wednesday, Moore shared an image of the thief caught in the act, as they swiftly took off with the large box from the front of their secured gate. The image, received by Moore from her husband via text message, clearly depicts the moment of the theft.
Expressing her frustration, Moore captioned the image with the words, "People Are the WORST." This incident serves as a reminder of the negative actions that some individuals resort to, leaving a disheartening impact on those affected.
"I was wondering where the @cybex_usa stroller I ordered for Ozzie went. I was going back and forth with customer service and @fedex and I swore to them it wasn't delivered and then I found this video (which won't load here for some reason)," she wrote. "This dude watched for an hour while the box sat outside and then climbed a side of hill to snag them."
The mom of two added a series of angry emojis to the end of her note.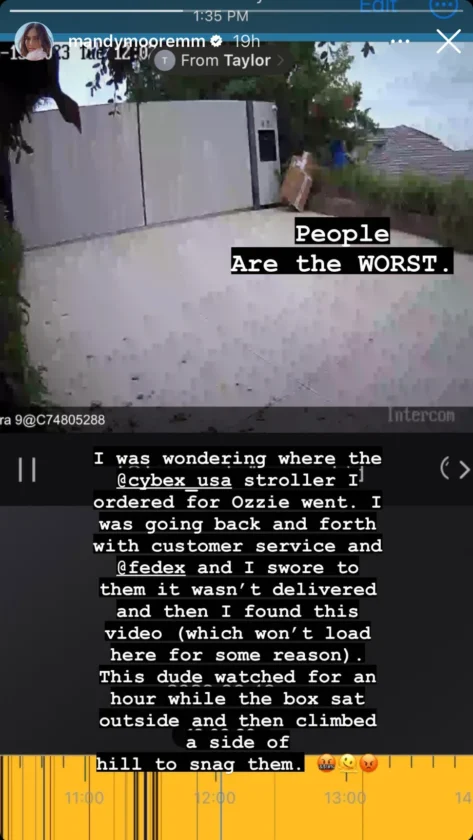 Also Read, How to stop Samsung Calendar from interfering with Google Calendar on Galaxy Phones
How To Unlock An IPhone Without A Passcode Or Face Id?
Follow us or bookmark us for more Latest Pictures Entertainment News Celeb Bio box office collection report celebrities trailers and promos
Join us on Facebook
Join us on Twitter