Twitch streamer Kai Cenat arrested after 'inciting a riot' of thousands in Manhattan
A renowned video game influencer famous for streaming on Twitch has been apprehended following a chaotic giveaway event that attracted thousands of young people in Manhattan's Union Square.
Kai Cenat, a highly popular online streamer, had organized the event, which spiraled out of control well before its scheduled start time of 4 p.m. The crowd size eventually reached an estimated "couple thousand people," according to police.
Cenat had invited his online followers to join him at Union Square, where he planned to distribute free PlayStation consoles, gift cards, and other items.
The reason for the unruly behavior of the crowd remains unclear, but by 3:30 p.m., individuals were seen throwing garbage at the police and dismantling barriers around the area. Witnesses reported instances of people throwing chairs and bottles, and one person claimed to have been pushed to the ground, resulting in a bruise on their face.
The escalating situation prompted the NYPD to mobilize approximately one thousand officers to respond to the commotion.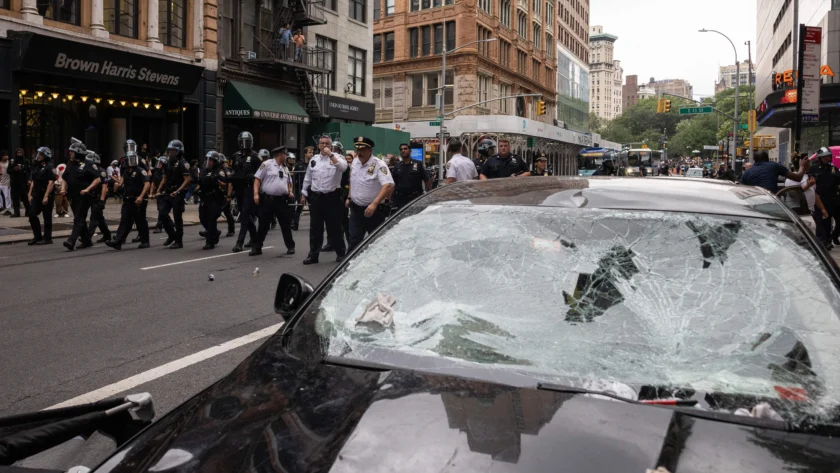 Eventually, police officers managed to extract Cenat from the massive crowd and had him converse with several officials. It was confirmed that the influencer was in custody, facing charges for inciting a riot, unlawful assembly, and other offenses, as stated by NYPD Chief of Department Jeffrey Maddrey on Friday night.
During the police's efforts to restore order and clear the park, dozens of others were arrested, including 30 juveniles, as per initial estimates.
The chaos extended beyond the plaza, with the crowd of mostly young people spilling into nearby streets, blocking E 14th Street and Broadway south of Union Square. This caused significant delays for drivers and public transit commuters. However, by 5 p.m., regular service resumed.
Police issued warnings for people to avoid the area and the park while they worked to disperse the gathering. Within two hours, the police successfully emptied the park and focused on dispersing any remaining individuals from nearby streets.
NYPD Chief Maddrey emphasized that while they encourage young people to gather and have fun, it's crucial for parents to take control when things turn disorderly.
The full extent of the chaos's consequences, including damage and the total number of arrests, may take several hours to assess. Although a few minor injuries were reported, the overall situation appears to have been contained without major harm.
One young attendee initially left the event out of concern for their safety but returned with a friend because of the rare opportunity to see a famous personality in person.
Also Read, Tragic Loss: Angus Cloud, Acclaimed 'Euphoria' Star, Passes Away at 25, RIP FEZ
Francia Raisa clarifies again that nobody forced her to donate kidney to Selena Gomez
Follow us or bookmark us for more Latest Pictures Entertainment News Celeb Bio box office collection report celebrities trailers and promos