Tory Lanez Faces Sentencing in Megan Thee Stallion Shooting Case
Rapper Tory Lanez is potentially facing an extensive prison term at his expected sentencing on Monday, following felony convictions for shooting and injuring hip-hop artist Megan Thee Stallion's feet.
Los Angeles prosecutors are urging a judge to impose a 13-year sentence upon the 31-year-old Lanez, whose legal name is Daystar Peterson.
They stated in a sentencing memorandum that, in addition to his proven crimes, Lanez has further traumatized Megan through social media posts about the case, which encouraged many of his over 2 million followers to target her.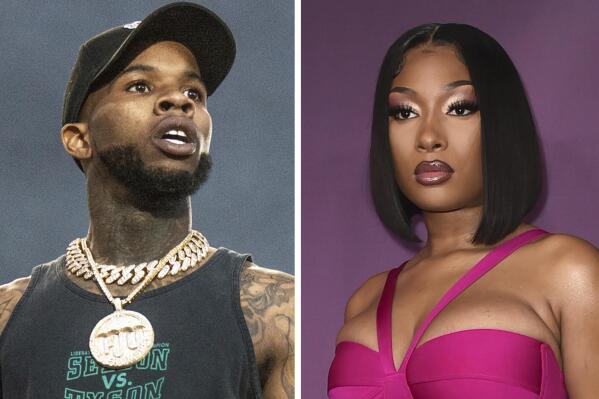 Tory Lanez Faces Sentencing in Megan Thee Stallion Shooting Case
Megan may make a court appearance on Monday to deliver a victim impact statement or may have one read on her behalf if she is absent.
Lanez's attorneys argued in their own sentencing memorandum that he should receive probation only and be released from jail to enroll in a residential substance abuse program.
They contend that the evidence leading to his conviction is "questionable at best" and that his lack of remorse should not factor into his sentencing. The memo suggests that if the allegations were true, alcohol abuse and childhood trauma would play a role.
Since a Los Angeles jury found him guilty of three felonies in December – assault with a semiautomatic firearm, possessing a loaded, unregistered firearm in a vehicle, and recklessly discharging a firearm – Lanez has been in custody.
The verdict reading turned into a tumultuous scene as Lanez's father stood up in the gallery and criticized the "unjust system" that convicted his son. Other Lanez supporters shouted about the case's unfairness as deputies removed him from the courtroom. The sentencing will take place on a higher security floor than the trial.
During the trial, Megan testified that Lanez had fired the gun at her feet from behind and told her to dance as she walked away from an SUV they had been in during the summer of 2020. The incident occurred after they left a party at Kylie Jenner's residence in Hollywood Hills.
Superior Court Judge David Herriford, who will preside over Lanez's sentencing, denied a motion from Lanez's defense lawyers for a new trial on May 9th.
Lanez's legal team contended that a post on his Instagram account was wrongly introduced as evidence. They argued that Megan's testimony, in which she claimed Lanez advised against involving the police due to his parole status, was both inaccurate and an inappropriate inclusion of past misdeeds. Furthermore, they asserted that the DNA evidence used by prosecutors to suggest Lanez as the probable shooter fell considerably short of industry standards.
"I could be your son. I could be your brother," Lanez implored Herriford as he was escorted from the courtroom a day before the judge's ruling that the exclusion of the contested evidence would not have altered the outcome.
His attorneys intend to appeal the conviction.
Lanez initiated his career with mixtape releases in 2009, gradually gaining popularity and progressing to major-label albums. At the time of the shooting, Megan Thee Stallion, now 28, was already a burgeoning star, and her prominence has soared since then. She secured a Grammy for best new artist in 2021 and achieved chart-topping success with singles such as "Savage," featuring Beyoncé, and her collaboration with Cardi B on "WAP."
The allegations against Lanez and the subsequent legal charges triggered multiple waves of misinformation and online hostility directed towards the artist, known as Megan Pete. This situation spurred discussions on misogynoir—a distinct form of misogyny experienced by Black women.
Also Read, Tragic Loss: Angus Cloud, Acclaimed 'Euphoria' Star, Passes Away at 25, RIP FEZ
Francia Raisa clarifies again that nobody forced her to donate kidney to Selena Gomez
Follow us or bookmark us for more Latest Pictures Entertainment News Celeb Bio box office collection report celebrities trailers and promos