Actress Melinda Dillon passed away at 83.
Actress Melinda Dillon, known for her supporting roles in "Close Encounters of the Third Kind" and "Absence of Malice," as well as her portrayal of the loving mother in "A Christmas Story," passed away on January 9th at the age of 83, according to a statement from her family.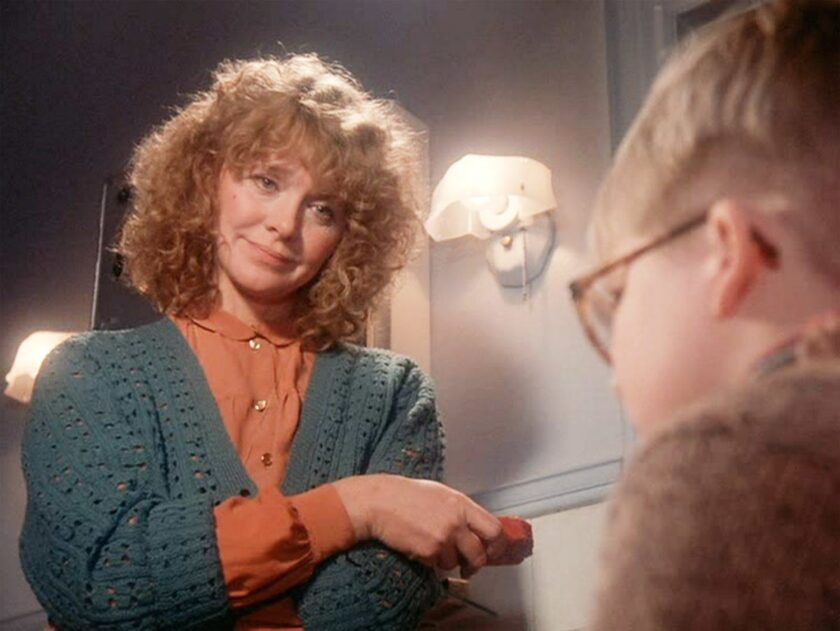 Dillon died on January 9, 2023, according to The Neptune Society of San Pedro, California. 
GIANT FREAKIN ROBOT said they have spoken to several family members of Dillon's who confirmed that the actor requested to be cremated and her ashes spread in the Pacific Ocean. No funeral has been planned.
Dillon made a strong impact on the stage with her debut performance on Broadway as Honey in the original production of "Who's Afraid of Virginia Woolf?" by Edward Albee. This performance earned her a Tony nomination and the Theater World Award in 1963.
Throughout her career, Dillon continued to showcase her versatility as an actress, playing a variety of characters in films such as "Bound for Glory" (1976), where she portrayed Mary, Woody Guthrie's first wife, and a folk singer named Memphis Sue, opposite David Carradine and directed by Hal Ashby.
She also starred as a lesbian hockey wife in "Slap Shot" (1977) directed by George Roy Hill, and as John Lithgow's wife in the family film "Harry and the Hendersons" (1987).
Birth Of Melinda
Melinda Dillon was born in 1939 in Hope, Arkansas, but moved around quite a bit during her childhood, which included stints in Alabama and Germany before finally settling in Chicago for her teenage years.
She graduated with a Drama degree from the Art Institute of Chicago and owed much of her professional career to her days living in Chicago.
Career Of Melinda Dillon
In 1959, Dillon appeared in "The Cry of Jazz," a significant short film about jazz music and African American culture.
She made her feature film debut in "The April Fools" (1969) and also acted on television, including a guest-starring role in an episode of the popular TV series "Bonanza" in 1969. In 1976, she co-starred with David Carradine in "Bound for Glory," a biopic of Woody Guthrie, and was nominated for a Golden Globe for Best Female Acting Debut.
The following year, she was nominated for a Best Supporting Actress Oscar for her role in Steven Spielberg's "Close Encounters of the Third Kind," and had minor roles in "The Muppet Movie" and "Slap Shot" with Paul Newman.
In 1981, she received another Best Supporting Actress Oscar nomination for her performance as a suicidal teacher in "Absence of Malice," once again working with Newman.
Dillon is perhaps most well-known for her role as the mother of Ralphie and Randy in the holiday classic "A Christmas Story" (1983).
Four years after her role in "Absence of Malice," Dillon co-starred with John Lithgow in the Bigfoot comedy "Harry and the Hendersons." Throughout the 1990s, she remained active in stage and film, appearing in "The Prince of Tides" (a Barbra Streisand drama), "Sioux City" (a low-budget thriller with Lou Diamond Phillips), and "How to Make an American Quilt." In 1999, she played Rose Gator, the estranged wife of a terminally ill game-show host, in Paul Thomas Anderson's "Magnolia." In 2005, she had a guest appearance in the "Blood" episode of "Law & Order: Special Victims Unit."
Comments Of Melinda
"I was in Virginia Woolf, and I just went crazy; it was really that simple," she said in a 1976 interview with The New York Times.
"I think it was the way I was living; the play was so long and the actors' union wouldn't let us play the matinee. We had to have a whole different cast for that, but I was called in to do it many, many times because the gal would get sick. I would do it three hours in the afternoon, then study with Lee Strasberg for two hours, and do the play three hours at night. Then, George Grizzard left to do Hamlet, and a strange thing happened. I had learned to lean on George hard, and I just crumbled inside. I don't know why.
"I had had the American dream — to go to New York and study with Lee Strasberg. I guess I just wasn't prepared for it all to happen so quickly in New York. I'm not sophisticated; I hadn't had any kind of cultural education, at all, so when it came to meeting people, and presenting any kind of ideas I might have to offer, I would be terrified."
Also Check, Seth Rogen doesn't love the MCU and its films
Follow us or bookmark us for more Latest Pictures Entertainment News Celeb Bio box office collection report celebrities trailers and promos