Insta360 One RS 1-inch 360 Edition.
There aren't many options when it comes to consumer 360 cameras these days, so when Insta360 launched its more powerful One RS modular camera back in March, I was a little disappointed with its 5.7K "360 Lens" option — it's basically on par with the Sphere, One X2, One R and the One X. Don't get me wrong, they all do well for their form factors (not to mention the computational improvements).
However, after three years or so, it's about time for a significant upgrade. As it turns out, Insta360 was saving its "one more thing" for today: a "1-inch 360 Edition" One RS co-branded with Leica. 
As the name implies, this new kit comes with a chunkier 360 lens module powered by two 1-inch CMOS sensors, and these are capable of capturing at higher resolutions — up to 6K for 360 videos or up to 21 megapixels for 360 photos.
This should guarantee a boost in image quality, especially in low light.
This also happens to be the world's first 360 camera to be "co-engineered with Leica," following the two companies' earlier collaboration on the One R's 1-inch Wide Angle Mod.
Unlike the regular One RS kit (with either the new "4K Boost Lens" or the typical "360 Lens"), this "1-inch 360 Edition" uses a vertical assembly to accommodate the more extensive lens module.
From top to bottom: lens, core (with a touchscreen), then a vertical battery. 
The One RS core benefits from an upgraded processor to support onboard "FlowState Stabilization" (which is faster than the app) as well as "Active HDR" video capture for action sports.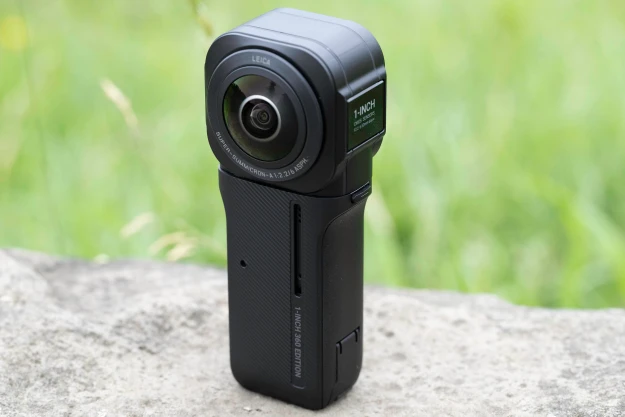 Insta360 One RS 1-inch 360 Edition
As for battery life, this whole kit is rated for up to 62 minutes of 6K@30fps video recording. 
The core and battery are inserted into a housing, which then clips to the lens to secure the entire device (thus enabling IPX3 water resistance, which is good enough for rain and snow).
You'll still have access to the 1/4-inch standard screw mount at the bottom of the battery.
To disassemble this kit (especially when you need to access the MicroSD slot), you'll have to open the USB port flap on the housing, then press the two clips under the lens to detach.
It's best to keep the soft protection case (included) on the lens while doing so.
The Insta360 One RS "1-inch 360 Edition" is now available for $800, which is quite a jump from the $550 "Twin Edition" (which comes with a "4K Boost Lens" and a "360 Lens" instead).
A company rep explained that this new kit targets the prosumer market, such as users who want to create virtual tours for museums or real estate properties.
That said, if you already own a One RS, you can buy the identical "1-inch 360 Edition" kit sans core for $650, thus saving you $150. This also applies to those with the older One R, as this lens is backward compatible.
Over the past year, I've been introduced to 360 photography via Insta360's many varied new cameras.
Shooting photos and videos in 360 has opened up a wealth of new creative opportunities by capturing everything around me, enabling endless possibilities via the magic of post-production.
However, in my experience, the one thing that has been holding these cameras back at the consumer level has been image quality.
The resolution, low light capability, and dynamic range have been limiting factors in the cameras I've tested — until now.
The Insta360 One RS 1-Inch 360 Edition aims to solve all the problems I've long critiqued such cameras.
As the name implies, the 1-inch 360 camera has a 1-inch sensor, or more accurately, two 1-inch cameras that each capture one hemispherical view.
But that's beside the point. All you need to know is that the 1-inch 360 Edition is one of the most impressive cameras in its class.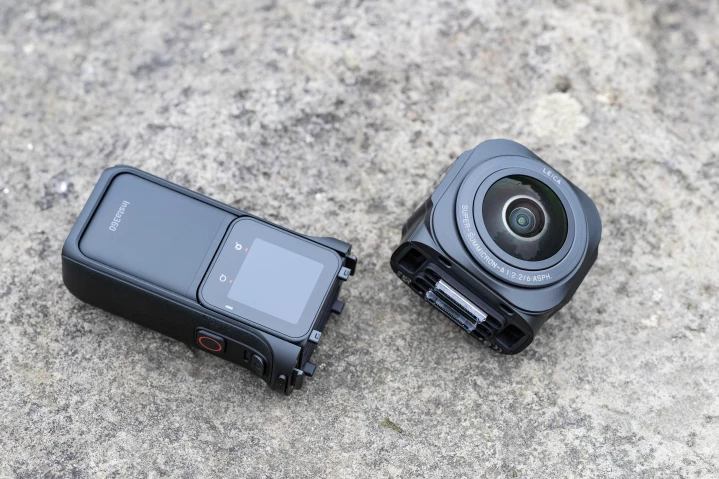 Insta360 One RS 1-inch 360 Edition Review
Design
The 1-inch 360 Edition comes pre-assembled with the battery and One RS core contained within a bracket, on top of which the 1-inch 360 camera itself is clipped.
Ergonomically, it's comfortable and convenient to hold, and the controls will instantly be familiar to anyone using the One RS system.
Even if not, it's very straightforward, with simple touchscreen controls alongside a power and record button.
A sealed power port is located near the bottom of the camera, and there's a screw mount on the base where you can mount it to a tripod or a selfie stick.
The 1-inch 360 is compatible with Insta360's invisible selfie stick, which works as advertised and is very high quality. 
The power port is USB-C and can also be used to transfer data or plug in an external microphone.
If the microphone is small enough, it will even be invisible to the camera.
While the 1-inch 360 edition is more prominent than Insta360s other cameras, the form factor is excellent.
I didn't find it to be too big or heavy.
Image quality
While I've grown to be a fan of 360 cameras over the past year for the incredible flexibility and creative potential, my one complaint has consistently been that they often disappoint the image quality department—the 1-inch 360 addresses this issue with a bigger, higher-resolution sensor — impressive results.
On paper, the 6K resolution of the 1-inch 360 doesn't seem much larger than the 5.7K of other Insta360 cameras (such as the One X2).
However, in practice, that smidge of extra resolution is very noticeable and results in much sharper images than I've come to associate with 360 cameras.
More important is the size of the large 1-inch sensors behind its twin lenses, and these let in significantly more light and offer a much better dynamic range, allowing the camera to perform well in low and high-contrast situations.
Performance
Insta360 rates the battery life of the 1-inch 360 camera at 62 minutes of 6K 30 fps recording time.
I found this to be roughly accurate, and while I wouldn't say the battery life is awe-inspiring, it is quite adequate.
Star lapses use up the battery after approximately three hours, so if you plan on filming more than one-star lapse per night, you'll want to carry several spare batteries.
Price and availability
The Insta360 One RS 1-inch 360 edition is available today for $800.
That's certainly a pretty penny, but given the sensor size of the camera and its outstanding capabilities, that cost is a bargain.
There's no 360 camera close to this price point that can rival it for image quality.
An upgrade kit for One R and One RS system users is available for $650, so if you own one of these cameras, you can get the 1-inch 360 lens at a lower price.
The Insta360 One RS 1-inch 360 Edition is quite the best 360 camera you can buy right now, by a considerable margin.
It takes all of Insta360's excellent software that creates stable, seamless 360 content and implements it in a camera that offers a significant upgrade in terms of resolution, low light performance, and dynamic range.
The result is a 360 camera that is much more versatile than anything that's come before.
Add to this its compatibility with external microphones, and the 1-inch 360 becomes a truly impressive option as an all-in-one content creation machine.
---
Also Read
Samsung Galaxy S23 and S23+ may have the same telephoto camera as their predecessors
Nothing Phone 1 official Specifications and prices
Xiaomi 12S series to launch on July 4. It was officially confirmed
OnePlus Nord N20 5G is now available in the United States
Follow us or bookmark us for more Technology Celeb Bio box office collection report celebrities trailers and promos
Join us on Facebook
Join us on Twitter