Sarah Jessica Parker Speaks Out About Kim Cattrall's Role in Season 2 of 'And Just Like That
Sarah Jessica Parker Speaks Out About Kim Cattrall's Role in Season 2 of 'And Just Like That
Exciting News for Sex and the City Fans: Kim Cattrall Returns as Samantha Jones in 'And Just Like That' Season 2 Finale
The long-awaited moment has arrived for Sex and the City fans! In a delightful surprise, it was announced earlier this month that Kim Cattrall has reprised her iconic role as Samantha Jones in the season 2 finale of the Max spin-off series, And Just Like That.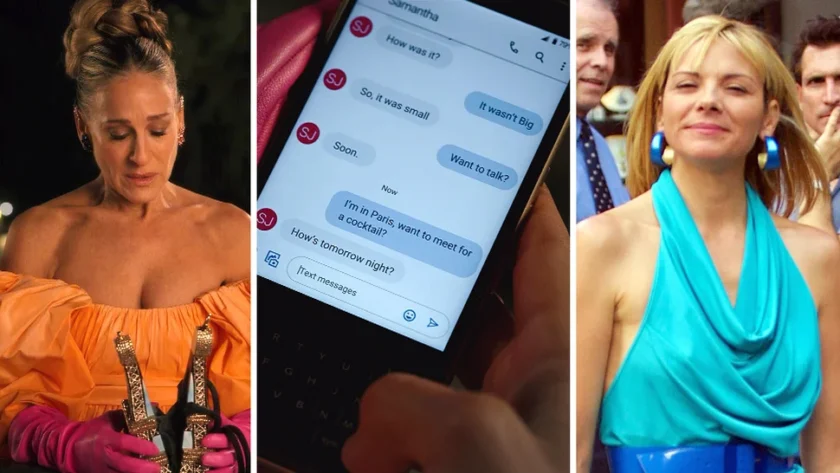 This development comes as a pleasant surprise, considering Cattrall's previous statements that she would not be returning to portray Samantha due to years of tension and public comments, particularly involving her co-star Sarah Jessica Parker, who portrays the fashionable sex columnist and now-podcast host, Carrie Bradshaw.
With the highly anticipated season 2 premiere of And Just Like That just around the corner on June 22, Sarah Jessica Parker has graciously shared her thoughts on Cattrall's return and the reunion of the beloved characters.
"I was really excited about the idea," Parker tells ET's Nischelle Turner of Cattrall making a cameo in And Just Like That, reportedly making a phone call in the scene. "I thought it was a really good idea and I was thrilled that, you know, we could make it happen and that it worked for her and it's just really nice to see. It's really nice. I was really pleased."
Distant Friendship: Carrie and Samantha Navigate Strained Relationship in 'And Just Like That'
After years of friendship depicted throughout Sex and the City's original six-season run and subsequent films, Samantha and Carrie find themselves estranged in the new series, And Just Like That, following a heated business dispute. The character of Samantha was briefly represented through a series of text exchanges with Carrie after the passing of Carrie's husband, Mr. Big (played by Chris Noth).
In the season 1 finale, Carrie and Samantha tentatively plan to meet up for a drink during Carrie's visit to Paris, France, while Samantha resides in London, England. The highly anticipated scene involving Kim Cattrall's return will shed light on the continued distance between Carrie and Samantha's friendship.
Sarah Jessica Parker acknowledges that the show will navigate the complexities of their strained relationship, showcasing the evolving dynamics between Carrie and Samantha as the story progresses.
"I think it reflects the relationship that we've been sharing via text for last season and this season. You know, this is a hugely important relationship for Carrie, it's been filled with affection," Parker shares. "We just thought it was a really nice idea to put a face to the text, really in large part to celebrate the 25 years of [Sex and the City]."
Describing the anticipated cameo of Kim Cattrall's character, Samantha, in And Just Like That, actress Sarah Jessica Parker refers to it as a "lovely nod" to the friendship between the characters and a tribute to the franchise's devoted viewers. Showrunner Michael Patrick King carefully crafted the scene, considering its placement and the sentimental moment it holds, creating a special and heartwarming element within the series.
Cynthia Nixon, who portrays Miranda Hobbs, expressed disappointment that news of Cattrall's cameo was leaked, as the original plan was to surprise the audience with her unexpected appearance as a viewer of the episode. Nixon emphasizes that the cameo is brief, serving as a delightful surprise for fans. She encourages viewers not to expect anything more than that singular moment.
Kristin Davis, known for her role as Charlotte York Goldenblatt, acknowledges the fans' longing for Samantha's presence and explains that the cast understands their sentiments. They aimed to acknowledge the fans' wishes within the story and the context of the show. Davis emphasizes that people come and go in life, experiencing changes in circumstances, but that doesn't mean friendships and connections are severed.
The highly anticipated second season of And Just Like That premieres on Thursday, June 22 on Max.
Also Read, Argentina's Imports: Chinese Yuan Accounts for Nearly 20% of Payments in April and May
Follow us or bookmark us for more Business Latest Pictures Entertainment News Celeb Bio box office collection report celebrities trailers and promos