Influential musician and songwriter Tom Verlaine passed away at the age of 73.
"Tom Verlaine, a musician and songwriter best known for his band Television, which was a pioneering and influential group from the New York punk rock scene centered on the CBGB nightclub, passed away on Saturday in Manhattan at the age of 73.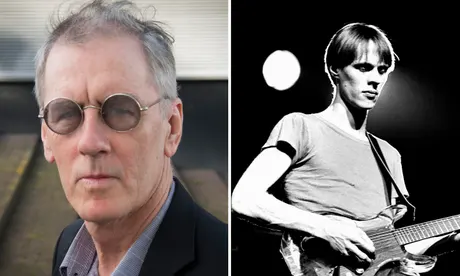 He was known for his unique guitar improvisations and poetic songwriting, which defied genre classification.
The cause of death was not specified, but it was announced that he had passed away "after a brief illness" by Jesse Paris Smith, the daughter of Patti Smith, a fellow musician.
Television may not have achieved significant commercial success, but Tom Verlaine had a lasting impact on music, particularly on guitarists.
His solo albums and periodic reunions with Television have kept his legacy alive."
Verlaine was born Thomas Miller in Denville, New Jersey on December 13, 1949.
He moved to Wilmington, Delaware, with his family at age of six.
He began studying piano at an early age, but switched to saxophone in middle school after hearing a record by Stan Getz.
Verlaine initially was unimpressed with the role of the guitar in both rock music and jazz, but was inspired to take up the instrument after hearing the Rolling Stones' "19th Nervous Breakdown" during his adolescence, at which point he began a long period of experimentation to develop a personal style.
A later musical influence of Verlaine's became jazz musician Miles Davis' electric-period recordings, particularly the Japanese LPs Agharta (1975) and Dark Magus (1977), which he was able to obtain as imports.
After one failed attempt, Verlaine (with Hell) succeeded in escaping from school and moved to New York City. He then created his stage name, a reference to the French symbolist poet Paul Verlaine. He is quoted as having said that this name was inspired by Bob Dylan's name change and was a way of distancing himself from his past.
He and Hell formed the Neon Boys, recruiting drummer Billy Ficca.
The Neon Boys quickly disbanded after failing to recruit a second guitarist, despite auditions by Dee Dee Ramone and Chris Stein.
They reformed as Television a few months later, finding a guitarist in Richard Lloyd, and began playing at seminal punk clubs like CBGB and Max's Kansas City.
In 1975, Verlaine kicked Hell out of the band for his erratic playing and behavior, and they released their first single with Fred Smith replacing Hell.
Verlaine dated poet and musician Patti Smith when they were both in the burgeoning New York punk scene.
Television released two albums, Marquee Moon and Adventure, to great critical acclaim and modest sales before breaking up in July 1978.
Also Read, Shooting in upscale Los Angeles neighborhood leaves 3 dead and 4 injured
Follow us or bookmark us for more Latest Pictures Entertainment News Celeb Bio box office collection report celebrities trailers and promos