Barbie Achieves Over $1 Billion in Worldwide Box Office Revenue Within 17 Days of Premiere
"Barbie" Joins the Billion-Dollar Club Globally in Just 17 Days
Greta Gerwig's whimsical comedy, draped in shades of pink, has crossed the remarkable threshold of $1 billion at the worldwide box office, with $459 million stemming from North America and $572 million from international markets. This monumental achievement makes Greta Gerwig the first-ever solo female filmmaker to steer a billion-dollar film.
Box Office Revenue
In a rare accomplishment, three other billion-dollar blockbusters have been co-directed by women. These include "Frozen" ($1.3 billion) and its sequel "Frozen 2" ($1.45 billion), both co-directed by Jennifer Lee and Chris Buck, as well as "Captain Marvel" ($1.1 billion), helmed by Anna Boden and Ryan Fleck.
Surpassing this coveted milestone in just 17 days since its release, "Barbie" becomes the swiftest Warner Bros. release (and the eighth in the studio's centennial history) to achieve membership in the $1 billion club. This supersedes the previous record held by "Harry Potter and the Deathly Hallows: Part 2," which accomplished this feat in 19 days.
This marks the second blockbuster of the year and the sixth in the era of the pandemic to cross the $1 billion mark, following the likes of "Spider-Man: No Way Home," "Top Gun: Maverick," "Jurassic World Dominion," and "Avatar: The Way of Water."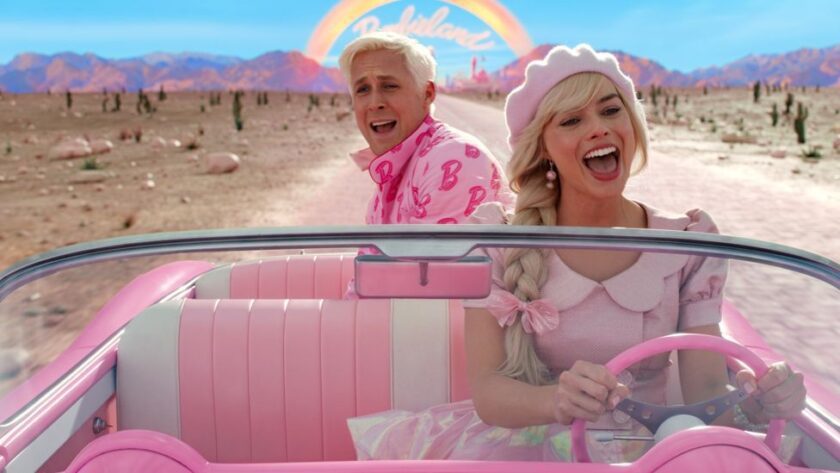 "Being part of this club is quite an achievement," stated Jeff Goldstein, the studio's President of Domestic Distribution, during a Sunday morning conversation.
Expressing their astonishment, both Jeff Goldstein and Andrew Cripps, President of International Distribution, acknowledged that rarely do they find themselves "speechless by a film's performance." The dubbed "Barbillion" – their term for this monumental box office achievement – has far exceeded even their most optimistic projections.
In a joint statement, Goldstein and Cripps praised Greta Gerwig's direction, stating, "This is a pivotal moment for 'Barbie,' and it's a testament to Greta Gerwig's unparalleled ability to breathe life into this cross-generational icon and her universe through a narrative that blends humor, emotion, and entertainment. The film's resonance spans all demographics, underscoring that movies are making a triumphant return and we eagerly anticipate the continued success of 'Barbie' on a global scale."
Thanks to its resounding popularity, "Barbie" has maintained its position as the top-grossing film for three consecutive weekends, a notable accomplishment even in the face of competition from other releases like "Teenage Mutant Ninja Turtles: Mutant Mayhem," "Meg 2: The Trench," and "Oppenheimer." The film has secured its place as the second-highest grossing movie of 2023, trailing only behind Universal and Illumination's "The Super Mario Bros. Movie," which garnered $574 million domestically and $1.35 billion globally.
Premiering on July 21 to rave reviews, "Barbie" shattered expectations with its $155 million domestic debut, ranking as the most successful opening weekend of 2023 and the strongest launch for a film directed by a woman. Benefitting from an exceptional marketing campaign and an equally stellar word-of-mouth reputation, "Barbie" emerged as an instant phenomenon. The added buzz from the twin release date with Christopher Nolan's historical drama "Oppenheimer" only amplified the excitement.
Greta Gerwig, an Oscar-nominated director known for "Lady Bird" and "Little Women," co-wrote the screenplay alongside her partner Noah Baumbach. The film stars Margot Robbie and Ryan Gosling in the iconic roles of Barbie and Ken, as they venture beyond the Dreamhouse in search of self-discovery in the real world. The cast also includes Issa Rae, America Ferrera, Dua Lipa, Simu Liu, Michael Cera, Helen Mirren, John Cena, and Will Ferrell.
Michael De Luca and Pam Abdy, Co-Chairs and CEOs of Warner Bros. Motion Picture Group, remarked on this momentous achievement, stating, "A monumental accomplishment like this is a result of an extraordinary filmmaking team, with a dedicated cast and crew coming together to craft an exceptional cinematic experience. Greta Gerwig now joins the elite league of writer-directors whose distinct vision has propelled a film to the $1 billion global box office mark. This milestone serves as a testament to her brilliance and her commitment to delivering a movie that resonates with Barbie fans of all ages, capturing their imagination on the big screen."
Also Read, Tory Lanez Faces Sentencing in Megan Thee Stallion Shooting Case
Follow us or bookmark us for more Latest Pictures Entertainment News Celeb Bio box office collection report celebrities trailers and promos