Cryptic Message from Britney Spears Emerges Following Split with Sam Asghari
Britney Spears Gears Up for a New Chapter Following Separation from Husband Sam Asghari.
Cryptic Message from Britney Spears
In the wake of reports circulating about the end of the singer's roughly 14-month marriage to Sam Asghari, Britney turned to Instagram to reveal a distinct update about her life.
"Buying a horse soon !!!" she wrote in her return to social media Aug. 16. "So many options it's kinda hard !!! A horse called Sophie and another called Roar ??? I can't make up my mind !!!"
Her mysterious message continued, "Should I join the camaraderie and put a pink cowboy hat on ??? Either way I think I found my sweet spot with Roar !!!"
At 41, Britney also posted an image of herself on Instagram, wearing a yellow bikini top and black denim shorts, as she enjoyed a horseback ride along the beach.
Earlier on the same day, a source well-versed in the situation confirmed the separation of Britney and Sam to NBC News, with the source stating, "This decision is in the best interest of Britney."
The actor, whose upcoming venture is Grand Death Lotto, filed for divorce from the pop star on the very same day, citing "irreconcilable differences" as the cause for their split and specifying their date of separation as July 28, 2023.
Speculation about the couple's separation began swirling in March, following their public appearances without wedding rings. Yet, Sam's representative, Brandon Cohen from BAC Talent, dispelled these rumors by clarifying to E! News that their marriage was not on the rocks.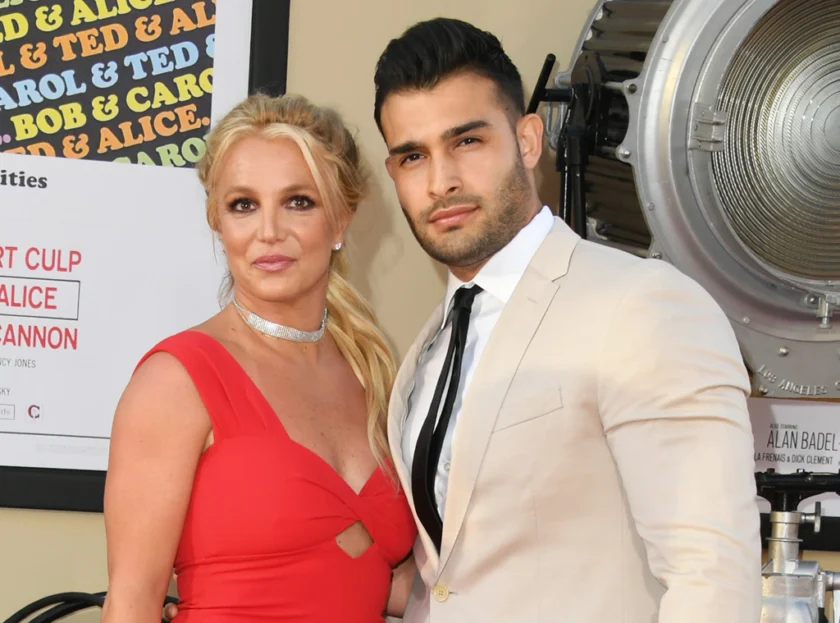 To clarify, the representative explained that Sam had removed his ring solely for a work-related shoot. Sam even shared a selfie from the set on March 20 with the caption, "First day filming. But for which project? Stay tuned."
Their journey together started in 2016 when they initially met on the set of Britney's "Slumber Party" music video. After five years of being together, they got engaged in September 2021 and exchanged vows in June 2022.
The intimate wedding ceremony drew a constellation of stars, with attendees including Paris Hilton, Selena Gomez, Drew Barrymore, Madonna, and Donatella Versace, who also crafted the wedding gown for the "Toxic" singer. As for the engagement ring, it featured a stunning four-carat diamond set in platinum, with the endearing word "Lioness," Sam's nickname for Britney, engraved on the band.
This marked Britney's third walk down the aisle, having been briefly married to childhood friend Jason Alexander for 55 hours in 2004. Subsequently, she wed Kevin Federline, with whom she shares her two sons, Sean (17) and Jayden (16), later that same year. The couple divorced in 2007.
During their engagement period, a close source to Sam informed E! News that tying the knot was a definite plan for both him and the "Gimme More" artist, especially given the nearing end of her 13-year conservatorship.
"The progress in Britney's situation, particularly with her conservatorship, has been evident. She's experiencing a newfound sense of freedom across all aspects of her life," the insider disclosed. "As she moves closer to regaining complete autonomy, her long-held dreams are turning into reality. Marrying Sam is a significant part of that aspiration – loving him in her own way and on her own terms. Sam, too, recognizes their proximity to overcoming challenges, and this is fueling his ambitious outlook."
The conservatorship came to an end in November 2021, a historic moment that Sam celebrated with a social media post that read, "History was made today. Britney is Free!"
For an exploration of the journey shared by Britney and Sam, continue reading:
Source: EOnline
Also Check: Unraveling the Enigmatic Allure of Mystery Snails
Follow us or bookmark us for more Latest Pictures Entertainment News Celeb Bio box office collection report celebrities trailers and promos