Passing of Rick Jeanneret, Iconic Sabres Broadcaster, at Age 81
Rick Jeanneret, the revered play-by-play announcer of the Buffalo Sabres who solidified his legacy as one of the franchise's most prominent figures during his remarkable 51-year tenure behind the microphone, passed away on Thursday night, as confirmed by the Sabres.
Having celebrated his 81st birthday on July 23, Jeanneret's exact cause of death has yet to be disclosed.
Passing of Rick Jeanneret
Jeanneret's vibrant and dynamic commentary style, characterized by his electrifying goal and fight calls, became synonymous with NHL highlight reels on both sides of the border throughout his illustrious career. Many of his iconic calls, notably Brad May's "May Day, May Day" overtime goal that clinched a four-game sweep for the Sabres over the Boston Bruins in the 1993 Stanley Cup Playoffs, are affectionately echoed by Buffalo fans. This historic moment ended the Sabres' decade-long playoff victory drought.
Commencing his career as an analyst on the team's radio broadcasts during the 1971-72 NHL season, Jeanneret formed an iconic play-by-play duo with long-serving Sabres broadcaster Ted Darling. In 1995, he transitioned to full-time television broadcasting, and by 1997, the team embraced a simulcast approach, with Jeanneret's exuberant voice gracing both radio and TV broadcasts alongside partners Jim Lorentz, Harry Neale, and Rob Ray.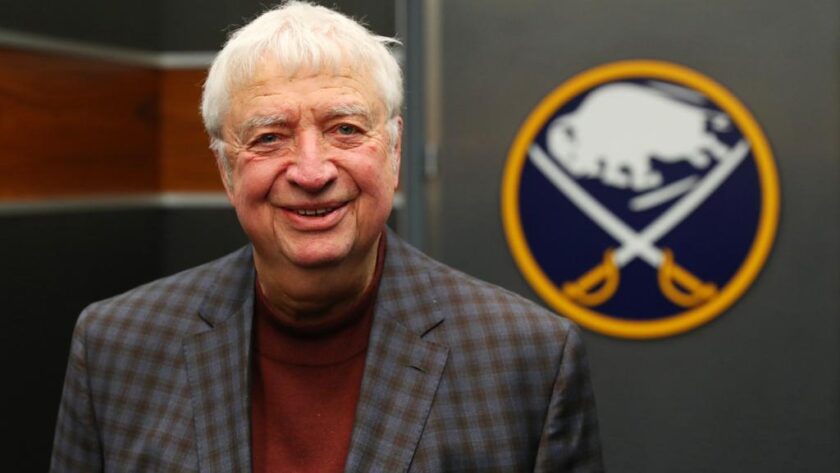 In his final years, Jeanneret relinquished travel to road games, gradually yielding more play-by-play responsibilities to his eventual successor, Dan Dunleavy. The 2021-22 NHL season marked Jeanneret's farewell campaign, aptly titled "RJ's Last Call," during which the broadcasts featured a year-long montage of highlights. The culminating event took place on April 1, 2022, known as RJ Night at KeyBank Center, where Jeanneret's legacy was celebrated alongside Sabres alumni, culminating in his name being raised to the rafters of the arena.
Jeanneret's final game, an overtime triumph against the Chicago Blackhawks on April 29, 2022, turned into a joyous celebration, punctuated by his last exhilarating goal call for Casey Mittelstadt's game-winner. Amid resounding cheers from the crowd, he once again graced the ice.
In a touching tribute on January 19 of the same year, Jeanneret honored former Sabres goaltender Ryan Miller during his jersey retirement ceremony, playfully summoning his renowned elongated "Millllerrrrrrrrrrr" call.
Jeanneret's contributions were officially recognized in 2011 with his induction into the Sabres Hall of Fame. The subsequent year brought further accolades, including inductions into the Greater Buffalo Sports Hall of Fame and the Buffalo Broadcasting Hall of Fame. Notably, on November 12, 2012, he was honored with the Foster Hewitt Memorial Award for broadcasting excellence by the Hockey Hall of Fame.
Born in St. Catharines, Ontario, Jeanneret spent most of his adult life in Niagara Falls, where his broadcasting journey commenced in 1963 as a radio disc jockey for Junior A Niagara Falls Flyers hockey games. While he continued his DJ work into the early 90s on CJRN in Niagara Falls, he eventually dedicated himself entirely to hockey broadcasting.
He is survived by his wife, Sandra, affectionately referred to as "Cupcake," as well as his sons Mark and Chris, and stepdaughter Shelly. Mark Jeanneret also embarked on a broadcasting career, serving as a hockey broadcaster for the OHL's Erie Otters, and even filling in for his father during Sabres' play-by-play duties for 2010 road games in Calgary and Edmonton.
Also Check: Unraveling the Enigmatic Allure of Mystery Snails
Follow us or bookmark us for more Latest Pictures Entertainment News Celeb Bio box office collection report celebrities trailers and promos