Microsoft Excel Live Soon let you collaboratively edit.
Microsoft is bringing Excel directly into Teams meetings. Excel Live is a new way for Teams meeting participants to edit Excel spreadsheets together in real time.
It's part of a trio of new features coming to Teams that continue Microsoft's focus on hybrid work.
Teams is also getting video clips that can be shared in chats and collaborative annotations that allow colleagues to doodle on top of content during Teams meetings.
Excel Live is part of Microsoft's Live Share functionality in Microsoft Teams that the company detailed earlier this year.
"What it does is it allows you in a Teams meeting to edit a workbook live in real time, right in that meeting stage itself," explains Nicole Herskowitz, vice president of Microsoft Teams, in an interview with The Verge.
"People can just jump in and start editing an Excel workbook, and they never have to leave the meeting screen."
You don't even need Excel installed or running on a device, and you can even set specific permissions or use features like tracking changes as you would in a regular version of Excel.
"This is using full Excel," says Herskowitz. "Excel Live is built on top of our Fluid Framework, which allows for this kind of experience."
This neat integration of Excel should arrive sometime in August, and it will complement a new collaborative annotations feature in Teams that launches today.
Collaborative annotations lets all meeting participants draw, type, or react on top of any content that's shared in a meeting.
It's essentially the same tools you'd find in Microsoft's Whiteboard app, but you don't have to launch a separate experience or import content to start annotating.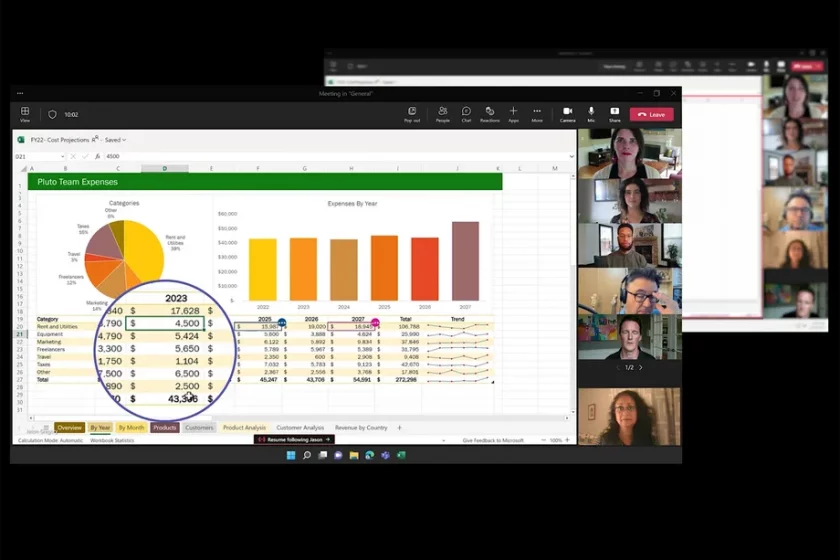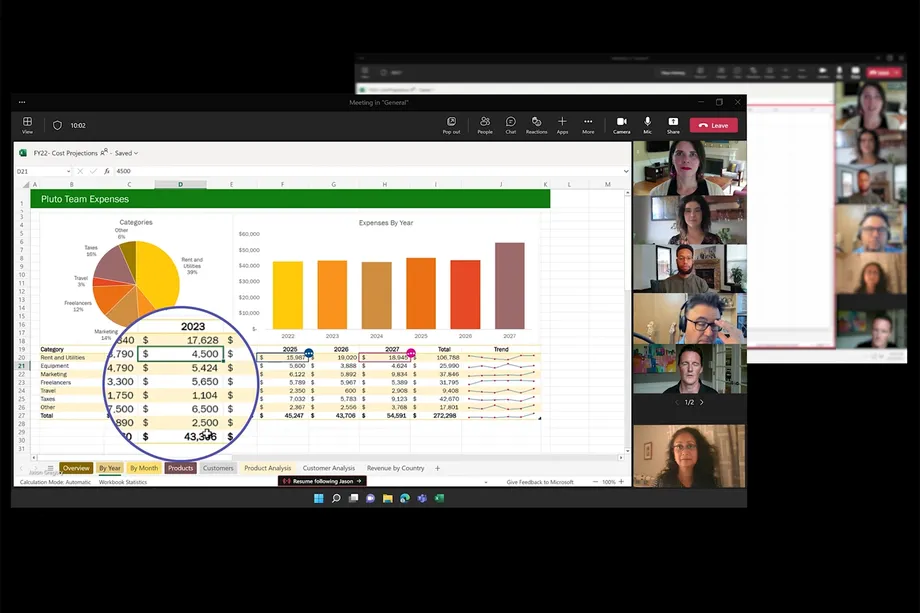 Microsoft Excel Live Soon let you collaboratively edit
"Until now, sharing spreadsheets within a Teams meeting has been a fairly one-sided experience.
You share a file, and everyone else watches while you make the updates," Microsoft says. "But what if your group could use that meeting time to get the work done together? Building on what we've learned and the evolving needs of today's workplace, we've created an enhanced collaboration solution for working on Microsoft Excel workbooks—Excel Live—empowering your group to collaborate in real time within your Teams meetings."
Teams is also getting a like-minded video clip sharing feature, which will enable users to record and send short video messages to their workmates.
Microsoft Whiteboard-powered collaborative annotations are also coming to the workplace communications tool, which has had its fair share of knockers down the years, but is beginning to come into its own as it integrates elements from Microsoft 365.
Today's features are part of the Live Share functionality that Redmond first announced at Build earlier this year. Developers are also able to access a Teams SDK and build new extensions for the app.
Elsewhere at Inspire, Microsoft also announced new features for its Viva explore engagement and networking app, including the ability to add Stories akin to what we commonly see on other social platforms.
Follow us or bookmark us for more Technology Celeb Bio box office collection report celebrities trailers and promos
Join us on Facebook
Join us on Twitter
Microsoft Excel Live