Story Grey Jeter, daughter Of Derek and Hannah Jeter
About Story Grey Jeter
Story Grey Jeter is a name that has garnered attention in recent years due to her famous parents. She was born on January 31, 2019, to Derek Jeter, a former professional baseball player, and Hannah Jeter, a model and television host.
Being the daughter of two high-profile celebrities, Story Grey Jeter has been in the public eye since birth. However, her parents have been careful to keep her out of the spotlight as much as possible. They have made it clear that they want her to have a normal childhood and grow up away from the paparazzi.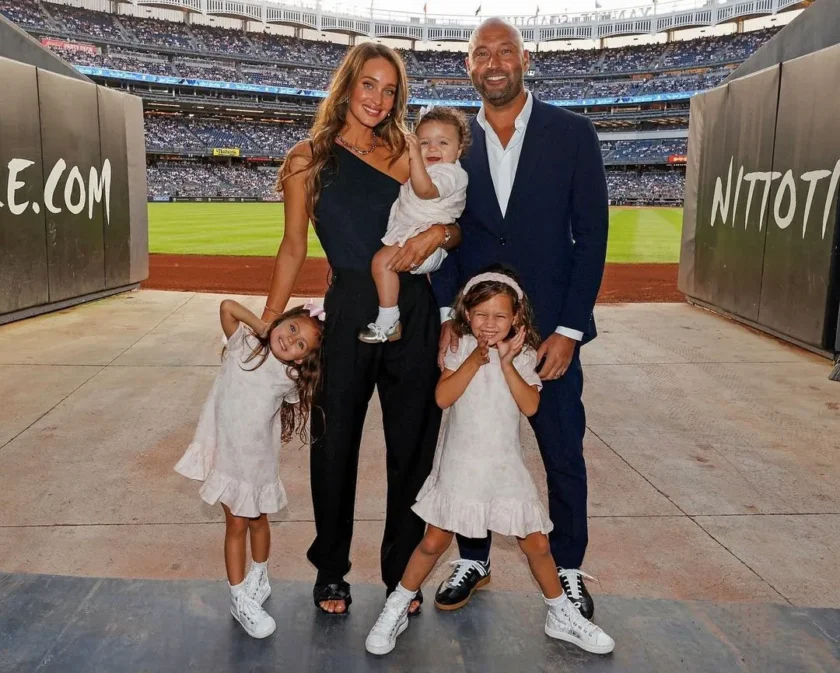 At the time of writing in 2023, Story Grey Jeter is four years old and has already become quite the personality on her parents' social media accounts. Although her parents keep her out of the limelight, they occasionally share photos and videos of her on their social media pages, giving fans glimpses into their family life.
As an Aquarius, Story Grey Jeter is believed to be intelligent, independent, and curious. She is likely to have a strong personality and be unafraid to express herself. With her parents' fame and success, Story has big shoes to fill, but with her natural charm and charisma, she may very well make a name for herself in the future. For now, she can enjoy being a regular kid and spending time with her family.
| | |
| --- | --- |
| Full Name | Story Grey Jeter |
| Nick Name | Story |
| Date Of Birth | January 31, 2019 |
| Age | 4 Years (As of 2023) |
| Place Of Birth | United States Of America |
| Nationality | American |
| Zodiac Sign | Aquarius |
Read, Honor Marie Warren, Daughter Of Jessica Alba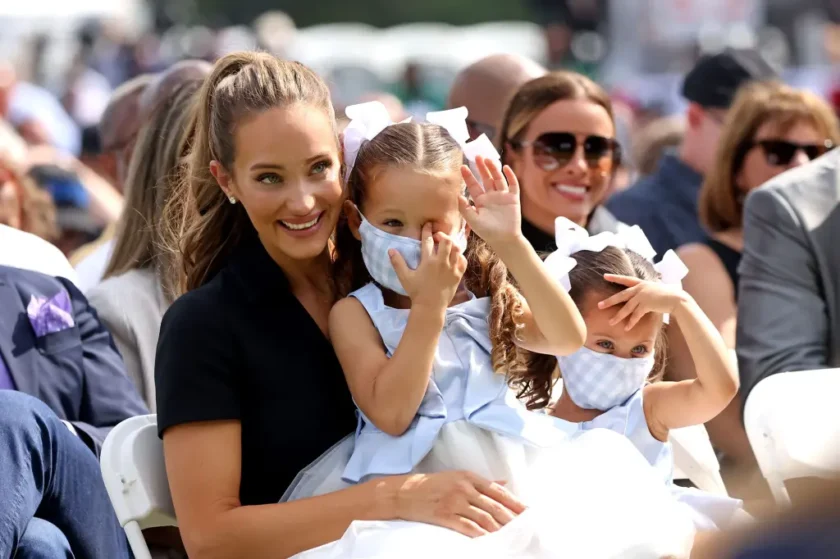 Family Of Story Grey Jeter
Story Grey Jeter was born to former professional baseball shortstop, businessman, and baseball executive Derek Jeter and model and television host Hannah Jeter.
She has three siblings, older sister Bella Raine Jeter, younger sister River Rose Jeter and the latest addition to their family brother Kaius Green Jeter.
| | |
| --- | --- |
| Father | Derek Jeter |
| Mother | Hannah Jeter |
| Siblings | Bella Raine Jeter (b. 2017), River Rose Jeter (b. 2021), Kaius Green Jeter (b. 2023) |
| Grandparents | Dorothy Jeter, Sanderson Charles Jeter, Conn Jay Davis, Sr., Deborah Davis |
| Uncle | Conn Davis Jr |
| Aunts | Sharlee Jeter, Rachel Davis |
Birth Of Story Grey Jeter
The MLB great Derek Jeter, and wife Hannah Davis Jeter welcomed their second child, a daughter, The Players' Tribune tweeted Thursday.
"Congratulations Derek and Hannah on the birth of your second baby girl, Story Grey Jeter. Welcome to the family, #2," the tweet read from the website, which was co-founded by Jeter.
The new addition joins big sister Bella Raine, who was born on Aug. 17, 2017.
Also Read, Haven Garner Warren, Daughter Of Jessica Alba
Marriage Of Her parents
In November 2015, the news of Derek Jeter's engagement to Hannah Jeter became public, and Derek confirmed the reports shortly thereafter. The couple tied the knot on July 9, 2016, in a lavish ceremony in Napa Valley that was attended by family, friends, and several celebrities.
Since then, the couple has expanded their family with the addition of three daughters. Their first daughter was born in August 2017, and the couple welcomed their second daughter, Story Grey Jeter, in January 2019. Most recently, the couple celebrated the arrival of their third daughter in December 2021.
However, Hannah's journey to motherhood was not without its challenges. She experienced high-risk pregnancies with her first two children, which led to complications during delivery. After the birth of her second child, Hannah had to undergo an emergency hysterectomy, which can be a difficult and life-altering procedure for any woman.
Following the birth of her children, Hannah turned to intermittent fasting as a weight loss method. She has spoken publicly about the challenges of losing weight after pregnancy, and how intermittent fasting has helped her to achieve her fitness goals.
Check: Birdie Mae Johnson, Daughter Of Jessica Simpson
About her parents
Father
Derek Jeter is a retired American professional baseball player who is widely considered one of the greatest shortstops in baseball history. He was born on June 26, 1974, in Pequannock Township, New Jersey, and grew up in Kalamazoo, Michigan.
Jeter was drafted by the New York Yankees in 1992 and made his major league debut in 1995. Over the course of his 20-year career, he played exclusively for the Yankees and was a key member of the team that won five World Series championships between 1996 and 2009. Jeter's many accomplishments on the field include being a 14-time All-Star, a five-time Gold Glove Award winner, and a five-time Silver Slugger Award winner. He was also named the World Series MVP in 2000.
Off the field, Jeter is known for his philanthropic work and his dedication to promoting children's literacy through his Turn 2 Foundation. He retired from baseball after the 2014 season with a career batting average of .310, 3,465 hits, and 260 home runs.
In recognition of his achievements, Jeter was inducted into the Baseball Hall of Fame in 2020. He is widely regarded as one of the greatest Yankees of all time and one of the most respected players in the history of the game.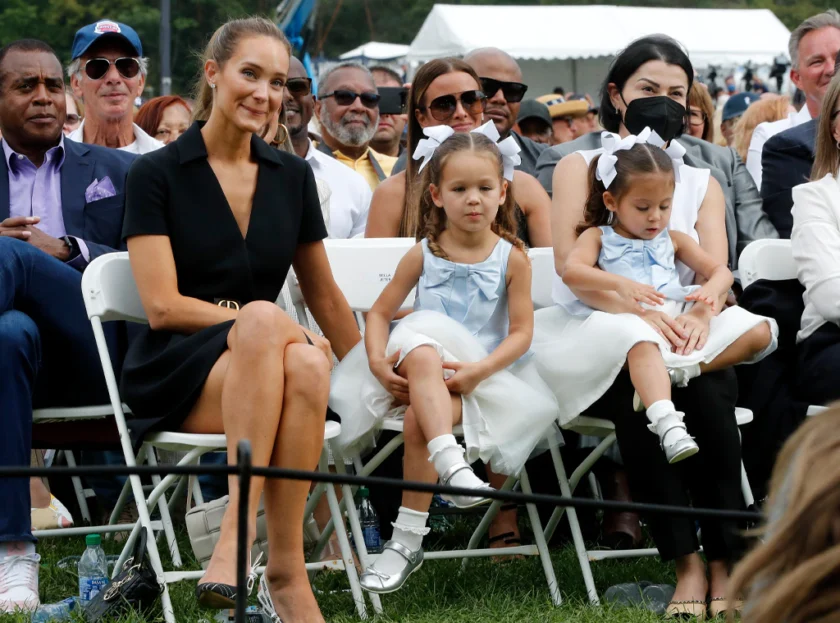 Mother
Hannah Jeter, formerly known as Hannah Davis, is an American model and television host. She was born on May 5, 1990, in Saint Thomas, U.S. Virgin Islands.
Jeter began her modeling career at the age of 14, and in 2006, she signed with IMG Models. She has appeared on the cover of several magazines, including the Sports Illustrated Swimsuit Issue in 2015, which helped to catapult her to international fame.
In addition to her modeling career, Jeter has worked as a television host and has made appearances on various shows such as Project Runway: Junior and Guy Code vs. Girl Code. She also hosted a series called Project Runway: Junior on Lifetime.
Jeter is married to former New York Yankees shortstop Derek Jeter, and the couple has three daughters together. She has been vocal about the challenges of motherhood, including her high-risk pregnancies and the emergency hysterectomy she had to undergo after the birth of her second child.
Jeter is also involved in various philanthropic endeavors, including supporting the USO, a nonprofit organization that provides programs and services to support the needs of service members and their families. She has also been an ambassador for the Breast Cancer Research Foundation and has raised awareness and funds for various other charities.
Overall, Hannah Jeter is a successful model and television personality, a devoted mother, and a philanthropist who uses her platform to make a positive impact in the world.
Also Read, Shiloh Jolie-Pitt, Daughter Of Angelina And Brad
Follow us or bookmark us for more Celeb Bio box office collection report celebrities trailers and promos
Join us on Facebook
Join us on Twitter