Zach Shallcross Is Engaged to Kaity Biggar
Brief
'The Bachelor' Season 27 Finale: Zach Shallcross Is Engaged to Kaity Biggar.
Zach Shallcross proposed to Kaity Biggar during the Monday, March 27, finale of The Bachelor.
"I can no longer say I'm falling in love with you, because, Kaity Lane, I am so in love with you. You are my world," Zach.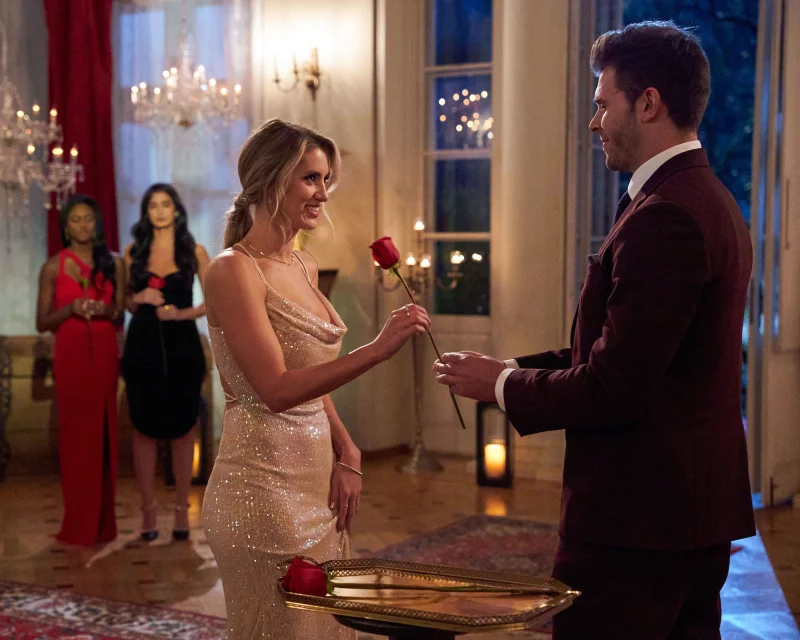 Zach Shallcross Is Engaged to Kaity Biggar
During the finale of the popular reality show "The Bachelor" on Monday, March 27th, Zach Shallcross proposed to Kaity Biggar, sealing their love with an engagement ring and asking for her hand in marriage. The emotional proposal took place during the final moments of the show, after weeks of intense competition and romantic dates.
Zach, a 26-year-old sales executive, had been vocal about his admiration for Kaity throughout the season. In an interview with Us Weekly in February, he described her as an "absolute sweetheart" and someone who caught his attention from the very beginning. He was drawn to her kind and compassionate nature, and he admired the way she exuded positivity and brightness wherever she went.
Kaity, a 28-year-old nurse, had also formed a strong connection with Zach throughout the season. When he contracted COVID-19, she was there to offer her support and care, even though they were separated by a door. This experience only strengthened their bond, and they grew even closer in the following weeks.
Zach's proposal was heartfelt and emotional. He declared his love for Kaity, telling her that she was his world and that he could not imagine his life without her. He got down on one knee and asked her to marry him, promising to spend the rest of his life with her and only her.
Kaity was visibly moved by Zach's proposal, and she accepted his offer with tears in her eyes. She expressed her love for him and her excitement at the prospect of spending the rest of her life with him. The couple hugged and kissed, and the other contestants cheered and congratulated them.
While the proposal was a happy moment for Zach and Kaity, the episode was not without its awkward moments. Earlier in the show, Kaity confirmed that Zach had been intimate with another contestant, Gabi Elnicki, in the fantasy suite, despite previously stating that he would not be. This revelation caused some tension and discomfort, but Zach and Kaity were able to move past it and focus on their love for each other.
Zach's proposal to Kaity marked a significant moment in the history of "The Bachelor." He was the first Bachelor to get down on one knee since Peter Weber proposed to Hannah Ann Sluss during the 2020 season. Season 25 star Matt James opted not to propose to winner Rachael Kirkconnell, and season 26's Clayton Echard left the show single. While Zach and Kaity's future together remains uncertain, their engagement has brought joy and excitement to fans of the show.

Also check: Amazon another 9,000 layoffs?
Rishi Sunak Vows to Take Action Against Anti-Social Behavior
Follow us or bookmark us for more Business News Latest Pictures Entertainment News Celeb Bio box office collection report celebrities trailers and promos
Join us on Facebook
Join us on Twitter