Coca Cola New Flavors Launched Called Intergalactic Coke.
Coca-Cola recently launched its new flavor called Intergalactic coke
. They claim that the drink tastes like 'space.' The zero-sugar drink is the latest piece of their brand-new creations.
The drink was officially launched in the UK lately.
The new drink is readily appreciable from the classic cola as this one is intense in color and quite pinkish.
Coca-Cola launched back in 1892.
Since then, the company has made its permanent place in the hearts of billions of people.
The Intergalactic drink is not their first attempt at trying something different.
Over the years, Coca-Cola has come up with many successful drinks, including Diet Cola, Vanilla and Cherry flavors.
According to 2019 statistics, Coca-Cola is the most valuable soft drink brand globally at around $36.2 billion.
Pepsi is a close second. About 1.9 billion offering of coca-cola is served across 200 countries every day.
After the classic one, Diet cola is one of the brand's most popular drinks, comprising over 40% of the overall sale.
Its introduction helped get the sales booming after a few years of slump.
This might be why Coca-Cola is keen to try other variations and experiment with different flavors.
Most of these drinks are launched for a limited time. If the drink is enormously successful, the brand can always bring it back.
If not, the company can confidently take it off of shelve without owing an explanation.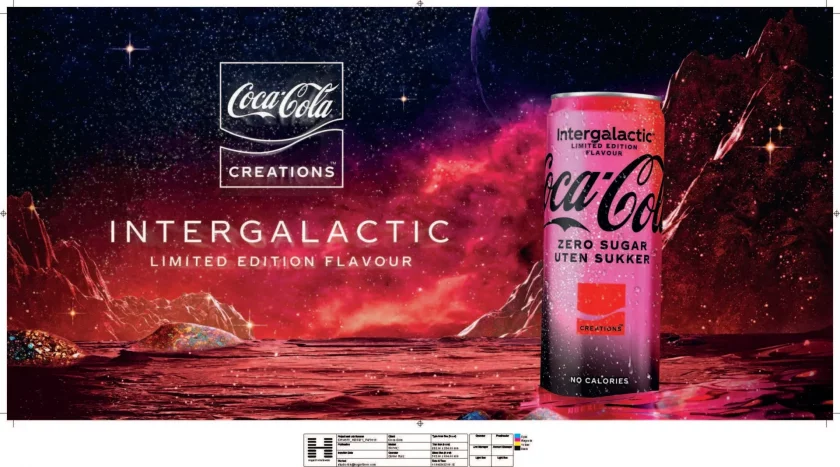 Coca Cola New Flavors Launched Called Intergalactic Coke
What Does Intergalactic Coke Taste Like?
The new drink has already been introduced in the UK. It is only available for a limited time.
The drink was launched in the US back in February, although it was launched as 'Starlight' flavor coke.
Both variations of the same drink are a part of Coca-Cola's new experiments called Coca-Cola creations.
It intends to "Quench Gen Z's thirsts for discovery through a series of unexpected brews, product packaging designs, culturally relevant expressions and creative collaborations."
The drink is red, unlike the classic black. The drink has carrot and blackberry and acid, sweeteners, colors, and caffeine.
The drink has a sweet taste with a hint of popcorn. Some said it tasted like oral floss or cream soda.
Some people liked the taste, whereas others preferred the original soda and found the taste terrible.
Although the drink may taste differently to different people, Coca-Cola also released a statement.
It said, "Inspired by the infinite probabilities of space, Coca-Cola Starlight fuses the signature taste of Coca-Cola with unexpected touches, including a red hue and a cool aftertaste that stimulates the feeling of a journey into space."
The exclusivity of the drink in the UK and its limited-time offer make people want to try it to see what it is all about.
This tactic also helps drive up the sale and create hype around the product.
People are sharing their opinions about the drink on social media.
One such user tweeted, "Terrible day, will this can of 'Intergalactic' flavor. Coca-Cola turns it around?". As more and more people try this drink, we might get a good idea of whether this drink is a hit or not.
Although, it is always better to try it yourself if you can get your hands on one.
---
Also Read
KGF Chapter 2 Box Office Collection India Overseas
Beast Tamil (2022) Critics and Audience Reviews and Word Of Mouth
Xiaomi 12 Pro 5G arriving soon in India
Jennifer Lopez and Ben Affleck have engaged again
---
Follow us or bookmark us for more Bollywood news box office collection report celebrities trailers and promos
Join us on Facebook
Join us on Twitter