Learn How to get Genshin Impact official special gifts Intertwined Fate x10
Genshin Impact's official Twitter handle announced special gifts to its players.
Genshin Impact announced 50 participants will get Intertwined Fate x10 and the results will be announced on November 30, 2022.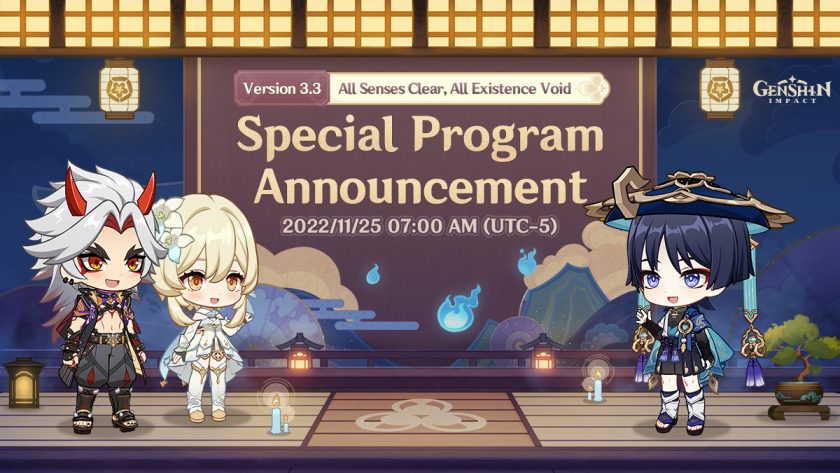 How to get Genshin Impact official Special gifts
Go to Twitter
Follow Genshin Impact official Twitter handle Here
And Retweet this post with the hashtag #GenshinSpecialProgram
Remember Quote Tweet with the hashtag
Genshin Impact will select 50 participants randomly for the Intertwined Fate ×10 gifts each.
Wait till November 30 for the announcements.
The special program will also be broadcast on the official YouTube channel on 11/25/2022 at 11:00 AM (UTC-5)
Genshin Impact 3.3 Special Program will be announced on November 25, 2022 at 07:00 AM (UTC-5)
About Genshin Impact
Genshin Impact is an action role-playing game developed and published by miHoYo.
It was released for Microsoft Windows, PlayStation 4, iOS, and Android in 2020, and on PlayStation 5 in 2021, and is set for release on Nintendo Switch.
Genshin Impact features an anime-style open-world environment and an action-based battle system using elemental magic and character-switching.
The game is free-to-play and is monetized through gacha game mechanics through which players can obtain new characters and weapons.
Genshin Impact game is expanded on a regular basis through patches using the games as a service model.
Genshin Impact takes place in the fantasy world of Teyvat, which is home to seven nations, each of which is tied to a different element and ruled by a different god.
Also Read, Genshin Impact 3.1 Free Codes Redeem Now
Follow us or bookmark us for more Games News Celeb Bio box office collection report celebrities trailers and promos
Join us on Facebook 
Join us on Twitter