Actor Robert Carradine from 'Lizzie McGuire' unveils the reality of receiving a $0.00 residual check
Lizzie McGuire alum Robert Carradine has taken a strong stand in support of the ongoing SAG-AFTRA strike by revealing a startling reality—residual checks can sometimes total a mere zero dollars. The veteran actor shared his personal experience through an Instagram post on Friday, July 28, alongside an eye-opening check he received back in August 2019 for an amount listed as "$0.00." This revelation has sparked waves of shock and indignation among fans and fellow industry professionals alike.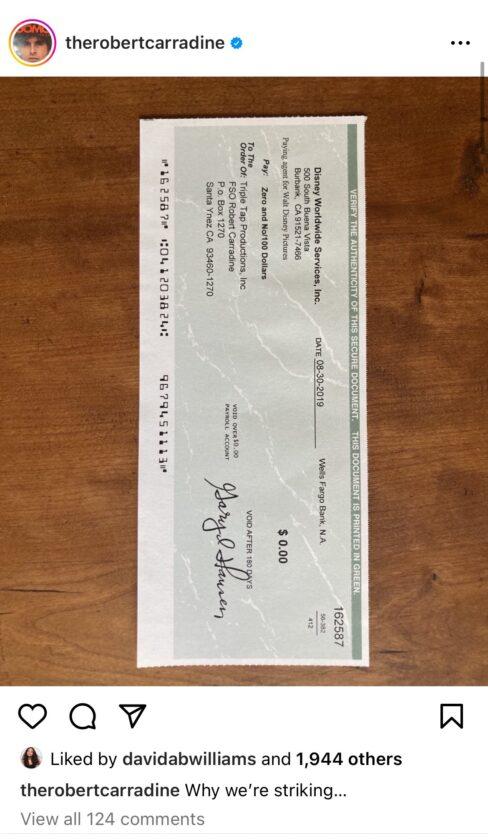 The payment in question was issued by none other than Walt Disney Pictures' Disney Worldwide Services Inc., which seems to solidify the notion that it was compensation for Carradine's work on the iconic Disney Channel series, Lizzie McGuire. Throughout the show's run from 2001 to 2004, Robert Carradine portrayed Sam McGuire, Lizzie's endearing and caring father, in a total of 65 episodes. Additionally, he reprised his role in the beloved 2003 movie adaptation, The Lizzie McGuire Movie, further cementing his status as a memorable part of the franchise. Beyond Lizzie McGuire, Carradine also starred in other Disney projects, including the Disney Channel Original Movie Mom's Got a Date With a Vampire and Disney's Max Keeble's Big Move.
The post showcasing the check received considerable attention, with actress Jamie Lee Curtis offering her support in the comments, commending Carradine for bringing this issue to the forefront amid the ongoing strikes by SAG-AFTRA and WGA. Fans were quick to express their outrage and disbelief, wondering how a cherished actor like Carradine could receive a check for zero dollars. One user lamented, " $0 for the greatest Disney dad of all time? That's brutal," while another questioned, "Why in the heck would they mail a check for $0?!? You were the greatest; you don't deserve that! Makes me so mad 😠."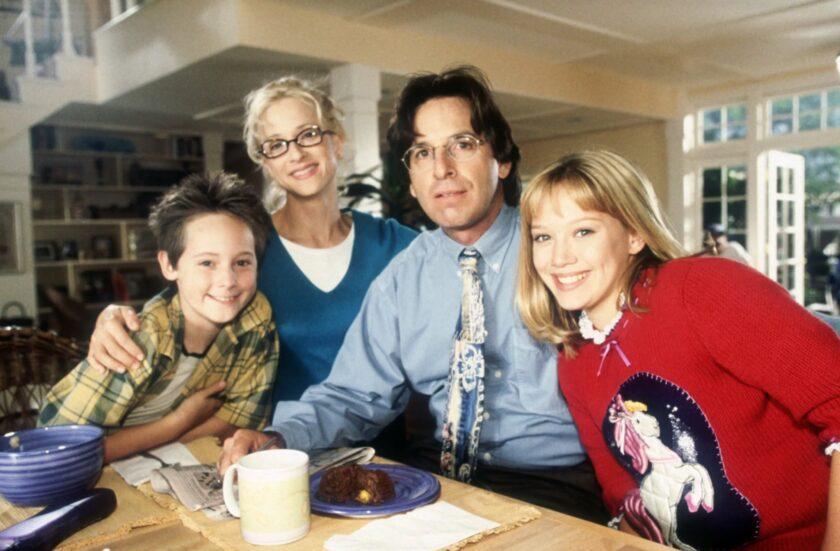 The Writers Guild of America (WGA) has been actively picketing since May, taking a stand against the Alliance of Motion Picture and Television Producers (AMPTP) in response to labor disputes. In a show of solidarity, SAG-AFTRA joined the fight in July, advocating for fairer wages, better streaming residuals, and protections against the use of artificial intelligence technology within the industry.
Carradine's shocking revelation isn't an isolated incident. Other former Lizzie McGuire co-stars have shared their own experiences of dwindling residuals over the years. Davida Williams, who played Claire Miller, one of Lizzie's adversaries and head cheerleaders from 2001 to 2003, discussed her residual checks during a podcast episode she co-hosts with Jake Thomas called "Living Lizzie, a Very McGuire podcast." Williams revealed that her residuals often come from overseas video distribution, amounting to as little as $3.50, and sometimes not even reaching the one-dollar mark.
Jake Thomas, who portrayed Lizzie's pesky younger brother, Matt McGuire, in a more prominent role on the Disney show, reminisced about the days when actors used to receive substantial residual checks. However, times have changed, and now, the checks have become meager, with a considerable stack of checks only amounting to a paltry sum like $8.
These minimal—if any—residual checks are just one of the factors contributing to the actors' decision to strike. The former cast members of Lizzie McGuire have been actively participating in picket lines to support the larger cause. Thomas even joined the Disney strike on June 13, expressing his solidarity with WGA and sharing a clever sign held by his friend Taylor Friedman, which reads: "Reboot Fair Pay + Lizzie McGuire!"
Hilary Duff, who played the titular character, Lizzie McGuire, has also been visible in her support for the strike. Duff was spotted picketing outside Paramount Pictures on July 17, standing in solidarity with her union. She shared the moment on Instagram, captioning a series of snapshots with, "Out there 🪧 with my girls. We stand with our union! Let's gooooooo."
The ongoing strikes by SAG-AFTRA and WGA serve as a crucial reminder that the issues faced by actors in the entertainment industry extend beyond just individual cases like Carradine's zero-dollar check. These actors are united in their efforts to bring about meaningful change, seeking fair treatment, improved wages, just compensation for their work, and protection against the challenges posed by advancements in AI technology.
Also Read, Francia Raisa Shows Love to Selena Gomez on Her Birthday: Likes Post and Re-Follows on Instagram
Follow us or bookmark us for more Latest Pictures Entertainment News Celeb Bio box office collection report celebrities trailers and promos