'The Umbrella Academy' review. The Hargreeves siblings face off against the Sparrow Academy in fun, if familiar, Season 3
The Umbrella Academy is back, reuniting us with the superpowered Hargreeves siblings and their super-sized daddy issues.
Season 2 may have ended with our heroes preventing the apocalypse and time travelling back to the present, but that supposed victory had dire consequences.
The Hargreaves time travel shenanigans created a different timeline, one where the ruthless Sparrow Academy has replaced the Umbrella Academy.
They've also triggered a chain of events that threatens the apocalypse, so it's up to them to once again save the world.
Since this is now The Umbrella Academy's third instalment, the "we only have x amount of time to stop the apocalypse" formula risks feeling a little overdone.
Lucky for us, Season 3 avoids that pitfall (for the most part), keeping the Hargreeves' adventures feeling fresh with powerful new character developments and a fun set of villains to face off against.
While The Umbrella Academy has always boasted a fun ensemble of characters, Season 3 is where each of our leads gets their most realistic chance to shine.
Luther (Tom Hopper) is delightful in full himbo mode, but a new romance makes him reconsider his priorities.
Former vigilante Diego (David Castañeda) faces new responsibilities in the aftermath of his relationship with Lila (Ritu Arya).
In one of the season's more heartbreaking storylines, Allison (Emmy Raver-Lampman) grieves the loss of her husband and daughter from previous timelines.
Meanwhile, Klaus (Robert Sheehan) expands his powers' potential with the help of this timeline's version of Reginald Hargreeves (Colm Feore) and Number Five (Aidan Gallagher) tires of trying to save the world over and over.
The season's most significant developments are Viktor's (Elliot Page) transition, which the show addresses early on and treats with immense care.
The scenes in which Viktor comes out to his family and discusses realizing he's trans are among the best of the season.
On top of his transition, Viktor is also grappling with the return of a figure from his past, someone who threatens to drive a wedge between him and his siblings.
The Umbrella Academy resonates most when examining the messiness of its central family, whether they're butting heads or supporting each other through thick and thin.
This season gives them plenty of chances to do both, especially now that they're interacting with Reginald again.
The presence of their father — even another timeline's version of him — leads them to confront more hard truths about their childhood.
However, it also prompts them to come more into their own. Trust me when I say the Umbrella Academy you start the season with is exceptionally different from the one you end it with.
What's better than one academy of dysfunctional superheroes? Two academies of dysfunctional superheroes! The Sparrow Academy made a big splash at the very end of Season 2, and that carries over into Season 3 with the introduction of their various superpowers — including gravity manipulation and hallucination-inducing venom.
However, as we quickly discover, they're not exactly one big happy family either.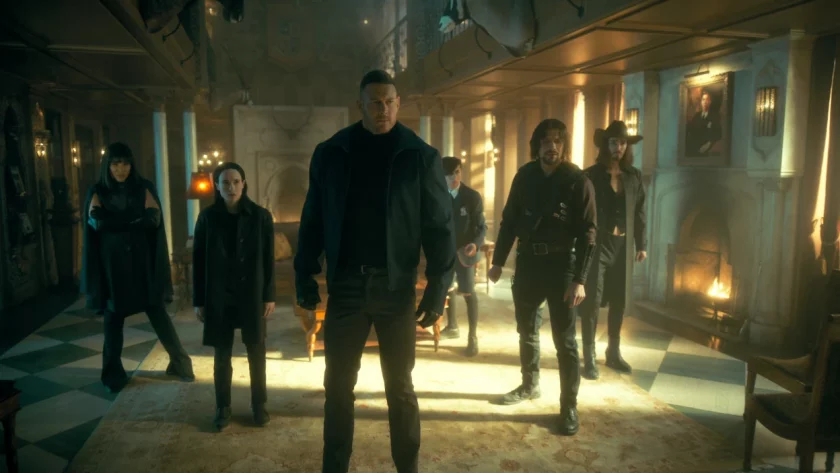 'The Umbrella Academy' review
Like the Umbrella Academy, the Sparrows have interpersonal issues and complicated relationships with their father.
The Sparrows also have Ben (Justin H. Min), who we only met as a ghost in the first two seasons.
This Ben is far from the one we grew to know and love, and he's an ambitious schemer with a lousy attitude and hates the Umbrellas.
For much of the season, Ben is stuck plotting and rasping about his desire to be Number One to anyone who will listen.
The emotional payoff does arrive much later in the season than I would have liked.
However, it's nice to see Min return in any capacity, and it's even nicer to watch another set of funky powers in action.
On top of the repeated "stop the apocalypse" conflict, this season revisits Umbrella Academy tropes such as "sudden dance party" (of which there are multiple) and "game-changing ending that leaves you with more questions than answers."
Don't get me wrong, those are still engaging tropes (and I love a good dance party), but after three seasons, it makes you wonder about the direction of the show — especially when we don't have closure on questions that were raised in Season 2 and even Season 1.
Season 3 features intense character moments and a third act that feels markedly different from those of its predecessors, but it's hard not to feel like it's treading water at times to ramp up to plot reveals that will (hopefully) come in a later season.
Despite this, the third season of The Umbrella Academy is a winner that Brellies everywhere will enjoy.
It preserved the charm and defined aesthetic of Seasons 1 and 2, plus it elevates its characters to new heights.
If anything, Season 3 proves that The Umbrella Academy isn't running out of steam, and it might just be getting started.
---
Also, Read
What is CoinEgg Scam, and How it works? Know Here
iPhone users, you may not need to punch in CAPTCHA codes anymore, thanks to amazing iOS 16
Tesla to cut salaried workforce by 10% over next three months, says Musk
Elisa and Nokia claimed to have attained another record-breaking data rate on a commercial 5G network
---
Follow us or bookmark us for more Celeb Bio box office collection report celebrities trailers and promos
Join us on Facebook
Join us on Twitter