Thiruchitrambalam 2022 Box Office Collection Report, Budget, Screen count, Worldwide Share and Box Office Verdict
Thiruchitrambalam is an 2022 Indian Tamil-language romantic drama directed by Mithran R Jawahar.
Being produced by Kalanithi Maran under the banner of Sun Pictures, it features Dhanush in the titular role with Nithya Menen, Raashi Khanna, Priya Bhavani Shankar, Bharathiraja and Prakash Raj.
The film's music and score is composed by Anirudh Ravichander, with cinematography by Om Prakash and editing done by Prasanna GK.
Thiruchitrambalam was released by theatrically on 18 August 2022, and received positive reviews from critics and audience, with praising the performances of Dhanush, Nithya and Khanna.
Plot:
Thiruchitrambalam follows the life of a delivery driver, who lives with his strict father who is also a policemen and a sassy grandfather.
As he navigates through life, he ends up falling for two women, Anusha (Raashi Khanna) and Ranjani (Priya Bhavani Shankar) and how his best friend, Shobana (Nithya Menen) helps him through his life, forms the crux of the story.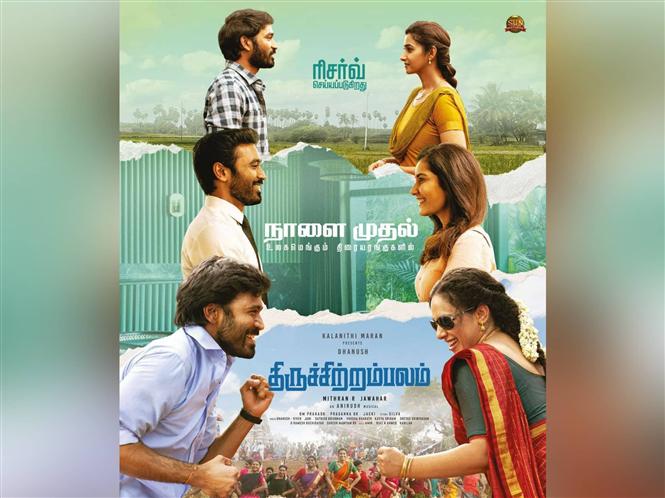 Screen Count of Thiruchitrambalam
India:
Overseas:
Worldwide:
Budget Of Thiruchitrambalam
Production Cost: 32cr.
Prints and Advertisement: 03cr.
Landing Cost: 35cr.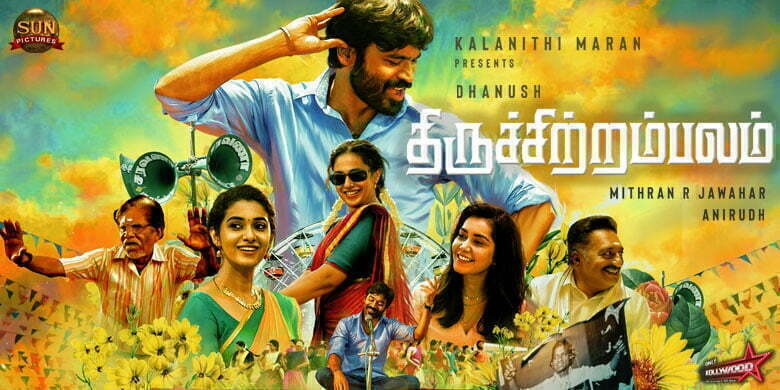 Thiruchitrambalam 2022 Box Office Collection Report
| Day | BO India Net |
| --- | --- |
| Day 01 Thu Aug 18 | 8.35cr. |
| Day 02 Fri Aug 19 | 8.50cr. |
| Day 03 Sat Aug 20 | 10.05cr. |
| Day 04 Sun Aug 21 | 11.80cr. |
| Day 05 Mon Aug 22 | 3.60cr. |
| Day 06 Tue Aug 23 | 3.48cr. |
| Day 07 Wed Aug 24 | 3.10cr. |
| Day 08 Thu Aug 25 | 3cr. |
| Total | 51.88cr. |
Box Office India Net Collection: 51.88cr.
Box Office India Gross Collection: 61.20cr.
Overseas Box Office Gross: 15cr.
Worldwide Gross Collection: 76.20cr.
TN Share: 42cr.
Worldwide Share: 52cr. Approx.
Budget: 35cr.
Box Office Verdict: **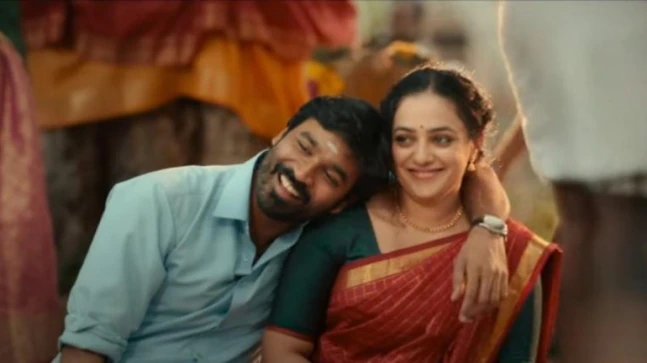 Reviews of Thiruchitrambalam
Review 1:
It is obvious why these kinds of movies are tailor made for actor Dhanush. They are about the common man, close to reality, where the main character is a bit of the viewer and relatable. So i was prepared to witness another tried and tested role in many ways similar to his early films where he plays a simple middle class boy.
Coming to this film, the idea is not at all new, and there was a fear that the movie might sink into the genre melodrama of broken family, father-son-grandpa relationship with forced tearjerker moments. Well, it tried to avoid all the tested stereotypes of love and family entertainer genre even if it is predictable. But the let down is towards the climax, nevertheless, I was glad to see Dhanush in this movie right from the unusual introduction, he didn't deviate from the character. He breaks out of his 'action hero' role and steps into the shoes of Pazham, the title character, stuck in the crisis of middle class family, trapped with his Grandad, Father and Best friend always tiptoeing around with loud mouthed talks which leads to funny cat and mouse tug-of-war and gentle moments in the film.
Major highlight is definitely Nithya Menen who plays Shobana, best friend of Pazham (Dhanush). She does her best despite all the hopelessness of the situation to stay true as a girl bestie, her clumsiness, quirky moments are nice and it will make you gradually feel great sympathy and hope for a happy end when these two are on screens. Many will want to tag along with a character like Shobana, very kind, supportive, faithful and all these words are also not enough for her.
To summarize, this film combined with dramedy, family values, background score, quirky moments adding charm to the meter of all the characters including the cameo of other 2 actress is pleasure to watch. On the other hand, i wished the film could have ended like how a Jonathan Levine, Noah Baumbach, Yûya Ishii, John Carney, Nawapol Thamrongrattanarit or Cooper Raiff's Cha Cha Real Smooth (2022) will tend to, a bittersweet ending. Please don't consider this as a big negative, just give it a watch with minimal expectations as the film is all in the best traditions of the genre to make you feel wholesome with equal doses of drama and emotion. A nice and worthy addition to actor Dhanush filmography.
Review 2 : Fantastic mavie made my day happy….mainly Dhanush sir and Nithya Menon acting were awasome and at climax it was emotional made me to cry..must watchable movie for son and father.
Review 3:
This movie is just amaizing.
You can find all émotions you need.
All actors performances was super and they keept the meter needed. Songs are incredible, Aniruth explored a new dimension. The screen play was Nice and cinematography also. We can easily relate with Dhanush's character. At this point in tamil cinema, we need more movies like that.
Verdict : A super feel good movie to watch with family. 🙌
Follow us or bookmark us for more Bollywood news box office collection report celebrities trailers and promos
Join us on Facebook
Join us on Twitter