Join Pink and her family as they embark on a delightful pizza-making adventure. Discover their culinary creativity, candid moments, and fun-filled excursions, all shared in captivating images. Explore their unique experiences, from making delectable pizzas to amusing amusement park escapades. Plus, get insights into Pink's parenting journey on tour.
Pink Kicks Off a Pizza Party in Style!
Over the weekend, the renowned "So What" songstress, aged 44, offered fans a glimpse into her San Francisco escapade. She and her family came together to attend a sourdough pizza-making workshop in the city, coinciding with her Trustfall Tour performance at the Chase Center.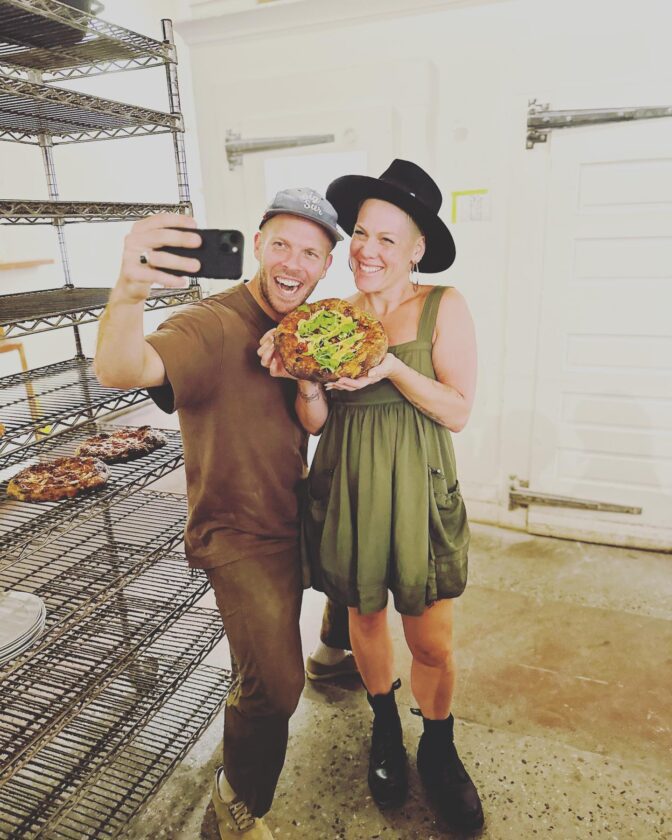 Sharing the memorable moments on Instagram, Pink posted pictures featuring herself, her husband Carey Hart, and their two children, Willow, 12, and Jameson, 6. The multi-talented artist expressed her sheer delight at the "amazing" experience of crafting delectable DIY pies at The Mill bakery, alongside co-owner Josey Baker.
In her Instagram caption, she extended her gratitude to Josey Baker, saying, "Thank you @joseybakerbread for the incredible sourdough pizza making class. We had an absolute blast, and it resulted in the most scrumptious pizza I've ever tasted!"
In one captivating snapshot from the pizza-making class, Pink and Baker struck a selfie pose. Pink proudly displayed her pizza creation, adorned with an abundance of vibrant green toppings to match her stylish green dress.
Also Read, Jenna Ortega Age
Hart, aged 48, also made appearances in the series of photos from this culinary adventure. In one frame, he was captured engrossed in his own pizza masterpiece, generously garnished with olives. Their daughter, Willow, carefully crafted her own cheese-covered pizza in another shot. In a separate image, the couple's son, Jameson, peered down at his pizza, which boasted a generous array of onion slices.
Throughout the behind-the-scenes snapshots, Baker could be seen guiding them through the pizza-making process. In one image, he stood in front of his class with a chalkboard as the backdrop.
The pizza-making class, as described on its website, offers "tips and tricks that make Josey Baker Bread pizza one of San Francisco's favorites." The two-hour experience is open to a maximum of eight participants at a time and aims to provide a straightforward way to incorporate nutritious, whole grain sourdough pizza into daily life or to impress friends and family with a homemade pizza.
This delightful culinary day out followed a recent family trip to a Pennsylvania amusement park. Pink and her kids even attended incognito, with Pink humorously donning a Super Mario mask. In an Instagram post, she wrote, "Hershey Park for the win. RVs for days – rollercoasters and arcades… I haven't been in these woods since I was four! Philly hometown, I'm coming in hot!"
During their amusement park visit, Pink equipped her kids with masks, so they could fully embrace the fun. She handed a Batman mask to her youngest, Jameson, asking, "Here, Jamo', you want to be Batman, right?" To which Jameson enthusiastically proclaimed, "I'm Batman!"
Pink is also instilling responsibility in her kids while on tour. She disclosed during a conversation on Today in February that both children would be accompanying her on the Trustfall Tour in the U.S. Willow even has a job on tour, and they had a playful negotiation over her earnings, showcasing a valuable lesson in financial literacy.
Also Read, Soccer Sensation Alisha Lehmann Discloses Lucrative Offer for Celebrity Encounter