Who is Mexican Drug Lord Rafael Caro Quintero?
Who is Rafael Caro Quintero?
Rafael Caro Quintero is a Mexican drug lord who co-founded the now-disintegrated Guadalajara Cartel with Miguel Ángel Félix Gallardo and other drug traffickers in the late 1970s.
He is the brother of fellow drug trafficker Miguel Caro Quintero, founder and former leader of the defunct Sonora Cartel.
Rafael Caro Quintero was born on October 24, 1952 in La Noria, Badiraguato, Sinaloa, Mexico.
Having formed the Guadalajara Cartel in the 1970s, Caro Quintero worked with Gallardo, Ernesto Fonseca Carrillo, and Pedro Avilés Pérez by shipping large quantities of marijuana to the United States from Mexico.
He was responsible for the kidnapping of United States Drug Enforcement Administration (DEA) agent Enrique "Kiki" Camarena, Camarena's pilot Alfredo Zavala Avelar, the American writer John Clay Walker, and dentistry student Alberto Radelat in 1985.
After the murders, Caro Quintero fled to Costa Rica but was later arrested and extradited back to Mexico, where he was sentenced to 40 years in prison for murder.
Also Read, Taylor Swift Age Height Weight Body Stats Net Worth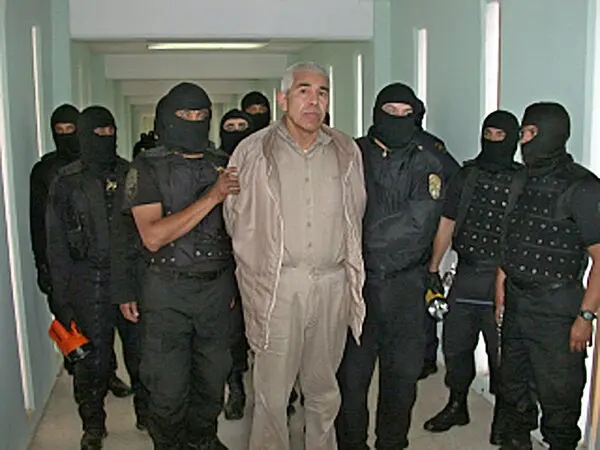 Following his arrest, the Guadalajara Cartel disintegrated, and its leaders were incorporated into the Tijuana Cartel, Sinaloa Cartel, and Juárez Cartel.
Caro Quintero was freed from jail on August 9, 2013, after a state court concluded that he had been tried improperly.
However, amid pressure from the United States government to re-arrest him, a Mexican federal court issued an arrest warrant against Caro Quintero on August 14.
Rafael Caro Quintero was wanted for his involvement in drug trafficking as well as the 1985 murders. 
He was at large as a wanted fugitive in Mexico, the United States, and several other countries.
The United States offered a 20-million-dollar reward for information leading to his capture, the highest value among fugitives currently listed on the FBI's Ten Most Wanted Fugitives list.
Caro Quintero lost his final appeal to avoid extradition to the United States on March 27, 2021.
Caro Quintero was arrested in Mexico on July 15, 2022.
Also Read, Know About Andrew Nicolas Hargitay Hermann
| | |
| --- | --- |
| Full Name | Rafael Caro Quintero |
| Nick Name | Rafael, Drug Lord |
| Date Of Birth | October 24, 1952 |
| Place Of Birth | La Noria, Badiraguato, Sinaloa, Mexico |
| Age | 70 Years (As Of 2022) |
| Nationality | Mexican |
| Profession before Crime | Farmer |
| Height | 6 feet or 1.83 meters |
| Weight | 77 Kg 170 lbs. |
| Languages Known | Spanish |
| Race | Mixed (Mestizo) |
Criminal Offense
When he was a teenager, Caro Quintero allegedly began to grow marijuana on a small scale, at the ranch owned by his brother Jorge Luis.
In less than five years, Caro Quintero managed to buy several other ranches in the surrounding areas and began to amass larger amounts of money and influence.
He is said to have first worked for the drug traffickers Pedro Avilés Pérez and Ernesto Fonseca Carrillo before forming the Guadalajara Cartel with Miguel Ángel Félix Gallardo, Juan José Esparragoza Moreno, and others in the late 1970s.
He has been cited as a pioneer of the drug trade in Mexico and has been described as one of the pre-eminent drug traffickers of his generation.
Also Check: Know About Valentina Paloma Pinault Hayek, Daughter Of Salma Hayek
Life before Offense
Rafael Caro Quintero was born in the community of La Noria, Badiraguato, Sinaloa, on October 24, 1952.
His parents, Emilio Caro Payán and Hermelinda Quintero, had twelve children; he was the oldest son.
His father worked in agriculture and grazing, and died when Caro Quintero was 14 years old. With his father's absence, he worked alongside his mother to take care of his family.
At the age of 16, he left La Noria and settled in Caborca, Sonora, where he worked in livestock grazing.
Two years later, he worked as a truck driver in Sinaloa.
Rafael Caro Quintero also worked at a bean and corn plantation in Sinaloa before deciding to leave his home state altogether to join the drug trade in the neighboring state of Chihuahua.
Also Read, About Polish Biologist Rudolf Weigl
Follow us or bookmark us for more Celeb Bio box office collection report celebrities trailers and promos
Join us on Facebook
Join us on Twitter